Many players are selected through the NHL entry draft at a very young age. Most players go to a junior league and quickly become club property as early as age 17. A select percent go the college route, playing NCAA hockey, sometimes up to a full four years. With the college hockey season underway, I give you an update on the Washington Capitals' college prospects and how they are faring so far this season. Today I will feature Capitals' prospect, Riley Barber. The next Capitals prospect I will feature is Travis Boyd, forward at the University of Minnesota.
Riley Barber-Forward, Miami University
Barber, 18, was selected by Washington in the sixth round of the 2012 NHL entry draft. He played in the USHL for two years prior to entering Miami University of Ohio in 2012, the same school Capitals prospect Cameron Schilling attended. He played for the Dubuque Fighting Saints in his first season in the USHL, posting 14 goals and 14 assists in 57 games. Barber also contributed in the playoffs that season, registering two goals along with six penalty minutes in 11 games.
In his second year in the USHL, Barber played for the U.S. National Development Team, which didn't lack for talent. Future first round draft pick, Jacob Trouba headlined the team on the blue line and fellow Capitals' prospect Thomas DiPauli joined the forward units. Barber played in 24 games and recorded five goals and six assists along with 59 penalty minutes.
This season, Barber is a freshman at Miami University of Ohio and has played 13 games to this point. He's shown his offensive capabilities in the early part of the season, leading the team in scoring with 17 points. Barber is an efficient two player, providing both reliability on defense and poise with the puck.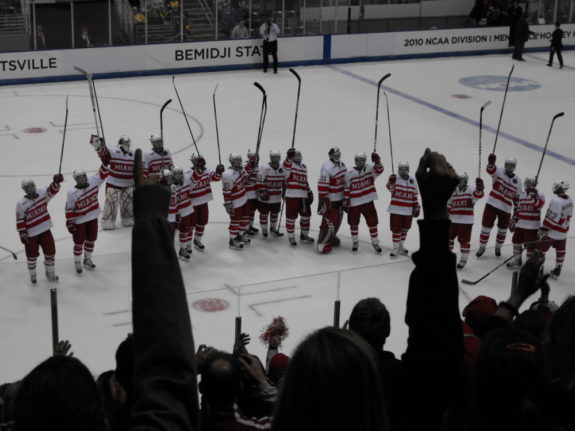 Although he's awhile away from professional hockey, Barber projects a third line or fourth line forward at the NHL level. Due to his defensive reliability the young forward could earn time on the penalty kill and his gritty games would fit his role.
Since Barber has yet to sign with Washington, the Capitals should have him under contract for about six seasons, right around when he turns 28. He'll likely spend a year or two with Washington's AHL affiliate, the Hershey Bears, before a shot at the NHL level. In Hershey, Barber can hone his skills on the offensive end of play, earning time on the power play, but also playing a defensive role late in games, especially on the penalty kill.
You can follow Matthew on twitter @m_speck and email him at mspeck21@yahoo.com with any questions or comments.