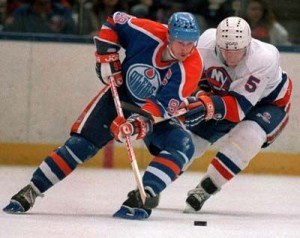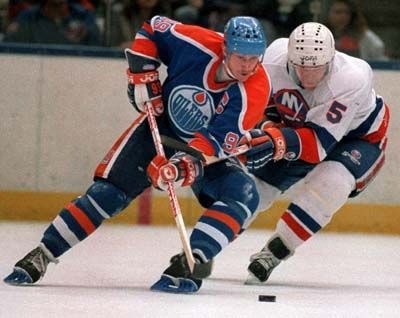 Many people believe Wayne Gretzky is the greatest player to ever live since he owns nearly every NHL scoring record. There are other fans out there who believe Mario Lemieux is the greatest player to ever play.
Gretzky blows all the record books away to this day. He is the all-time leader in all three major scoring statistics. "The Great One" has 894 goals and 2,857 points. He has more career assists, 1,963, than the second all-time point scorer in NHL history (Mark Messier: 1,887 pts). These scoring records compiled by Gretzky will never be broken.
The only player thought to have any chance at breaking Gretzky's records was Lemieux. Before his first retirement, Lemieux had a better points per game average than "The Great One," averaging over two points per game. Le Magnifique was on pace to possibly break some of Gretzky's scoring records. Due to injuries and health reasons, Lemieux missed a ton of games throughout his career leading us to project what his career totals may have been compared to Gretzky's. Lemieux's offensive talent was one-of-a-kind, and to some people, better than Gretzky's.
We can argue between Gretzky and Lemieux for an eternity. The one thing that we can all agree upon is that these two magnificent talents are far and away the two greatest players to ever put on NHL jerseys.
The question remains, who is the best player to ever play in the NHL besides Lemieux and Gretzky? There are many factors to consider such as Stanley Cups, injuries, teammates, leadership, and what position a player played.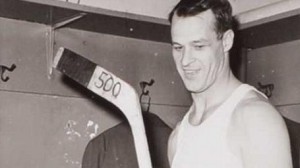 Gordie Howe seems like a logical place to begin this debate. He is not named "Mr. Hockey" for nothing. Howe was the first player to eclipse the 800-goal mark and the only player to do so besides Gretzky. He played in more career games than any other NHL hockey player. Besides the historic records that he compiled, there is also the "Gordie Howe Hat Trick." This is named after Howe for scoring a goal, recording an assist, and getting into a fight all in the same game. Howe has his footprints all over the NHL to this day.
Messier was the greatest captain to ever play in the NHL. He won six Stanley Cups. Messier also captained a New York Rangers team that had not won a Cup for over 50 years. Messier proved that he was able to will a team to victory by anything he said or did. He knew how to talk the talk and walk the walk. The Rangers Stanley Cup victory in 1994 would not have happened if Messier was not their captain. Leadership skills aside, Messier is the second highest point scorer in the regular season and playoffs in NHL history. He has more points than anyone who ever played not name Gretzky.
Then there is the man who scored the most famous goal in NHL history, Bobby Orr. Unfathomable for a defenseman by today's standards, Orr averaged 1.393 points per game for his career. He did things as a defenseman that we will never see in hockey ever again. To prove how good of a player Orr was thought to be, Mike Moore of THW, tells us in "Bobby Orr's Landmark Season."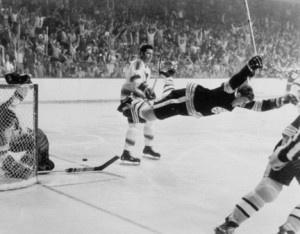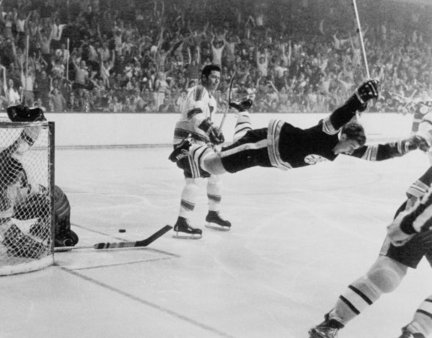 "Around the beginning of this century, Bobby Orr's 1969-70 season was voted the most important and significant full-season contribution to NHL history by a panel of highly respected experts and hockey historians. Orr –'69-70 was ranked number one, ahead of any of Gretzky's magnificent seasons, ahead of everybody else. The primary reason: Orr single-handedly changed the way the game was played. He already owned the record for most points in a season by a defenseman of 64 set in 1968-69. With 120 points in 1969-70, he became the first ever defenseman to win an NHL scoring title and bested his own record by a whopping 88%. It was a super-human feat of single-season athleticism, never witnessed before in the professional sporting world."
Mike Bossy also stands in a class all by himself. He was the purest goal-scorer to ever play in the NHL with nine consecutive 50-goal seasons. Bossy only played ten seasons. He was the second player to score 50 goals in his first 50 games in 1980-81. In addition, Bossy holds the highest goals per game average in the NHL regular season and is second behind Lemieux in this category for the playoffs. In the Stanley Cup Playoffs Bossy was always money in crunch time. He scored Stanley Cup clinching goals in '82 and '83. He is the only player in NHL history to score 17 goals in three straight playoffs. In a five year playoff span between 1980-1984, Bossy scored 69 playoffs goals. This beats Gretzky's best five year playoff goal-scoring span by ten. Bossy's goal-scoring records, especially in the playoffs, are jaw-dropping. With his unbelievable statistics aside, Bossy also won four Stanley Cups with the New York Islanders.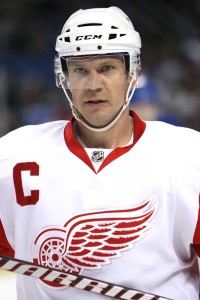 Ray Bourque almost played his entire career without winning a Cup. He was finally able to hoist this treasured trophy when he left the Boston Bruins to play for the talented Colorado Avalanche. Bourque winning a Cup was well-deserved as he was one of the best all-around defenseman to ever play the game. He is the highest scoring defenseman in NHL history. In addition, he is second all-time with a +528 in plus/minus rating. Most defensemen are one dimensional. They are completely defensive-minded who cannot score or offensive-defenseman who cannot defend. Bourque was the best of both worlds. Keep in mind that he played in an era when goal-scoring was at an all-time high, and when Lemieux and Gretzky were in their primes.
There are many other players not listed on the poll below who can be considered for top ranking behind Lemieux and Gretzky. Steve Yzerman, Nicklas Lidstrom, Joe Sakic and Jaromir Jagr are only a few that come to mind.
This is for THW's community to decide. Please vote on who you feel is the greatest player to play in the NHL besides Gretzky and Lemieux. Please feel free to express your opinion if you feel there should be another player added to the list. Your comments are encouraged and welcomed.