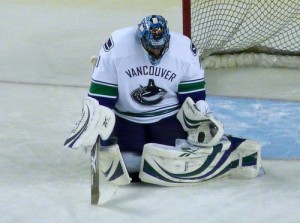 During the lockout all fans want to hear is a date when games will resume and everything will be back to normal. We tend to forget about controversies leading up to, and during the summer that have been put on hold. Case in point: Roberto (Apparently he doesn't have a middle name) Luongo.
Yes, he wants out of Vancouver. Yes, he wants to play for the Florida Panthers making a triumphant return and winning a cup with the team that let him go in 2006. Oh, and the fact that he met his wife there, and that's where her family lives is another reason too. Happy wife, happy life.
He made some noise and rattled a few cages with his "It's time for me to move on" comments within the media. He was more or less campaigning for a new team. Let's take a look at his portfolio, he has generously put together for us.
Staring his NHL career with the New York Islanders in 1999, Luongo was fresh off a World Junior Championship silver medal. He got his opportunity to shine for the Islanders when their back up Wade Flaherty went down with a shoulder injury. His performance was good enough to slide Felix Potvin to the end of the bench, playing back-up to Luongo. So far, so good.
The Panthers expressed interest in Luongo, and Islanders GM Mike Milbury not being a huge fan of Luongo after apartment hunting on a game day, traded Luongo and Olli Jokinen to the Panthers in exchange for forward Mark Parrish, and centre Oleg Kvasha. Smooth move, Milbury. Talk about beating fans with a shoe…
Once in the Panthers organization, Luongo split the season with veteran goaltender Trevor Kidd in the 2000-01 season. He proved to be mediocre playing 47 games, a 12-24 record, a nice .920 save percentage and 2.44 GAA. His second season proved to be somewhat the same, playing 58 games in 2001-02, he posted a .950 SV% and 2.77 GAA. He finished the season with 16 wins and 33 losses.
In his next three seasons with the Panthers, he met his wife and had two children. Kidding. Well, I guess it's true, but I don't have an exact time frame for that…
His combined stats for 2002-06 are when he played the majority of games. He played 212 games, .921 SV%, 2.70 GAA, and 17 shutouts. The stats aren't too shabby.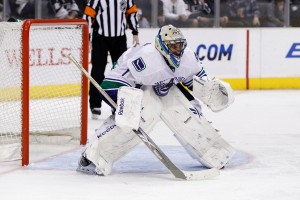 It was the end of the 2003-2004 season when Luongo went to arbitration with the Panthers over a one year contract, awarding him $3.2 million. Set to become a free agent after that season, Luongo once again did not want the same salary and unable to meet his demands, the Panthers traded him to the Vancouver Canucks with Lukas Krajicek and a 6th round draft pick for Todd Bertuzzi, Bryan Allen, and Alex Auld.
It's at this point Luongo was signed to a $27 million contract from 2006-2010. Now that he is with Vancouver, this is where the juice is. Being somewhat overrated during his tenure with the Islanders and Panthers, he was thrust into the starting goalie role and expected to be lights out.
His stellar regular season play made the Canucks a dangerous team offensively and defensively. They were favourite for the Cup year after year, but one thing remained constant; there was a regular season Luongo, and a playoff Luongo.
His first three playoff runs with the Canucks boasted some mediocre numbers. In 34 playoff games, his record was 17-17, 89 goals against, and a save percentage of .916.
We all remember the Luongo from the 2010-2011 playoffs where he played 25 games, posting a 15-10 record. Seems pretty legit, right? 61 goals against, .914 SV%, 2.56 GAA, 4 shutouts. But there was that kid, yea, Schneider who saved his skin a bunch… right. He was credited with 5 games, a record of 0-0, 7 GA, .915 SV%, and 2.58 GAA. The stats don't speak as loudly as watching the show did.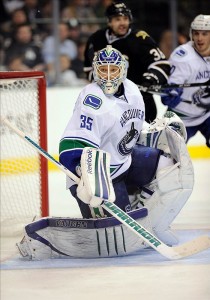 Schneider was lights out in the next season for the Canucks with Alain Vigneault not being as reluctant to use him. In the 2012 Stanley Cup playoffs, Schneider played 3 games with a 1-2 record, 4 goals against, .960 SV%, and 1.31 GAA. Those are better numbers than Luongo has ever put up in the playoffs.
Now that there was a solid goalie controversy with Schneider proving he could and would perform in the playoffs for the Canucks who seem to have every other piece in place; Luongo saw the writing on the wall.
Being difficult seems to be in Luongo's blood. As arbitration with the Panthers and rumoured demands before he signed a contract there in 2006 couldn't be met, Vancouver came knocking and there he went.
With these kind of performances under his belt, unproven in the playoffs, lights out in the season, who is going to take a chance? Yea, change of scenery, new teammates, feeling comfortable, being around family, blah blah. It doesn't mean much when you're taking  a chance on his enormous lifetime contract with a cap hit of $5.3 million until 2022.
It doesn't make sense for him to join the Panthers who have proven their ability to contend. Well, let me rephrase, Luongo joining the Panthers would be a huge homer decision. Bringing back their winningest goalie of all time to lead them to the promised land. PR move at best. Give me and the rest of the NHL a break. Luongo isn't the guy to take you to the Cup final and win it. He isn't the guy you load your franchise on top of.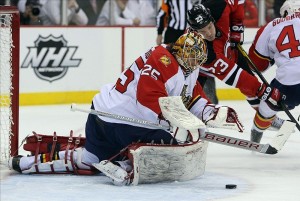 Jacob Markstrom is a young, big body, and talented goaltender already in the system. He played well for the Panthers and continues to develop and play well for the San Antonio Rampage of the AHL. In 32 games, he posted 17 wins and 12 losses with a .923 SV%, and a 2.66 GAA. He's only 22, but I'd put my money on him over Luongo as the future of the team.
To wrap it up and put a bow on it – 'tis the season – Luongo has gone through his career putting up medicore playoff numbers, and never reaching a consistent regular season to playoff rhythm that takes his team over the top. He has proven to be difficult when it comes to negotiations, and outspoken with media. This isn't the guy you need to bring a Cup to Sunrise, it doesn't make sense financially, and isn't fair to the rest of the goalies putting up decent numbers.
No to Luongo. And he can't go back to Vancouver, either.