During a time of labor strife and divisions over money, there is perhaps no team more interested in how a potential new CBA would affect them financially than the Chicago Blackhawks.
The Hawks went from being the Stanley Cup champions in June of 2010 to an unrecognizable shell of themselves within a three month stretch that summer. They were forced to trade away big time contributors to that Cup victory, including Dustin Byfuglien, Kris Versteeg, and Andrew Ladd, and also were unable to bring back goaltender Antti Niemi, who left for San Jose after the Hawks declined to sign him to a contract recommended by an arbitrator. They did manage to keep their core largely intact, but the damage that the salary cap did to their depth was noticeable as they struggled to the eighth seed and a first round exit at the hands of the Vancouver Canucks in 2011.
This sort of financial crunch could once again visit the Windy City if the league decides to lower its salary cap in an effort to keep less economically stable franchises competitive. Rumors have been swirling that the league could be looking at a new cap of $59.9 million, which the Hawks would easily clear, with a  payroll for 2012-13 of $64.5 million.
One way that teams could potentially become cap compliant is to utilize a one-time amnesty buyout, similar to the one that they were given after the 2004-05 lockout wiped out an entire season. The NBA also did this when they locked out their players in 2011, and you saw quite a few teams take advantage of the freed up cap space to reposition themselves quickly after the work stoppage ended. There seems to be support for amnesty on both sides of the negotiations, so it wouldn't be a surprise to see it included in the new CBA.
So if the Blackhawks do end up being forced to cut salary from their squad, just who exactly could they part ways with via an amnesty buyout? There are four names to keep an eye on if a new CBA necessitates some drastic moves:
Niklas Hjalmarsson
Cap Hit: $3.5 million, 2 years remaining
Hjalmarsson was one of the big reasons that the Hawks won the Cup in 2010, displaying a penchant for blocking shots, being a responsible penalty killer, and even occasionally jumping in on offense. After the massive talent purge, the Sharks attempted to take advantage of Chicago's plight and signed Hjalmarsson to an offer sheet, but Stan Bowman and company decided to match it. This decision has not yielded positive results, however.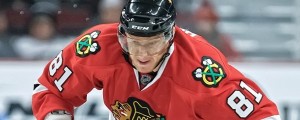 In the two seasons since the Cup run, Hjalmarsson hasn't really developed much of an offensive game to speak of, notching 25 points in 149 games. His plus/minus has been a respectable +22, and he's still blocking shots, but his physical game hasn't developed either, with only 42 hits to his credit last year. It isn't to say that Hjalmarsson isn't a GOOD player, but when you are talking about the kind of cut in salary that the team will need to perform to get cap eligible under a $59.9 million cap, then you'd have to look at a $3.5 million expenditure as one worth consideration to eliminate.
Marian Hossa
Cap Hit: $5.233 million, 9 years remaining
Whereas a guy like Hjalmarsson probably hasn't developed in the way that scouts hoped that he would, Marian Hossa has been a very good player for the Blackhawks during his three seasons in the Windy City. He has averaged nearly a point a game during his stint with the Hawks, including a 77 point effort last season in his first fully healthy campaign with the club.
There are two concerns that the Hawks should keep in mind as they would mull a potential amnesty buyout of the Slovak-born sniper. The nine years left on his contract means that he will be impacting their salary cap for at least the next six or seven years (assuming he wants to retire around age 40), and the team is going to have to deal with the impending free agencies of superstars Jonathan Toews and Patrick Kane in three years as well.
Factor the length of his remaining deal with the injury that he suffered in the team's playoff tilt with the Phoenix Coyotes last April (although he has been working out and not feeling any effects), and you have a couple of things to keep an eye on when it comes to buying Hossa out.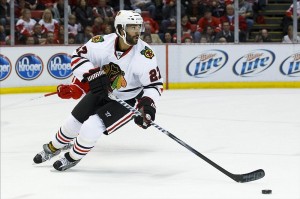 Johnny Oduya
Cap Hit: $3.383 million, 3 years left
When Oduya came into the league, he wasn't expected to be much more than a role player on the New Jersey Devils blue line. He did surprise some with his quality play during the 2007-08, where he showed flashes of offensive skill and defensive brilliance, but he flamed out a bit and ended up sitting out during the team's run to the second round of the playoffs.
Oduya never really did gain a lot of traction in New Jersey, getting dealt to Atlanta in the Ilya Kovalchuk trade and eventually heading north with the Thrashers when they became the Winnipeg Jets. The Hawks acquired him in exchange for a second and third round pick in 2013, and he did play decently in limited time with the team, notching five points in 18 games.
Despite this bit of good play, the fact is that Oduya is an expendable asset with a decent-sized cap hit that could help reach the salary cap should the need arise.
And the "winner" is…..
Truthfully, Bowman's strategy is going to be largely dependent upon whether or not the amnesty clause is a one-time only chance, or if like the NBA teams can hold onto it until they decide to use it. If that is the case, then he should hold off and try to make trades in order to reach whatever salary cap the league and players agree upon. There isn't a magic bullet solution to cap woes like a Rick DiPietro or a Chris Pronger on this roster, so the decision to pull the trigger isn't one that has to be made instantly in that scenario.
If the Hawks would only have one chance to dump a contract when a new CBA is ratified, then the player that would be the best to let go of would be Oduya. Hjalmarsson's shot-blocking abilities may not be worth $3.5 million, but he is still a young homegrown defenseman with upside, and that should count for something over a hired hand obtained at the trading deadline.
As for Hossa, yes the nine years left on his contract are pretty daunting, but he is still an elite level player, and an integral part of an offense that needs to score goals to overcome the weak goaltending they got last season. If the team is able to hold onto the amnesty buyout until they decide to use it, then Hossa would be a prime candidate in a year or two, but if the decision had to be made right now, then it would be a hard-no for the winger.
Oduya may have cost a second and a third round pick, but in the race to get to whatever the new salary cap is, the $3.4 million he is owed for the next three seasons would be a big step forward, and one that wouldn't significantly hurt the Hawks in terms of on-ice performance. With some solid defensive prospects like Shawn Lalonde and Dylan Olsen waiting in the wings, the blue line is the best place to look for cap relief, and Oduya is candidate #1 on that list.