Many players are selected through the NHL entry draft at a very young age. Most players go to a junior league and quickly become club property as early as age 17. About one third of all NHL players go the college route, playing NCAA hockey, sometimes up to a full four years. With the college hockey season underway, I give you an update on the Washington Capitals' college prospects and how they are faring so far this season. Today I will feature Capitals' prospects Garrett Haar and Patrick Wey.
Garrett Haar-Defenseman, University of Western Michigan
Haar, a 19 year old defenseman, was selected by the Capitals in the seventh round of the 2011 NHL entry draft. The native of Huntington Beach, California currently plays for Western Michigan University, his second year with the college team.
He previous played in the United States Hockey League, playing one season for the Fargo Force of the United States Hockey League (USHL) . Haar finished second on the team in scoring as a defenseman, recording seven goals and 16 assists in 51 games. He also was a key contributor on the Fargo Force blue line during the postseason, adding three points in five playoff games.
Following his time in the USHL, Haar began his collegiate career at Western Michigan University. He earned solid playing during his freshman campaign, posting eight points in 36 games. As one of the youngest players on the entire team, Haar definitely made his mark with Western Michigan.
This year, in his second season with the team, Haar is on pace to surpass his offensive output from last season, already registering six points in only 16 regular season games to this point.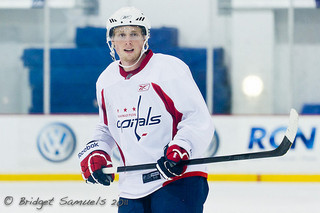 It's unsure what his future is with Washington and at Western Michigan University, but he told the Washington Times earlier this summer, "I'm just taking it year-by-year".
After finishing out this season at Western Michigan, Haar could have multiple options. He could possibly sign his entry level deal with the Capitals and begin pro hockey in the minors, or continue playing in what would be his third season at the collegiate level. My best bet is that he stays at Western Michigan, but there's been no clear indication of his future plans.
Haar brings a defensive first approach to his game, but can contribute offensively at times. Although a very young prospect, he could eventually wind up in Washington if he progresses well. A long shot for a steady shot at the Capitals lineup moving forward, Haar does show some promise and could definitely be an effective AHL player for the majority of his hockey career.
Patrick Wey-Defenseman, University of Boston College
Wey, a 21 year old defenseman, is in his senior season at Boston College. He was selected by the Capitals all the way back in the 2009 NHL entry draft, with the 115th overall pick, a fourth round selection by Washington.
Before entering college, Wey played two seasons for the Waterloo Black Hawks in the United States Hockey League. After only posting six points in 35 games during his first year with the team, the Capitals prospect was dominant in his second year with Waterloo, recording 34 points in 58 regular season games. Along with a strong offensive season that year, Wey earned a plus 22 while on the ice.
Following his time in the USHL, Wey began his time at Boston College. Known as a shutdown defenseman, Wey continued the defensive trend, registering 20 points through his first three seasons. This year, Washington's defensive prospect has contributed nine points through only sixteen games, already setting him up for a career high in points per season.
Along with his college hockey career, the Pittsburgh native has many other accomplishments, including earning a bronze medal for the United States National Junior Team during the 2011 IIHF World Junior Championships in Buffalo, New York.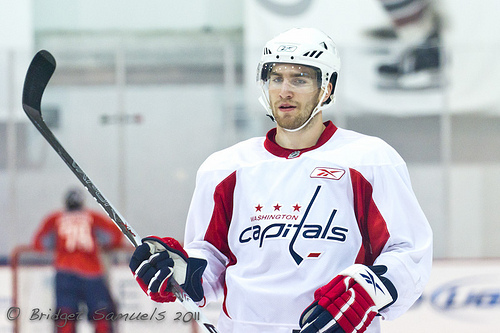 Unlike Haar, Wey seems to be a more likely fit with Washington at the NHL level. Defensively he brings a solid two way game, and at 6"3" 207 pounds, his body is built for the highest level in hockey. After his senior season, Wey could spend the spring with the Hershey Bears on a tryout contract before signing his entry level deal with Washington for the 2013-2014 season.
He projects as a backend defenseman with Washington, but could use a year in AHL before moving up on the Capitals' depth chart. Wey brings a versatile game, skilled offensively and defensively, meaning he could also benefit Washington as part of their penalty killing unit. With the highly skilled offensive blue liners in the Capitals system, Wey should bring a tough sound game to compliment Washington's offensive minded defensemen.
Thomas DiPauli Prospect Update
Austin Wuthrich Prospect Update
You can follow Matthew on twitter @m_speck and email him at mspeck21@yahoo.com with any questions or comments.