Many players are selected through the NHL entry draft at a very young age. Most players go to a junior league and quickly become club property as early as age 17. A select percent go the college route, playing NCAA hockey, sometimes up to a full four years. With the college hockey season underway, I give you an update on the Washington Capitals' college prospects and how they are faring so far this season. Today I will feature Capitals' prospect, Thomas DiPauli. The next Capitals prospect I will feature is Caleb Herbert, center at the University of Minnesota Duluth.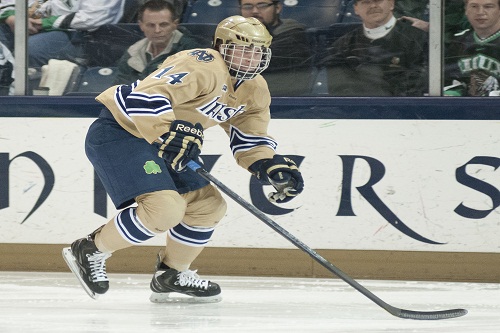 DiPauli, 18, was recently selected by the Capitals in the 2012 NHL entry draft, with 100th overall pick. He has begun his college hockey career this season, currently in his freshman year for the University of Notre Dame. In 18 games this season, DiPauli has registered three goals and two assists through 18 games.
Before entering Notre Dame, the 18 year old center played for the United States National Development team for two years. In his first year with the team, during the 2010-2011 season, DiPauli contributed 15 points in 32 regular season games, along with an assist in two playoff contests. Fellow Capitals' prospects Travis Boyd and Connor Carrick played alongside DiPauli for the U.S. National Development team.
He followed his first season with the U.S. National Development team with a decrease in offensive output during the 2011-2012 campaign, only contributing 11 points during the regular season, but in 21 regular season games, compared to 32 games the previous season. DiPauli also played alongside Washington Capitals' prospects Riley Barber and Connor Carrick.
Although only listed at 5'11" and 185 pounds according to the University of Notre Dame hockey website, DiPauli can provide some offensive punch that other players his size can't. He'll likely spend three to four years playing for Notre Dame before going pro, likely with the Reading Royals of the ECHL or the Hershey Bears of the AHL, both Washington Capitals' minor league affiliates. He needs to continue to improve his faceoff capabilities along with offensive skills to become an effective NHL player for Washington. DiPauli projects as a potential third or fourth line center, at the NHL level with the potential to bounce up to the top two lines if he improves his offensive game substantially.
You can view recent Washigton Capitals Prospect Updates by clicking on the links below.
You can follow Matthew on twitter @m_speck and email him at mspeck21@yahoo.com with any questions or comments.