By Andrew Hirsh | Follow him on Twitter
After a successful freshman campaign at the University of Michigan, Carolina Hurricanes prospect Phil Di Giuseppe has been caught in a slump through most of the 2012-13 season thus far. While this rough patch has led some to question the 19-year-old's talent, Michigan Associate Coach Billy Powers believes its part of the learning process every player encounters—and an obstacle that can be overcome.
"Phil entered our program and had a great start as a freshman, and I think he's just now realizing there's always going to be a price to pay to play well," Powers said in a phone interview. "We've had a slow start as a group and Phil was one of the guys that didn't have the start he wanted."
Di Giuseppe, a native of Maple, Ontario, put up 26 points (11 G, 15 A) and a plus-23 rating in 40 games last season. The following summer, Powers called him a "dynamic offensive force," and Carolina took him with the 38th overall pick in the 2012 NHL Draft.
"We thought Phil could be a top six guy right away in his freshman year, and he didn't disappoint," Powers told us in August. "He didn't miss a beat. He contributed right away and was comfortable right away."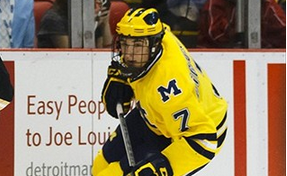 Despite such a fantastic start to his NCAA career, Di Giuseppe has just two goals, seven assists and a minus-7 rating in 17 games this season. The explanation for such a drastic dip in production, Powers claims, is a complicated one.
"It's a combination of a lot of things," said the veteran coach, who's been with Michigan for two decades. "He just hasn't been getting the chances, and his line mates haven't been getting the chances. When kids like Phil with high end skills start struggling, they tend to worry about the wrong things."
Di Giuseppe joined the Wolverines in 2011 as one of the youngest players in college hockey, so he's still at a relatively early stage in his progression. With so much time to turn things around, this adversity is by no means calamitous to his development, at least not yet.
As is the case with almost every athlete at the collegiate level, a few bumps in the road are to be expected.
"It's a matter of getting these kids to register in their minds what we tell them, and that's not always easy," Powers said. "When you're a guy that's supposed to contribute offensively and you go into a slump, then all of the sudden you start gripping the stick a little bit tighter. Your confidence is shaken and you start looking at your stats."
While Di Giuseppe's lack of success has been discouraging, he's certainly not alone. Michigan as a whole is playing underwhelming hockey in 2012-13 and has gotten off to a 6-9-2 start, placing them seventh in the CCHA.
"The team is struggling, and Phil is one of the pieces of the puzzle we need to solve," Powers added.
Learning how to conquer a slump is an important experience for anyone who wishes to play in the NHL, so there may be a silver lining to Di Giuseppe's hardship. The best way to break a slump like this, according to Powers, is to work harder than you have been, give a consistent effort every shift and maintain a high level of confidence.
And if Di Giuseppe's recent play is any indication, he's been taking his coach's advice seriously.
Over the course of the last several weeks, he's started to look like his freshman self again, and even scored a goal in a Dec. 14 contest against Western Michigan. While it remains to be seen whether or not he can maintain this kind of play, Powers find these improvements to be encouraging. 
"I think he's probably in a pretty good place confidence-wise. He's put four games together where he's creating for his line mates; he's effective when he's on the ice," Powers said. "We're not talking about one game or one shift. When you look at a four game stretch when Phil's been one of our better players game in and game out, I imagine he's feeling pretty good about himself—and he should.
"He realized just because you have a good freshman season doesn't mean things are going to be better just because you're a sophomore."
With finals exams over at Michigan, the Wolverines are in the midst of a week-long break—one the team really needed. When they return, Powers is hoping for a rejuvenated roster that's ready to get back to its winning ways.
For Di Giuseppe, a strong finish wouldn't only help boost his team up the CCHA standings; it would, for the most part, erase the doubts that have surrounded him for the last several months—and validate his stance as one of the Hurricanes' best prospects.
"Sometimes all somebody needs is to refresh and recharge the batteries. We've seen that happen quite a bit in our system," Powers concluded. "We'll challenge Phil. And he has a lot of hockey left to play."
*   *   *
Di Giuseppe and the Wolverines will return to action on Dec. 29 when they face off against Michigan Tech at Joe Louis Arena, home of the Detroit Red Wings. Our own Andrew Monrreal provides some information on MTU here.