Braden Holtby proved last spring during the Washington Capitals postseason that he is definitely capable of holding a starting role in goal. He stepped into the spotlight in the nation's capital following injuries to Michal Neuvirth and Tomas Vokoun and led the Capitals further than many imagined. Holtby provided excellent goaltending in net for Washington, taking the Capitals all the way to a seventh game against the New York Rangers in the Eastern Conference semifinals. In 14 games playoff games last season, Washington's potential goalie of the future posted outstanding numbers including a 1.95 goals against average and .935 save percentage.
Due to the lockout, Holtby has played for the Capitals AHL affiliate, the Hershey Bears. He's earned the majority of the starts in goal for Hershey, playing in 20 of the Bears 28 regular season games to this point. Holtby has been on fire of late, and recorded his second shutout in his last three games on Wednesday night against Norfolk. You can view a game story of Hershey's 4-0 win over the Admirals, minor league affiliate of the Anaheim Ducks, here.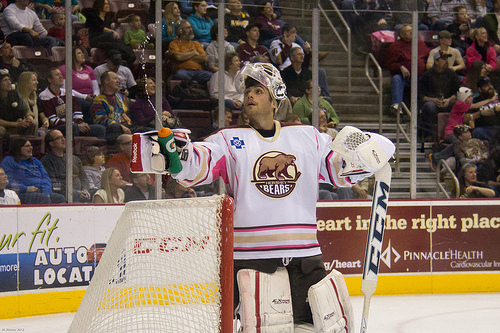 Although just another win for the Capitals fourth round pick from the 2008 NHL entry draft, Holtby continued to climb the Hershey record books. He recorded his 13th career shutout in a Bears uniform, marking him fifth all-time and earned his 72nd career AHL regular season win, placing him seventh in Hershey history.
"I don't ever put myself in anyone's category that's played before me," said Bears goalie Braden Holtby of climbing the charts in the Hershey record books. "Those are the founders of the game that I look up to still."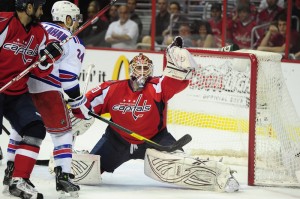 Holtby has brought a calming presence in Hershey's crease, helping the team climb out of an early whole following a slow start to the season, especially at the offensive end. He holds an outstanding 2.27 goals against average along with a .929 save percentage in his 11 wins this season.
"I think he's finding certainly a comfort level with his play," said Hershey Bears coach Mark French of Holtby's recent play. "I thought his performance was excellent tonight."
He plays an aggressive game in net, often challenging shooters to beat him. Holtby rarely gives up on any scoring opportunity by the opposition, allowing for many big-time saves. He also loves to play the puck, often helping generate an offensive rush during a line change or power play.
He doesn't get too high or too low mentally, along with not putting too much stock into shutouts or hot streaks.
"Shutouts I feel are a misleading stat," said Holtby after Wednesday's game. "There's a lot of games where you can't do anything on no matter how good you're feeling. It has to do a lot with luck and the way the team plays in front of you and we did a great job tonight."
The Hershey Bears defensemen have also been doing a better job in front of Holtby of late, often boxing the opposition out of the crease following the initial shot on goal.
"It was the key to the game really," said Holtby on Wednesday of the defense in front of him. "It was a thing we addressed earlier. Making sure we were boxing out better and clearing other deflections in front. We did a very good job of it tonight."
Holtby has made the most of the opportunity to continue to play in North America, unlike his teammate Michal Neuvirth, who is playing overseas. The American Hockey League is arguably the second best hockey league in the world, something Holtby has made a point when discussing the talent in the league this season. He hoped to spend the whole season with Washington, but it's still unclear if there will even be a season.
"I was pretty excited after last year thinking I was going to be in one place for the year," Holtby said earlier this season. "It's an unfortunate situation not for myself, but for the game of hockey. I'm lucky I get to play hockey as a professional with the Bears, I'm not looking at it as a negative."
You can follow Matthew on twitter @m_speck and email him at mspeck21@yahoo.com with any questions or comments.