Many players are selected during the NHL Entry Draft at a very young age. Most players go to a junior league and quickly become club property as early as age 17. A select few go the college route, playing NCAA hockey, sometimes up to a full four years. With the college hockey season underway, here's an update on the Washington Capitals college prospects and how they are faring so far this season. Today I will feature Capitals prospect Austin Wuthrich.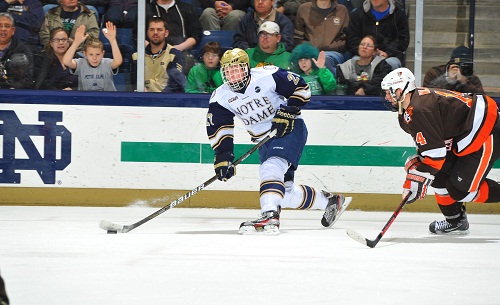 Wuthrich, 19, was selected by the Capitals in the 2012 NHL Draft. He was picked by Capitals management with the 107th overall pick in the fourth round, following his first year at the University of Notre Dame. Wuthrich is playing for Notre Dame again this season, and is closely on pace to achieve about the same offensive production as last season.
He came on the scene during the 2009-2010 season, playing for the United States Under-17 Team. Wuthrich totaled four points in 15 regular season games alongside future Capitals prospect and draft selection Travis Boyd. He followed up his first season with the U.S. team in the United States Hockey League (USHL) with a strong 2010-2011 campaign, recording seven points in 16 games. He also played with Capitals prospects in Boyd and Connor Carrick.
Wuthrich then decided to go the college hockey route, committing to the University of Notre Dame. As a freshman, he contributed a highly respectable 17 points in 34 regular season games. His 17 points placed him fifth on the team in scoring, even though he was the youngest player on the roster.
As the Notre Dame Hockey team heads to break, Wuthrich should look to increase his offensive output when the season reconvenes. He likely projects as a future third line forward for Washington, using his size and competitive edge to earn ice time. At 6'1" and 190 pounds, Wuthrich should become a solid presence in front of the net, possibly earning him power play time in the minor leagues following his time at Notre Dame.
He'll likely spend another season or two beyond this year at Notre Dame before turning pro. Wuthrich will then spend a year or two in the minor leagues, likely with Washington's AHL affiliate, the Hershey Bears, before a shot with the Capitals. In Hershey, he could earn top six forward minutes along with time on the power play with a top-level AHL franchise.
Thomas DiPauli Prospect Update
The next Capitals prospect I will feature is Caleb Herbert, center at the University of Minnesota Duluth.
You can follow Matthew on Twitter @m_speck and email him at mspeck21@yahoo.com with any questions or comments.