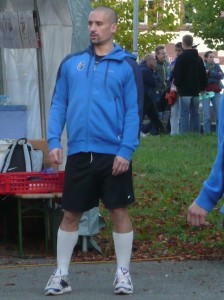 Tomas Plekanec had a rough season with the Canadiens last year. After leading the team in scoring for the two seasons prior, Plekanec fell to fourth last season and finished with his worst ever plus/minus rating, minus-15. So this year, while the NHL is locked out, Plekanec has been sharpening his skills and having some fun in his hometown of Kladno in the Czech Extraliga.
Though the NHL has canceled games through January 14, hockey goes on for Tomas Plekanec. The mix of lowered pressure, familiar surroundings and an elite linemate seems to be a perfect recipe for recovery.
Plekanec had a rough ride last year, finding himself on the second and even third line much more often than the first. But even still, the Czech forward still saw use in every situation: even strength, shorthanded, and on the powerplay.
With David Desharnais capitalizing on his chemistry with Max Pacioretty and Erik Cole, Plekanec didn't get too many chances to play with Montreal's most consistent wingers last season. Instead Plekanec found himself centering just about every other line combination imaginable. Plekanec played with over a dozen different wingers last season, not exactly a recipe for success. The chart from Left Wing Lock found here gives you an idea of what Plekanec went through last season.
This season, Plekanec has benefitted from some much needed stability. On top of that, he gets to play with one of the world's greatest players on his wing, Jaromir Jagr. It's a match that has worked out well for Jagr and Plekanec, as the pair have combined for 96 points so far this season. Plekanec has picked up 21 goals and 25 assists in 31 games while Jagr has 23 goals and 27 assists in 30 games with the Kladno Knights.
As an added bonus, Plekanec will be getting to spend his first Christmas at home with his parents in 15 years. According to his recent comments in Le Journal de Montreal, Plekanec will split his holiday time this year between his wife's family in Prague and his family in Kladno. The two Czech cities are about half an hour apart by car.
Plekanec has been one of the most successful NHLers playing in Europe during the lockout, giving Habs fans reason to believe that his substandard performance last season was just a fluke.
If the NHL and NHLPA can pull themselves off the brink and somehow save this season, expect Plekanec to have a step up on the competition. If on the other hand the season is canceled, Plekanec will likely stay with Kladno for the rest of the year, playing his home games in front of friends and family, including his parents.
Either way, it's probably safe to assume Plekanec is having more fun this season than he did last year.