TML Captains is a series that profiles the men who 'wore the C' for one of the NHL's charter franchises. Previously featured were Bob Davidson, Ted Kennedy, Sid Smith and Jimmy Thomson. All profiles can be found here.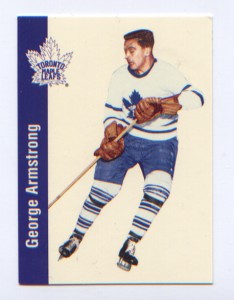 George Edward 'Chief' Armstrong
#10, 15, 20 Centre/Right Wing
Born: 6 Jul 1930 in Skead, ON
Toronto Maple Leafs 1949-71
Acquired: Signed as free agent/Toronto farm system. 
Lost: Retired in 1971.
Toronto totals: 1187 Games, 296 Goals, 417 Assists, 713 Points, 282 PIM
Captain: 1958-69
Head Coach: 1988-89 Regular season record: 47 games, 17W-26L-4T, 38 points (.404%).
Assistant General Manager: 1987-89
Scout: 1987-present
"The best captain, as a captain, the Leafs have ever had." – Conn Smythe on George Armstrong
For so many Leaf fans, there almost is no Leaf captain before George Armstrong. That's no disrespect to the men who have already been profiled. It's simply that Armstrong occupies a place of such distinction in Maple Leaf history. He is the last Leaf captain to play his entire NHL career with the Leafs. He was captain the longest of any man. He captained the Leafs through the end of the 'Original Six' era, and to the franchise's last Stanley Cup victory to date. And save for a few years, he has been an employee of the Maple Leaf hockey club since his retirement.
Born just outside of Sudbury, Ontario to a Scot-Irish father and Ojibway mother, George began playing hockey locally as many northern Ontario kids did, skating on frozen ponds and rivers whenever time and temperature allowed. And, he became good enough to play for the Copper Cliff Redmen of the Northern Ontario Hockey Association (joined by future Leaf teammate Tim Horton in 1946-47). The Maple Leafs moved to get the 16 year old signed to their reserve list, and the next season, George was sent to Stratford of the OHA, where he scored 33 goals and 73 points for the Kroehlers in 36 games to lead the league in scoring. He was awarded the Red Tilson Trophy as the OHA most outstanding player.
Armstrong was a big kid, and despite not being the best skater, he learned to use his size to play effectively in the corners and on wing. He was moved to the Leafs' main farm club, the junior Marlboros for the 1948-49 season, where he proved he would make it in hockey. With the junior team, George put up 29 goals and 62 points in 39 games, and another 17 points in 10 playoff games as the Marlies lost the Memorial Cup to Barrie. He also played 3 regular season and 10 Allan Cup playoff games with the senior Marlboros. The next season, George was with the seniors full-time. In 1949-50, he had 64 goals and 115 points in 45 games, and added 19 goals and 38 points in 17 playoff games in helping the team capture the Allan Cup. His performance that season earned him a second Red Tilson Trophy. And it was at this time that the band on the Stoney Indian Reserve in Alberta gave George the name 'Big Chief Shoot the Puck', and he'd be known as 'Chief' through his career.
That same season, George was called up for 2 games with the defending champion Maple Leafs. He played 1950-51 and much of 1951-52 with the AHL Pittsburgh Hornets (the team made the Calder Cup finals his first year, and won the championship in the spring of 1952). He joined the Maple Leafs full-time for 1952-53, just after the team had finished winning 5 Stanley Cups in 7 seasons, but now was entering a difficult decade. Between 1951-52 and 1957-58, the team failed to win a playoff round, and missed the playoffs three times.
Though he obviously had success as a scorer (135 points in 75 OHA Junior games, 115 points in 48 OHA Senior games, and 107 points in 121 AHL games), George never became a 'scoring star' in the NHL. Only once did he lead the team in scoring (1956-57, with 44 points, in a year Gordie Howe led the NHL with 89). He scored 20 or more goals 4 times, and thrice topped 50 points. What Armstrong did have going for him was that while not the strongest skater or most gifted scorer, he was almost always in position – a solid defensive checker who could contribute offensively.
By 1958, the Maple Leafs were changing. George was already wearing number 10, the same number made famous by former captain Syl Apps. Apps' successor, Teeder Kennedy, had officially retired, and other core players such as Sid Smith, Tod Sloan and Jim Thomson were also leaving Toronto. A new young core was developing, which included Dick Duff, Frank Mahovlich, Bob Pulford and Billy Harris. Now 28, a veteran of 6 seasons, and respected amongst his teammates for his leadership and sense of humour, George Armstrong was named team captain. Along with the hiring of Punch Imlach, it represented a major turning point for the Toronto franchise, one which would result in a run of 4 Stanley Cups over 6 seasons.
At the time of his appointment as captain, Chief was among the most veteran of the Leafs. He had played with former Leaf great Kennedy and began his career just as the great dynasty of the 1940s was closing. He played a style that became a hallmark of the Maple Leafs – a defensively responsible, but opportunistic game that carried the Leafs to great success. But it was his character that garnered him respect. As Paul Henderson, who became a Leaf in 1968, said in his biography The Goal of My Life:
I always respected George on the ice when I played against him. He was a battler who played the game hard but fairly. When I got to Toronto, though, I was impressed to discover just how competitive he was. He sure came to play every night and had no patience for those players who didn't.
Chief actually retired from the team a number of times, the first was after the 1967 Stanley Cup win. He was protected by the team from the first expansion draft and returned. From then, it seemed each season, George was ready to retire, but returned. In 1969, the captaincy was passed on to Dave Keon, but Armstrong returned and played as a Leaf again until his final retirement following the 1970-71 season.
After retirement from playing, Armstrong returned to his junior hockey roots. He won two Memorial Cups as coach of his old team, the Toronto Marlboros in 1972-73 and 1974-75 (the last Memorial Cups won by the franchise). He then moved on to spend nine years as a scout for the Quebec Nordiques.
In 1988, Chief returned to the Leafs as assistant general manager and scout. He reluctantly took over the head coaching duties when John Brophy was fired following an 11-20-2 start. Unfortunately, things did not go much better, and Armstrong's Leafs went 17-26-4 for him in 47 games, finishing 19th of 21 teams that year. The next season, Doug Carpenter was brought in as head coach, though Armstrong remained with the organization. He is still employed by the club as a part-time amateur scout, mostly scouting the OHL in the Toronto area.
Armstrong holds the fifth position for most points as a Maple Leaf. He captained four Stanley Cup victories, as well as having won an Allan Cup and coaching two Memorial Cup winners.
Two of George's nephews were also involved with the NHL. Dale McCourt played over 500 NHL games (including 72 with Toronto, and is also a Red Tilson Trophy winner), while Dale's brother Dan was an NHL linesman for 23 years.
George Armstrong remains the Maple Leafs' all-time games played leader at 1187 games.
Awards (with Toronto)
Stanley Cup: 1961-62, 1962-63, 1963-64, 1966-67 (player – 4)
J.P. Bickell Memorial Award: 1959 (shared with Bob Pulford)
Named to Toronto Maple Leafs Top 25 Players List, 2001
Honoured Number '10', 1998
Inducted to Hockey Hall of Fame in the Player Category, 1975
Information for this article was complied from sources including http://www.legendsofhockey.net, http://mapleleafslegends.blogspot.ca and http://www.hockey-reference.com