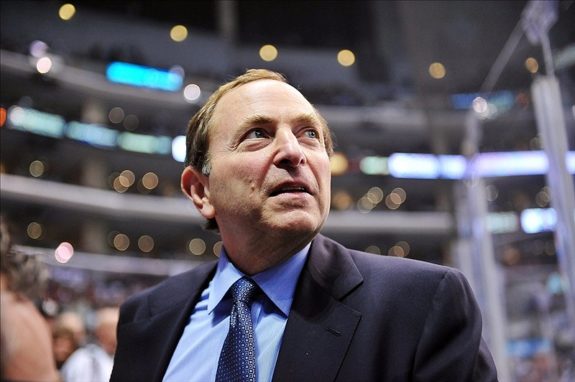 The following is a letter from NHL commissioner Gary Bettman and NHLPA executive director Donald Fehr. It's addressed to hockey fans everywhere.
Gary Bettman: On behalf of all the league's owners, I'd like to wish all hockey fans a very Merry Christmas.
Donald Fehr: Some of us had been hoping for a new collective bargaining agreement by now. Others were on your televisions depressing you every day for the past three months. I'll let you decide which one I was.
Bettman: As we chow down on Christmas dinner with our families, and Donald with his brother Steve, we hope you can hold back your inner desires of ripping our names to shreds as much as you rip apart your turkey.
Fehr: Steve and I have been waiting for this day for months now. Since we've burned your dreams of an NHL season to pieces, we figure it's only fitting that we burn our turkey, too. But not the stuffing; we're going to hire Gary Roberts to do that part for us.
Bettman: While hockey fans in Quebec City skate on their backyard rinks, and Winnipegers try and defend Evander Kane, our dear fans in Phoenix, Arizona will try not to think of your tears while unwrapping their new Phoenix Suns jerseys.
Fehr: And don't worry, everyone, we're taking Christmas off, too. There's no sense in us bothering you with meaningless statements on SportsCenter while you try and watch the NBA's Christmas Day marathon.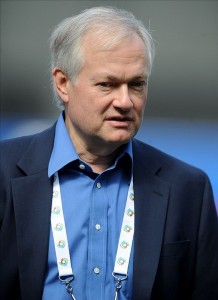 Bettman: If you're getting up at 4 AM to watch the world juniors, we salute you. Because seriously, who in their right mind would ever do that? 
Fehr: It's not like it's the World Series or anything.

Bettman: Instead, we'll be opening gifts on Christmas morning, just like all of you. We know you've earned it more than we have.
Fehr: And I've already ordered my special edition copy of Major League Baseball 2K12. 
Bettman: Don and I have come to a mutual agreement that we won't speak to each other on Christmas Day. It's in the best interest of everyone.

Fehr: We would never lie to you.
Bettman: That would just be wrong.
Fehr: In fact, we are very, very close to a new CBA. There are only a few minor details left to sort out.
Bettman: I encourage you to watch the Spengler Cup over the holidays. Based out of Switzerland, the scenery is just as beautiful as the game. It'll give you an opportunity to watch the players you won't otherwise be seeing anytime soon.
Fehr: Don't blame me for the lockout. I'm just doing my job really well. This is all about the players; it has absolutely nothing to do with money.
Bettman: I don't even like money all that much.
Fehr: On behalf of the players, we'd like to extend our deepest sympathies…
Bettman: Woah, Don, no one actually believes the players appreciate you speaking on their behalf.
Fehr: Well then, Steve and I aren't too concerned with what anyone thinks. Just in case you couldn't tell. You can call me The Great Donaldini, because I can make your season disappear.
Bettman: We should probably wrap this up. Seasons greetings to you and your families, everybody.
Fehr: Happy Easter, hockey fans. Wait, we haven't dragged this thing out to the end of March yet?
_____________________________________________
Contact David O'Connor at davidoconnorhockey@gmail.com and follow him on Twitter @DavidOConnor95 for more updates on the NHL and World Juniors.