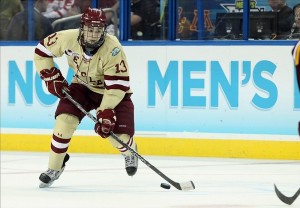 A few years back, you wouldn't be shocked to see very few Calgary Flames prospects at the annual IIHF World Junior Hockey Championships. After all, to say that the Flames have been inconsistent with their drafting in the recent past would be charitable. At times, the club has been downright bad at drafting and player development, to the point where they often only had one player (or nobody) suiting up at the U-20s.
This year they have five players headed to Russia, pending the last Team USA cut.
LW JOHNNY GAUDREAU (UNITED STATES)
Arguably the Flames most exciting prospect, Gaudreau was Calgary's fourth round selection in the 2011 NHL Draft. He debuted with Boston College in the NCAA last year and was a decent player for the first half of the season before trying out for Team USA's World Junior entry at last year's tournament. The last guy cut at the camp, Gaudreau has been on fire since then, averaging more than a point-per-game in the NCAA. And he's only 5-foot-8 and 150 pounds (according to the IIHF's register), yet he dances around defenders throughout college hockey. He'll be expected to anchor the American top line, just as he anchored the Boston College Eagles as a freshman en route to a NCAA national championship.
And just for fun, check out this sick deke in the national championship game last spring.
C MARKUS GRANLUND (FINLAND)
The younger brother of hot-shot Minnesota Wild prospect (and current Houston Aero) Mikael Granlund, Markus was chosen with one of two second round picks in the 2011 NHL Draft that the Flames acquired for Tim Erixon. Now, Granlund's played professional hockey in SM-Liiga with HIFK Helsinki for a little under two full years. His numbers haven't been incredible this year (without his big brother), but he's still a 19-year-old playing pro hockey against grown men. He's looked strong in the pair of pre-competition games, scoring once in each game, and should be seeing top-line duty for the Finns.
D PATRICK SIELOFF (UNITED STATES)
The second of three Flames second round picks at this year's World Juniors, Sieloff was chosen at the 2012 NHL Draft from the U.S. National Development Team. He's played the past season with the OHL's Windsor Spitfires, where he's become known for big, crushing (but clean) body checks. He's potentially on the bubble for Team USA, as the club has one last defenseman cut to make before they finalize their roster on Christmas Day (and Sieloff was a scratch in the United States' last game).
D TYLER WOTHERSPOON (CANADA)
Possibly the most surprising of the Flames prospects to head to Ufa, Wotherspoon was selected with one of the two second round picks in the 2011 NHL Draft that the club acquired for Tim Erixon. A dependable, responsible two-way player for the Portland Winterhawks, Wotherspoon's profile has expanded due to his usual pairing with 2013 NHL Draft prospect Seth Jones. He's also experienced a nice jump forward in scoring and is among the WHL's leaders in plus/minus. He'll be playing a utility role for the Canadians, including spending time on the penalty-kill.
G JON GILLIES (UNITED STATES)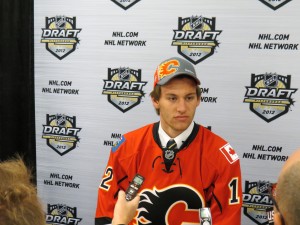 Calgary's third round selection in the 2012 draft, Gillies has made the jump from the USHL to the NCAA as a fresh-faced 18-year-old and hasn't looked out of place. The every-day starter for Hockey East's Providence College Friars has kept his low-scoring team in most games this year, and has even stolen some. He'll be serving as the back-up to Team USA incumbent John Gibson, who caddied for last year's World Junior entry. The succession logic is that if Gillies continues to impress, he could be the number-one guy for the Americans next year in Malmo, Sweden.