This article was originally published in August, 2012.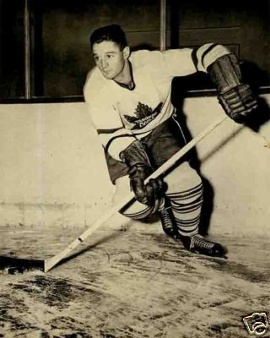 James Richard 'Jeems' Thomson (also 'The Gold Dust Twins' with Gus Mortson)
#2, 20 Defence
b: 23 Feb 1927 Winnipeg, MB
d: 18 May 1991
Toronto Maple Leafs 1945-57
Acquired: Signed as free agent, October 16, 1945. 
Lost: Traded to Chicago for cash, August 1957.
Toronto totals: 717 Games, 15 Goals, 208 Assists, 223 Points, 845 PIM
Captain: 1956-57
When Sid Smith relinquished the captaincy of the Maple Leafs, the honour was bestowed upon a defensive defenceman who bridged that gap back to the dynasty of the late 1940s – Jimmy Thomson.
Thomson is one of those Leaf players from history who isn't remembered immediately, especially by younger fans. When we talk of captains, we recall Gilmour, Clark, Sittler, Keon and Armstrong. Talk of the great Leaf defencemen focuses on Day, Salming, Horton and Baun. But Jimmy Thomson was indeed one of the great keys to Toronto's Cup wins of the late 1940s. And his fall from grace with the organization is amongst the steepest.
Jimmy Thomson's Origins
Hailing from Winnipeg, Thomson was signed and brought as a youngster to Toronto's junior farm team, the St. Michael's Majors. There, under the tutelage of 'Gentleman' Joe Primeau, he paired with Gus Mortson and together they captured a Memorial Cup in 1945.
Thomson spent much of 1945-46 with the AHL club in Pittsburgh. By the 1946-47 season, both 'Jeems' Thomson and 'Old Hardrock' Mortson were paired on the Maple Leaf blueline. Thomson was the stay-at-home type though he'd developed into a slick passer. Never much of a scorer, he scored only 19 career regular season and 2 playoff goals. Five times he topped 20 assists, and finished his career with 215 – not bad for a defensive defenceman in that era. Mortson was a rushing-type, more offensively gifted, with the additional gift of being a physical player.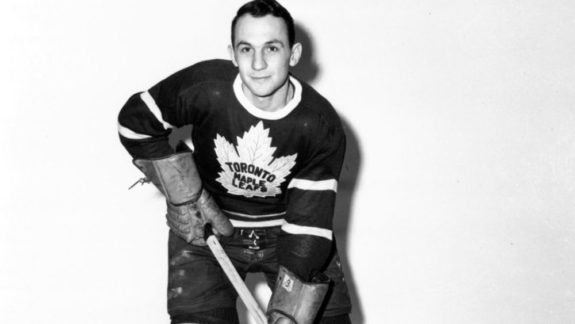 In the 1940s, teams used four regular defencemen with a fifth who may rotate into the game to kill penalties. Thomson and Mortson were the top pair for the Leafs, with Garth Boesch, Bill Barilko and Wally Stanowski completing the corps. Together, they employed a clutch-and-grab, hard-hitting style of taking the man rather than playing the puck. Thomson and Mortson were nearly impenetrable, checking the opponent while ignoring the puck. Some described as illegal, though Thomson was a clean player, never topping 100 penalty minutes for a season (Mortson on the other hand, led the NHL four times in penalty minutes). It was a very effective method of defense, and one that saw Thomson, Mortson and the Leafs win three consecutive Stanley Cups to close out the 1940s and another in 1951 with their old coach Primeau at the helm. In addition, Thomson was selected twice to the NHL Second Team as an all star, while Mortson was recognized once.
Jimmy Thomson the Maple Leaf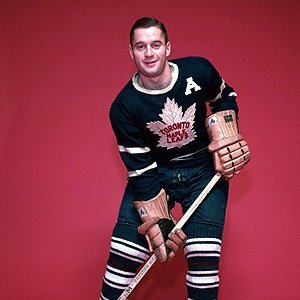 Aside from hockey, Thomson also began his own coal and oil business in Toronto. He hired Mortson as his salesman. The pair seemed for all intents to be inseparable, and earned them the nickname 'The Gold Dust Twins'. In the day, it was a reference to a well-known corporate logo, but came to be used to describe any two, especially athletes, who worked closely together. It should be noted that at the time, Thomson and Mortson were Toronto's hockey version, while the football Argonauts had their own set of Gold Dust Twins in Royal Copeland and Joe Krol. It was a golden era for Toronto sports indeed, as the Leafs' 6 Stanley Cups from 1942-51 were matched by 6 Argo Grey Cups from 1943 to 1952.
In the fall of 1952, the pairing of Thomson and Mortson was broken up as Gus was traded to Chicago (with Al Rollins, Ray Hannigan and Cal Gardner) for Harry Lumley. The dynasty of the 1940s gave way to the struggles of the 1950s as the Leafs could not find the magic to get back to hockey's highest level. By 1955, Ted Kennedy had retired, and the Leafs were a much younger crew. When Sid Smith resigned his captaincy after a single season, Jimmy Thomson was selected. He was a good choice, a veteran who had tasted success and like Smith, had been steeped in Leaf history. The team was not having much success though, and when Teeder Kennedy was coaxed out of retirement, Thomson returned the mantle of captain back to him.
The Maple Leafs Lose Jimmy Thomson
When Ted Lindsay and Doug Harvey began looking for support for a player's union, they found it in Toronto in Jimmy Thomson. Thomson served as secretary-treasurer, and led the effort to organize the Maple Leafs – getting support from everyone except Ted Kennedy. Ultimately, Jack Adams was able to manipulate his Red Wings into not certifying, and the union was stopped. In Toronto, owner Conn Smythe was disappointed in Kennedy for not tipping him off to what was happening. But when it came to Thomson, Smythe saw his actions as flat out disloyal. Less than one year after being named captain, Jeems was shipped off to Chicago for cash. He played one season with the Blackhawks and retired at age 31.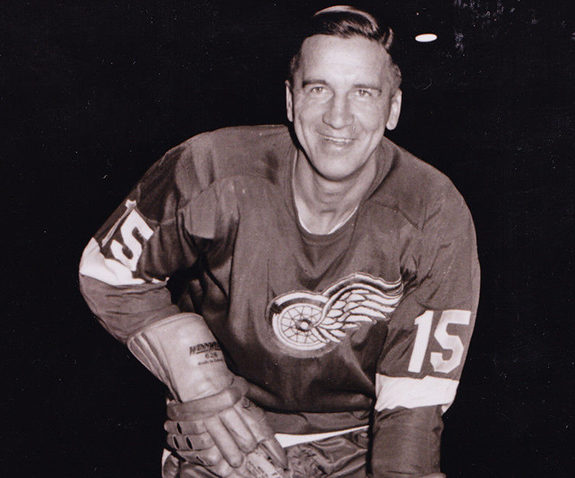 Jimmy Thomson went full-time into his coal and oil business after his playing days. In 1984, Hockey's 100: A Personal Ranking of the Best Players in Hockey History by Stan Fischler ranked Thomson the ninth best defensive defenceman of all-time (Doug Harvey, Tim Horton, Eddie Shore, Ching Johnson, Hap Day, Emile Bouchard, Jack Stewart, Dit Clapper and Ken Morrow were the others). While that opinion may seem dated almost 30 years later, it should be noted that Jimmy Thomson, winner of four Stanley Cups and twice an all-star was certainly held in high esteem for the role he played. He is an honoured member of the Manitoba Hockey Hall of Fame.
Awards (with Toronto)
Stanley Cup: 1946-47, 1947-48, 1948-49, 1950-51 (4)
NHL Second Team All-Star: 1950-51, 1951-52 (2)
Named to Toronto Maple Leafs Top 25 Players List, 2001
Information for this article was found at Manitoba Hockey Hall of Fame, Legends of Hockey, Greatest Hockey Legends, and Hockey-Reference.com.