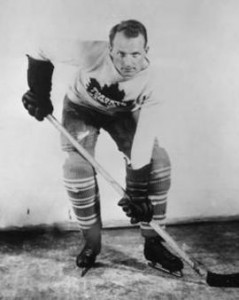 Charlie 'The Big Bomber' Conacher 1937-38
'Slippery' Syl Apps 1940-1943, 1945-48
Ted 'Teeder' Kennedy 1948-1955, 1956-57
George 'Chief' Armstrong 1958-69
The Toronto Maple Leafs entered the NHL as the Toronto Arenas in 1917. The team became the Toronto St. Patricks in 1919, but later were created as the Maple Leafs when Conn Smythe took over the franchise. Smythe was a military man – he'd achieved the rank of major and served in both the First and Second World Wars – and he had an idea or two about leadership and the kind of men he'd want to lead his hockey team.
A captain is often the face of the team. In the early years of the NHL, a captain was often selected by managers or the other players. The early captains were men who Smythe recognized as leaders, whether by virtue of their skill, their determination or their demeanor. In more recent years, often the player thought to be the 'best' in terms of his talent level has been made captain.
This series profiles the men who have been honoured to serve as captain of the Toronto Maple Leafs. Here you'll find the stories of Hap Day, who won 7 Stanley Cups as a player, head coach and general manager; Syl Apps, who served his country during World War II and later served as a Member of Provincial Parliament; George Armstrong, who captained the great dynasty of the 1960s; and others whose careers cannot be spoken of without reference to their time wearing the captain's 'C' in Toronto. And it would be no surprise that 13 of the 18 captains having been named to the 75th Anniversary 25 Greatest Leafs Team.
I hope you enjoy this series, and feel free to post any feedback you may have via our comments below.