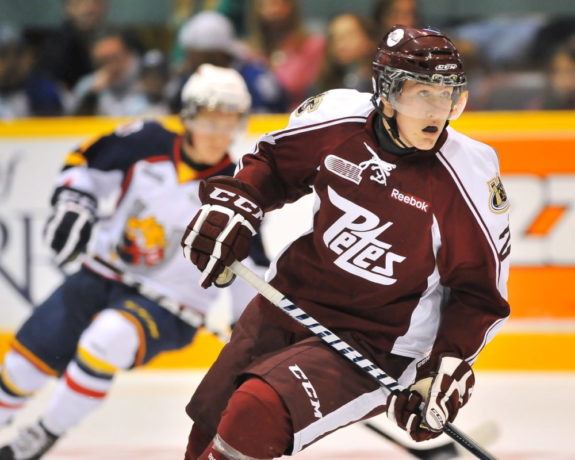 In each year since 1991, the Ivan Hlinka Memorial tournament has been a staple for young hockey players looking to get a good start in their country's respective national programs.
Canada has been very successful in recent years, winning gold medals in seven of the past eight tournaments. Expectations this time around are no different, as Hockey Canada is determined to continue its winning ways.
There's more than enough star power on Canada's roster this year. A near handful of stars from the Halifax Mooseheads headline the group, and a load of Ontario Hockey League youngsters will find roles throughout the team.
Starting with the offense, here's an look at what opposing teams will be going up against.
The Forwards
The main attraction on this team is Nathan MacKinnon. Since a young age, he's played that role, and it's going to continue to be that way for years. MacKinnon is the favourite to be selected first overall in the 2013 NHL Entry Draft, and will find no shortage of scouts watching every move he makes on the ice.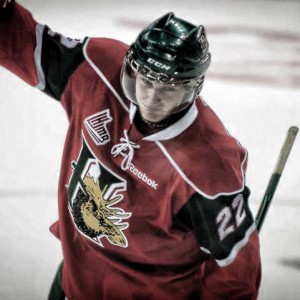 Jonathan Drouin, MacKinnon's teammate on the Mooseheads, could end up playing alongside him on the top line. The two developed great chemistry over the course of their respective rookie seasons.
Nick Ritchie, the second overall pick in the 2011 OHL Priority Selection, is considered one of the better forwards of the group. He's not NHL Draft eligible until 2014, but Ritchie will use this tournament to establish himself in Hockey Canada's system.
A pair of dynamic forwards from the London Knights will be another duo to watch. Max Domi and Bo Horvat, who are both draft-eligible next season, will fill different roles on the team. Domi's a playmaker, and though Horvat does have offensive skills, he'll likely play more of a depth role in this tournament.
Ryan Kujawinski could be a bit of an unknown commodity to some, but he will be a player to keep an eye on in both in this tournament and with the Kingston Frontenacs this season. After being acquired from the Sarnia Sting around the halfway-point of last season, Kujawinski really opened some eyes of those who were unfamiliar with the former fourth overall pick.
Another young forward from the QMJHL to keep an eye on is Anthony Duclair. He was viewed as one of the better forwards at Canada's selection camp, and should play in the team's top-six.
From the West Coast, Curtiz Lazar of the Edmonton Oil Kings and Sam Reinhart of the Kootenay Ice are the most recognizable forwards. But watch out for Morgan Klimchuk. All the recent reviews on him suggest he could be a key player for Canada in this tournament.
Rounding out Canada's offense are Yan-Pavel Laplante from the P.E.I. Rocket, and Nic Petan from the Portland Winterhawks.
The Defensemen
While Canada may not have all of the biggest household names on their back end, there's no doubt it's filled with high-end talent.
Darnell Nurse and Josh Morrissey could be central components of the team's defensive group. Nurse, a nephew of NFL quarterback Donovan McNabb, is the tallest of the blueliners by a good two inches. At 6'4″, 180 pounds, he's not overly thick, but can play both ends of the ice with confidence. The current Sault Ste. Marie Greyhound was formerly a star with the Don Mills Flyers minor-midget team, playing alongside fellow Canadian teammate, Max Domi.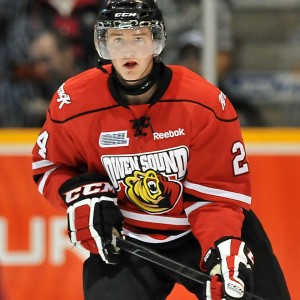 Based on reports from selection camp, Shea Theodore of the Seattle Thunderbirds had a great showing. Both Madison Bowey and Theodore are potential first-round draft picks next summer.
On top of Nurse, there are two other Ontario-born defensemen on this year's team. Chris Bigras of Woodland Beach and Jordan Subban of Toronto were by no means locks to make this squad. Bigras clearly showed enough at camp to warrant a selection, while Subban's advantage was his ability to skate well on the big and wide European ice surface.
All of Canada's defensemen are eligible for the NHL Entry Draft following the upcoming season.
The Goaltenders
It was an extremely tight race for the second goaltending spot at selection camp. That was mostly because the starter's job was all but wrapped up before the players even hit the ice at the MasterCard Centre in Mississauga.
Zachary Fucale was Canada's number one goalie heading into camp, and he was the team's top 'tender at the end of it. Fucale put on a show this season as a rookie with the Halifax Mooseheads. Remember, this was a team that already featured two stars in Jonathan Drouin and Nathan MacKinnon.
The young netminder was lights-out for the Mooseheads in the playoffs this year, and led them to the conference semi-finals. While Halifax would fall to the Rimouski Océanic in six games, Fucale made himself known nation-wide.
Eric Comrie was able to grab onto the other spot in the crease. Comrie was 19-6-1-1 in his rookie campaign with the Tri-City Americans. It was a close battle between Comrie, Tristan Jarry, and Spencer Martin for the job. Comrie will now be expected to prove that he was the right choice. All signs suggest he will have no problem doing so.
When it came to the competition at camp, head coach Todd Gill of the Kingston Frontenacs was impressed.
"It was a very competitive camp, we could have easily chosen all these players to play in the tournament. There is a lot of talent on the ice in this country, and we look forward to getting to Europe and continuing Canada's great tradition at this event," Gill said. "Whatever happens, I'm going to enjoy the experience and the opportunity to play with 21 of Canada's top hockey players," he said in a Canadian Press article.
All the tournament action begins August 13, when Canada opens the 2012 Ivan Hlinka Memorial by facing off against Switzerland.
________________________________________________
Follow me on Twitter: @DavidOConnor95    "Like" my page on Facebook: David O'Connor
David O'Connor is a managing editor with the Sunbelt Hockey Journal. His writing has been on the Los Angeles Times' website, among other places. O'Connor also does some scouting work for the local Junior B hockey club. Please feel free to contact him at davidoconnorhockey@gmail.com.