The subject of this week's quotes of the week is the one and only Bobby Orr, arguably the greatest hockey player of all time.
He could take his speed to whatever level he had to, to be faster than the guy chasing him.
Darryl Sittler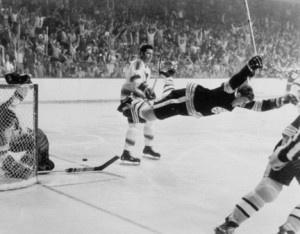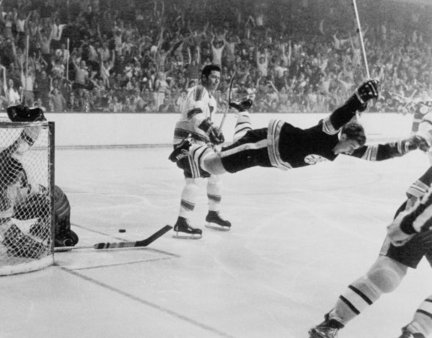 [3]
Who's to say what a player is worth? It's your ability to pay it that is more important. I've said many times before, there has never been a player like Bobby Orr in the history of the league, he's the finest player that's ever played. Using that as the sole criteria, he's probably worth $100 million, or $250 million.
Harry Sinden [5]
Sure, Orr leads the rush, but he's so quick that he's the first one back on defense. He's got the legs.
Gordie Howe [2]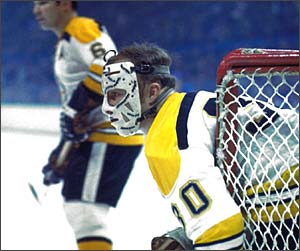 Here's a kid who's only 21 years old and he's keeping us all alive and well. He's got to win the Hart Trophy as the most valuable player, the Norris Trophy as the best defenseman and the Vezina Trophy as the best goaltender—Bobby has stopped more shots this year than any goalie in the league.
Gerry Cheevers [2]
He's what all hockey players should try to be like, on the ice and off the ice.
Bobby Clarke [3]
You can have all the Bobby Clarkes in the world. I'll take one [brilliant] game from Orr. He'll make 30 moves no one has ever seen before.
Harry Sinden [3]
I have no bitterness toward Bobby Orr.
Alan Eagleson (yes, he actually said that) [4]
They say Bobby doesn't play defense. Heck, he makes hockey a 40-minute game for us. He's got the puck 20 minutes by himself. What better defense is there? If Orr has the puck, we're going to score—not the other guys.
Eddie Johnston [2]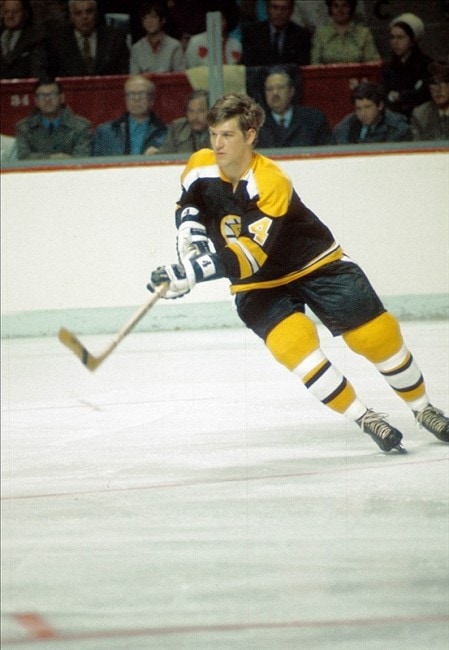 Most hockey players don't feel they're doing anything special because in Canada it is expected of a man to play hockey. Everyone plays. So when we come to the States and people make a big deal of us, we tend to stay in the background—like Bobby Orr. You don't see him on the Johnny Carson Show every night. All he wants is a chance to prove his ability, to play the game.
John McKenzie [6]
When [Orr] goes by my bench I turn away so I won't have to watch.
Punch Imlach [1]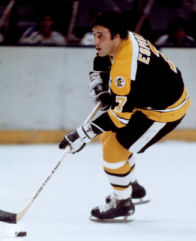 Once when we were killing a penalty against the Oakland Seals, Bobby took the puck behind our net, tussled with one of their guys, and lost one of his gloves. He went around by the blue line, came back, picked up his glove, still had the puck, killed well over a minute of that penalty—and then he scored. Greatest thing I ever saw.
Phil Esposito [3]
All I ever really want to do is play hockey. I don't care about anything else.
Bobby Orr [7]
SOURCES:
1. Mulvoy, Mark. "It's Bobby Orr & The Animals" Sports Illustrated, 3 Feb 1969.
2. ———-. "Bobby Mines The Mother Lode." Sports Illustrated, 12 Jan 1970.
3. Bonander, Ross. Hockey Talk: Quotations about the great sport of hockey, from the players and coaches who made it great. Delabarre Publishing (2011).
4. Papanek, John; Brubaker, Bill. "The man who rules hockey." Sports Illustrated, 2 Jul 1984.
5. CBC Sunday Magazine (broadcast date, 10 Aug 1975).
6. Jordan, Pat. "Icemen You'd Love to Hate." Sports Illustrated, 13 Dec 71.
7. Mulvoy, Mark. "Bobby Stakes An Orr Claim For Everybody." Sports Illustrated, 2 Sep 1968.
Last week: Contemporary Writers (I)
Next week: Legendary Coaches