This week's quotes come from contemporary writers working today and whose work was published within the last few years.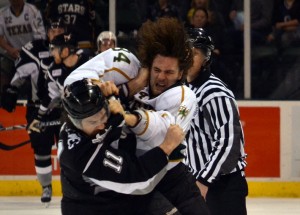 Hockey fights are like love – sometimes they can happen in a glance.
Harrison Mooney [1]
The modern NHL was built on the Wow of the slap shot … Bobby Hull spooking maskless goalies with swerving pucks that came off his banana-curved blade; Guy Lafleur, lank blond locks flowing, loosing one from the right flank; the Big M, Frank Mahovlich, pounding away … The slap shot was the NHL signature. Its dunk. Its 50-yard bomb.
Michael Farber [2]
All other hockey skills are secondary to whatever-it-was that Gretzky had.
Justin Bourne [3]
There may be no crying in other sports. But there is obviously room for it in hockey, perhaps the toughest of them all.
Jason Diamos [4]
If we want to make hockey players more capable of coping with the pressures of life in the pro game and life after the pro game, we have to demand more of them as they make their way through the developmental ranks – and ask less of them in terms of what they put themselves through for our viewing jollies.
Adam Proteau [5]
Goaltenders are fall guys in a rectangular cage, scapegoats waiting to happen.
Wayne Coffey [6]
The [Kings-Coyotes] series is set to play out like a bellycrawl under a mile of low-slung barbed wire. If Vegas were to set the nightly line at 1, you couldn't blame some folks for taking their chances on the under.
Allan Muir [7]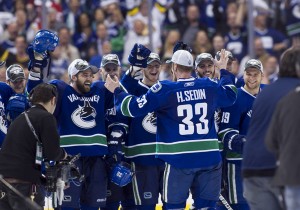 The great unhockey world has taken a sudden interest in the fate of my poor little birds.
Ellen Etchingham [8]
If compared to a car, the shot that won the Western Conference title for the Vancouver Canucks was a 1975 Dodge Dart, almost out of gas, the muffler scraping along the pavement into the service station just in time. It was not the kind of goal one might expect to prompt confetti to fall from the rafters and for a city to rejoice in the streets.
Adrian Dater [9]
SOURCES
1. "Benches empty in brawl between AHL's Rockford Ice Hogs and Milwaukee Admirals." Yahoo.com, 2 Apr 2012.
2. "Goodbye to the slap shot." Sports Illustrated, 21 Nov 2011.
3. "Why hockey sense is more important than star talent." Bourne Blog, 26 Oct 2010.
4. "Messier returns, as captain and lifeline." The New York Times, 14 Jul 2000.
5. "The reality behind hockey players." The Hockey News, 1 Sept 2011.
6. The Boys of Winter (2005)
7. "Inside the NHL." Sports Illustrated, 10 May 2012.
8. "On career-ending concussions: All good things come to an end." TheScore.com, 19 Dec 2011.
9. "There might not be a worse way to lose." The Vancouver Sun, 25 May 2011.
Last week: Sheroisms
Next week: About Bobby Orr