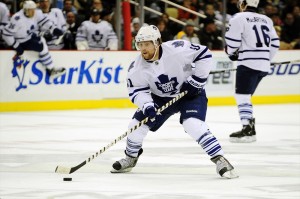 'Untouchable' is a word that has been thrown around the NHL a lot especially in relation to those who play for the Toronto Maple Leafs. Without trying to crush the hearts of little boys and girls who adore their favourite Leaf player, it's time to speak of the truth. That is, of course, that there isn't one player on the Maple Leafs' current roster that is safe from being traded.
A player has to be of elite talent to garner such a title and it's not hard to see that there aren't any players on the Leafs' roster you could say that about.
Let's start off with Phil Kessel and Joffrey Lupul, who frequently found themselves near the top of the NHL in scoring last season. Kessel maintained his position by finishing sixth, while Lupul dropped significantly due to injury, but did manage to finish with 67 points in 66 games. What people must realize, though, is those point totals don't automatically make them top players in this league. They both still have plenty of growing to do before reaching the 100-point level, which isn't entirely expected of them.
If you still think they should be considered untouchable, let's consider this. The Anaheim Ducks offer the Maple Leafs a package that includes Bobby Ryan or Ryan Getzlaf for either Kessel or Lupul. Now Leaf fans, who would you rather have on your team? Keep in mind that you have been calling for one of these two for years. As well, both would provide size, compete and an improved two-way game to the Leafs' top-six.
You might be saying "well, the Leafs already added size to their top six by trading for James van Riemsdyk." That's true, but even he isn't safe.
Some might say Burke had to settle for JvR after failing to acquire Jordan Staal from the Pittsburgh Penguins, a player who Burke claims the Leafs were in on.
Well, we were in on that trade. It's certainly not tampering to talk about a player that has just moved. We were in on that trade and obviously the price that he fetched was higher than the one that this team was willing pay, so good for both teams. Like I say, it's June 23rd.
Van Riemsdyk is certainly a talented player, but is he talented enough to be untouchable? No.
Much of the hype that surrounds van Riemsdyk stems from his days in the United States Development Program and the time he spent at the University of New Hampshire. What many people don't realize is that he hasn't been able to translate his offensive success into the NHL; van Riemsdyk has 99 points in 196 regular season games. He has show plenty of potential, but that's not enough to keep him on the Leafs regardless of the trade offer.
Then there are Tyler Bozak and Mikhail Grabovski. Not many will argue for Bozak to be labelled as untouchable, but some will claim that Grabovski shouldn't go anywhere.
First let's take a look at those who come with a cap hit comparable to Grabovski's $5.5 million. They include Shawn Horcoff, Jason Pominville, Tomas Plekanec and Ryan Kesler, non of whom are elite level talent.
As for Grabovski's statistics, you will see he hasn't eclipsed the 60-point mark once in his career. If Kessel nor Lupul should be considered untouchable with 82 and 67 points respectively, why should a second line centre who hasn't been able to reach those numbers fall into that category?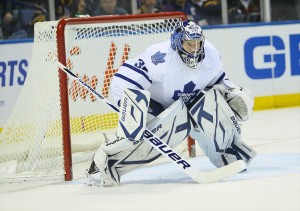 Simply, it shouldn't. Just like goalie James Reimer, who, for some reason, people are still banking on to become the next Patrick Roy. Don't get me wrong, I still expect Reimer to put up the numbers of a consistent starting goaltender, but in no way should anyone rely on a 24-year-old just trying to make his way in the NHL to become a future Hall-of-Famer.
Given his potential, young age and past NHL performance, there is no doubt that Reimer could fetch a nice return. That's not to say he should be used as trade bait either, but the Leafs shouldn't hesitate to pull the trigger on such a deal if the right one were to come along.
Here's the issue with Reimer being considered untouchable: he has played in 71 games with a career 2.83 goals against average. Even though he had a strong rookie season (in which he made just 37 appearances by the way), Reimer isn't a proven NHL goalie; he has yet to maintain strong numbers over a full NHL season.
On defence are Dion Phaneuf and Jake Gardiner.
Phaneuf, 27, is no longer the type of defenceman he used to be. We still see the occasional big hit and bomb from the blue line, but not as often as we did while he was a member of the Calgary Flames.
Gardiner, 22, is in the same position Reimer was one year ago. After a very good rookie season for which he was named to the NHL All-Rookie Team, Gardiner is being heralded as the "next great Leaf" even though he hasn't even played in 100 NHL games.
What 'untouchable' really comes down to is numbers and it's not hard to see that the Leafs don't have any players on their roster who posses the statistics needed to be considered safe from trade.
Twitter: @LukasHardonk | Email: lukas.hardonk@gmail.com | Lukas' archive
For every Leafs article on THW, follow @THW_MapleLeafs on Twitter.
Check out Maple Leafs Central, a THW Network site.