This series of the great team captains of the Toronto Maple Leafs was first published in April of 2012 by Mark Ascione. Here we present one of the Leafs long-time legends, Syl Apps.
TML Captains is a series that profiles the men who 'wore the C' for one of the NHL's charter franchises. Previously featured were Bert Corbeau, Hap Day, Charlie Conacher and Red Horner.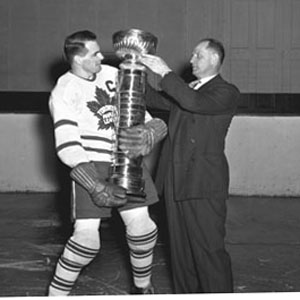 Charles Joseph Sylvanus 'Slippery Syl' Apps, CM
#10, 16 Centre
b: 18 Jan 1915 Paris, ON
d: 24 Dec 1998 Kingston, ON
Toronto Maple Leafs 1936-43, 1945-48
Acquired: Signed as free agent, 1936.
1943-1945: Enlisted in Royal Canadian Army.
Lost: Retired 1948.
Toronto totals: 423 Games, 201 Goals, 231 Assists, 432 Points, 56 PIM
Captain: 1940-43, 1945-48
Many greats have been captain of the Maple Leafs, but Syl Apps may have been the greatest. A wonderful hockey player, a superb athlete and by most accounts, a modest man who never drank alcohol, never smoked, never cursed. He was reluctant to even become a professional athlete, saying "pro athletes were not looked upon as the right sort." 
A fine amateur, he played football at McMaster University while studying economics. In 1934, he won a gold medal in pole vault at the British Empire Games. Soon after, Conn Smythe scouted Apps and tried to sign him; Apps declined because he intended to compete in Olympics (he earned a sixth place finish in pole vault in Berlin at the 1936 Games). But Smythe persisted, and Syl signed for the 1936-37 season.
Syl Apps on the Kid Line
Joe Primeau had retired and Syl started on the Kid Line with Busher Jackson and Charlie Conacher. But Conacher suffered an injury, and Gordie Drillon was put on Syl's wing, and thinks clicked. Syl was smooth-skating and a skilled passer, and by season's end he led the NHL with 29 assists. Second in league scoring with 45 points, he won the Calder Trophy as the NHL's best rookie. The following season, Syl had another 29 assists, helping Drillon win the scoring title (with 52 points, 2 more than Apps' second place 50). For his efforts, Syl was named a 2nd Team All-Star, and he'd play in his first Stanley Cup Finals. It was the first of 3 consecutive years the Leafs would make the final series, though they'd lose to the Blackhawks (1938), Bruins (1939) and Rangers (1940).
Syl's fine play continued, nabbing him a 1st Team All-Star selection in 1939-40. For 1940-41, Hap Day took over as coach, and Red Horner retired. A fine captain himself, Day recognized that despite being completely different from Horner (the league's career penalty minute leader), Syl Apps was a natural for the role. The 1940 Leafs were young veterans, most players 28 or younger, who'd begin a decade of dominance. In 1940-41, the Leafs finished second with an impressive 28-14-6 record, but were ousted by eventual champs Boston in the first round. In 1941-42, they'd make headlines.
The second place Leafs met the first place Rangers in the semi-finals, prevailing 4 games to 2, before taking on Detroit who'd eliminated Montreal and Boston. The Leafs promptly lost the first two games in Toronto by 3-2 and 4-2 scores, then dropped the first game at the Olympia 5-2, and looked like they'd again lose another finals series. But Day benched Drillon and defenceman Bucko MacDonald (both all-stars that year) and inserted Don Metz, rookie Gaye Stewart and Ernie Dickens, then read a letter from a young female fan imploring her team to win. Captained by Apps, the Leafs turned a 2-0 game 4 deficit into a 4-3 win, then went on to beat Detroit 9-3, 3-0 and 3-1 to capture the Cup, the first NHL team to lose the first 3 games of a 7-game series and comeback to win. Syl had played 38 regular season games, with 41 points and 0 penalty minutes, which earned him the Lady Byng Trophy and another all star selection. He added 14 points (and 2 penalty minutes) in 13 playoff games.
The next season, Drillon was traded. The Leafs never really got on track. Apps was having a great season, counting 40 points in only 29 games before a leg injury shelved him. Toronto made the playoffs, but were eliminated in the first round.
Syl Apps Serves in WWII
Following the 1942-43 season, Apps left the Leafs and the NHL to serve in the Royal Canadian Army during World War II. Even during those years, Syl played for a number of military hockey teams before returning to the Leafs in 1945. He rejoined a Leaf team that had won the Cup with Bob Davidson as captain, a maturing Ted Kennedy and the stellar goaltending of Frank McCool. There was no doubt that Apps would be reinstalled captain, and with the return of Turk Broda to the nets, the Leafs would climb back to the top of the NHL heap.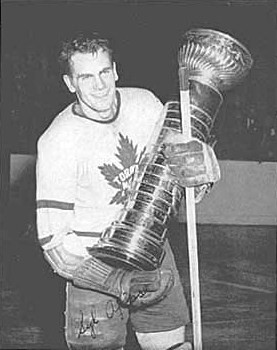 A number of players were moved out so that by 1946-47, Apps, now 32, joined older vets Broda and the Metz brothers (Don and Nick) and a new group of young vets named Gaye Stewart, Ted Kennedy, Howie Meeker, Bud Poile, Vic Lynn, Gus Mortson and Jim Thomson. The Leafs were 31-19-10 that year (only once losing 3 in a row), and 8-3 in the playoffs, eliminating Detroit and Montreal. The following year they were better, 32-15-13 to finish first overall for the first time in 10 years. Apps and crew had seen a massive deal ship 5 players out in return for Max Bentley from Chicago. It gave Toronto 3 great centres in Apps, Kennedy and Bentley, and they were able to dispatch the Bruins 4-1, then sweep Detroit for the Cup. It was the Leafs' 4th championship in 7 seasons.
At the reception in Toronto for the team following the 1948 win, it was announced that Apps would retire, succeeded as captain by Ted Kennedy. It was the close of a remarkable career. Syl was in the top 10 in league scoring 6 times in his 10-year career, missed the playoffs only once, and appeared in 6 Stanley Cup Finals, winning 3 times. He produced at a point per game pace and had only 56 career regular season penalty minutes.
I met a lot of important people: Winston Churchill, the Queen twice. But if anybody in this world had the right to think they were a little bit better than anybody else, Syl Apps did. But he didn't. He was one of us – Howie Meeker
Apps had made an unsuccessful run at federal politics in 1940. Upon his retirement, he decided against continuing his life in hockey and began a marketing job, but also served as Ontario Athletics Commissioner (regulating boxing and wrestling). In 1963, he ran as a Progressive Conservative in the Ontario provincial election, and won his seat in Kingston, serving in government until 1975. He served as Minister of Correctional Services in the government from 1971-1974.
Hockey Hall of Fame
After having been made a member of the Hockey Hall of Fame in 1961, Syl was elected to Canada's Sports Hall of Fame and Canada's Olympic Hall of Fame in 1975. In 1977, he was made a Member of the Order of Canada (denoted by the CM designation).
Syl's descendants have carried on his sporting legacy. Son Syl Apps Jr. played 727 NHL games with the NY Rangers, Pittsburgh Penguins and Los Angeles Kings, scoring 606 points. Grandson Syl Apps III won an ECAC Hockey Championship with Princeton, was drafted by the Maple Leafs and played in the AHL and ECHL. Granddaughter Gillian Apps won Olympic gold twice as a member of Canada's women's hockey team, while Amy (Syl III's and Gillian's sister) has played for Canada's national women's soccer team. Another grandson, Darren Barber is an Olympic gold medalist in rowing.
The Maple Leafs' policy is that numbers are retired only in cases of death or severe injury. To recognize team history, management created 'Honoured Numbers', where banners are raised to honour team greats without removing the number from service. The team approached Ted Kennedy, but Teeder made it clear he would not accept the honour prior to Syl being so honoured. Apps was in failing health and unable to attend the ceremony, but MLSE raised Apps' #10 and Kennedy's #9 together on October 3, 1993.
Syl Apps died of a heart attack on Christmas Eve 1998. He was 83.
Awards (with Toronto)
Stanley Cup: 1941-42, 1946-47, 1947-48 (3)
Calder Memorial Trophy: 1936-37 (1)
Lady Byng Memorial Trophy: 1941-42 (1)
NHL First Team All-Star: 1938-39, 1941-42 (2)
NHL Second Team All-Star: 1937-38, 1940-41, 1942-43 (3)
Named to Toronto Maple Leafs Top 25 Players List, 2001
Honoured Number '10', 1993
Inducted to Hockey Hall of Fame in the Player Category, 1961
Information for this article was compiled from sources including http://www.legendsofhockey.net and http://www.hockey-reference.com. Information was also found in the publications 'Defining Moments: 100 Inspirational Moments about 100 Great Players' (Leonetti, Mike, Red Deer Press 2012) and Sportsnet Magazine The Captains: Ranking the Greatest Leaders in Hockey History (Rogers Publishing 2012).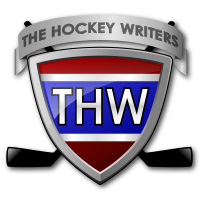 The archives of THW contain over 40,000 posts on all things hockey. We aim to share with you some of the gems we've published over the years.