The debate over who the New Jersey Devils should pick after winning the draft lottery will rage on until the Devils make their selection. The choice is between two top centers in Nolan Patrick and Nico Hischier. When they do make that pick the question then becomes what will they do with their future centerman. There are a number of prospects who will be competing for spots and a few veterans who have already solidified their place down the middle. So let's dive right into who the Devils centers will be in 2017-18.
Current Locks
The first lock is Travis Zajac. No real surprise here. Zajac has been a consistent producer with the Devils for his entire 11-year career. The Taylor Hall-Zajac-Kyle Palmieri line was the best unit the Devils had last year. Those three were unsurprisingly the Devils' top three point-getters this past season. Zajac is not the prototypical first-line center, having only produced two 60+ point seasons. Both of those were before 2010, which does not inspire much hope for Zajac's offense next season. What Zajac does bring is a strong two-way game. This includes underrated defensive play, a plus 50% face-off winning percentage, and enough offensive skill to produce. Zajac is not perfect, but he is a reliable player and will be the first line center in 2017-18.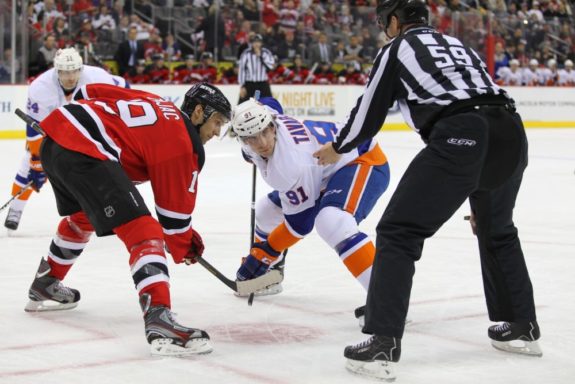 The other lock for the Devils will be Adam Henrique. Henrique had a down year in 2016-17, recording only 20 goals and 40 points, with a -20 rating. Henrique also posted a 48.2% face-off winning percentage. This marks his second straight year with a sub-50% percentage. The Devils' center struggled to replicate his success from his 30-goal season in 2015-16. Henrique was plagued with inconsistency for most of the season and never looked to be a dominant force.
Even with these negative aspects, Henrique remains the best option for the Devils at center for next season. Henrique is one of only three veterans with center experience on the team, with Zajac and Jacob Josefson being the others. Zajac is already penciled in as a starting center for the foreseeable future and Josefson is a restricted free agent once the playoffs end. At only 27 years old there is plenty of time for Henrique to rebound and become a solid second or third line centerman for the Devils moving forward.
Zacha to the Wing?
One key player that you may have noticed was missing from the names above is former 6th overall pick Pavel Zacha. Zacha had an up and down rookie season. Totalling 24 points in 70 games is not eye-popping, especially considering the recent play of some incredible rookies the past few seasons. However, Zacha played well for stretches last season and showed flashes of why he was selected so high. All of that being said, a move to the wing may benefit his development. Zacha posted a face-off success rate of 40.3%, winning only 184 draws out of 457 total attempts. This, coupled with his low point total, may make a move to the wing a necessity.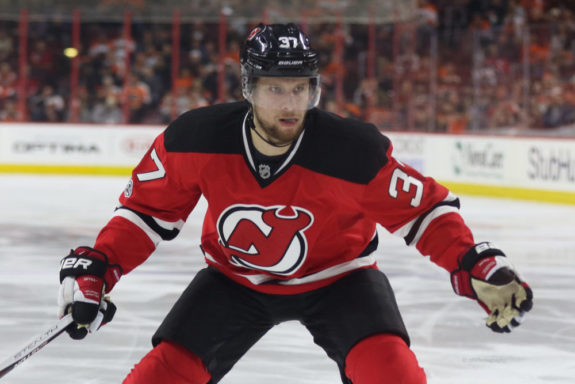 Pairing Zacha with Henrique, who is looking to bounce back next season, could prove to be a great move by John Hynes. Another potential pairing is Zacha with Zajac and Hall. I know the Hall-Zajac-Palmieri line was great for the Devils but in order for them to succeed in 2017-18 they must split up those players. Distributing their skill evenly throughout the lineup will pay dividends for the Devils' offensive depth. Zacha has the hands and hockey IQ to play with Hall and that combination of speed and skill could give opposing defenses fits.
Prospects Make the Cut
Whomever the Devils select with the first pick, and there will be more posts centered around this debate in the future, I believe they will make the roster next season. Both have showcased tremendous skill and ability and can make the jump right into the NHL. If the Devils select Patrick they could then slide former Brandon Wheat King linemate John Quenneville to the wing with him. This would give the Devils the making of a young, talented third/fourth line next season. If they pick Hischier they could try and slide Zacha with him. This would hopefully build chemistry with their last two top ten picks for the next few years.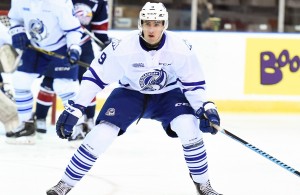 Mike McLeod presents an interesting situation moving forward. Last years' 12th overall pick has been tearing up the OHL playoffs, with 25 points in 17 games. He led the Mississauga Steelheads to the OHL finals this season. This comes after a regular season where he recorded 73 points in 57 games. McLeod brings great skating ability to a team in desperate need of more speed and has shown his ability to score points in the OHL this season. I think McLeod should start the season at center for the Devils due to his speed and playmaking ability.
With Zajac, Henrique, Patrick/Hischier, and McLeod in the fold, the Devils look much better down the middle in 2017-18 than in they have in years. This group of players has both skill, speed, and most importantly youth. Devils' fans will have some reasons to smile next season. One of the biggest reasons is their young, talented group of centers.