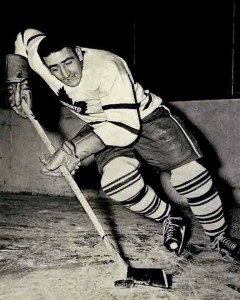 TML Captains is a series that profiles the men who 'wore the C' for one of the NHL's charter franchises. Previously featured were Red Horner, Syl Apps, Bob Davidson and Ted Kennedy. All profiles can be found here.
Sidney James Smith
#8, 16, 22, 24 Left Wing
b: 11 Jul 1925 Toronto, ON
d: 29 Apr 2004
Toronto Maple Leafs 1946-57
Acquired: Signed as free agent, December 8, 1946. 
Lost: Retired 1957.
Toronto totals: 604 Games, 186 Goals, 183 Assists, 369 Points, 94 PIM
Captain: 1955-56
Sid Smith was a quiet, consistent player who may be overlooked by some. Following in the skates of Hall of Famers Apps and Kennedy, Smith, like his surname, may seem ordinary and everyday. He was, in fact, a key component of the Leaf teams that closed out the 1940s and carried on into the 1950s.
Smith grew up in Toronto, and like many of his contemporaries, he played minor hockey in the city. He likely dreamed of playing at Maple Leaf Gardens, scoring goals and winning big games. But, Smith was never approached, never really noticed, by anyone. Or so he thought – the Maple Leafs put him on their negotiation list while he was still playing junior B, but never made contact with him. Smith was attending De La Salle College in Toronto. He moved on to the Oshawa Generals for a season, and was loaned out to the Porcupine Combines to play in the Memorial Cup. He played senior hockey with the Toronto Staffords, tried out for the Hershey Bears, and spent time with the Quebec Aces before ever being contacted and signed by the Leafs in December 1946.
After 15 games (and 12 goals) with Quebec, Sid played 14 Leaf games, but finished out the season with the Pittsburgh Hornets in the AHL. He'd split time between Toronto and Pittsburgh in 1947-48, but a knee injury in March 1948 meant he would spend almost all of 1948-49 rehabbing the injury with the Hornets. It turned out to be a great thing for Smith, as he scored 112 points in 68 games. He scored 55 goals, (matched by another AHL player, Carl Liscombe  that same year) which remained a record until 1983. But Sid wasn't finished there.
Having played 1 NHL game in 1948-49, Sid was called up for the playoffs. Playing in Vic Lynn's spot, Smith played 6 games, and scored 5 goals. In game 2 of the finals against Detroit, Sid had all 3 goals (on the powerplay, tying a then NHL record) in a 3-1 win, prompting Gordie Howe to ask "Who's Sid Smith?" From there on out, Smith was an NHL regular. Over the next six seasons, he missed only 2 regular season games. He scored 20 or more goals in each of those seasons, and hit a career high 33 goals in 1954-55. He was a member of three Stanley Cup winning teams, and won the Lady Byng as the league's most gentlemanly player twice. His 94 career penalty minutes over 604 games means he averaged only 1 minor penalty per 12.85 games.
When Teeder Kennedy retired, Smith was elected captain for the 1955-56 season. At age 30, Smith was amongst the eldest of the Leafs – in fact, 21 players who played for the Leafs that season had played in 2 or fewer NHL seasons. Sid seemed an ideal choice. One of few remaining players who'd been around Toronto during the dynasty of the late-1940s and early-1950s, he'd been Kennedy's linemate, and been coached by former Leaf greats Hap Day, Joe Primeau and Charlie Conacher (while with Oshawa). He'd been so consistent in his production over the years, it seemed Smith would lead by example, much the way Kennedy and Apps before him. Unfortunately, it didn't pan out that way.
The year of Smith's captaincy saw him play 55 games, scoring just 4 goals and 21 points. The additional responsibility Sid felt to step into a position formerly occupied by Day, Conacher, Apps and Kennedy, he felt that his performance was simply not good enough. Sid resigned the captaincy, which was passed onto veteran blueliner Jimmy Thomson, another long-time Leaf. Freed of the C, Smith rebounded in 1956-57, playing 70 games, potting 17 goals and 41 points.
By the fall of 1957, the Maple Leafs were six seasons removed from their last Stanley Cup, and the team was not having much success on the ice. These were the years between the great dynasty that ended the 1940s and the new one that would begin the 1960s. Young players were joining the Leafs. Tim Horton, George Armstrong, Bob Baun and Frank Mahovlich were emerging as the core, and Sid and Tod Sloan were the only two Leafs over the age of 30. Sid had been a key offensive contributor for the team, four times leading in regular season scoring, but the guard was changing. It seems Toronto had a potential deal to ship Smith to the Red Wings, but 12 games into the 1957-58 season, Sid made the decision to retire from the NHL. His numbers were declining, and according to Jim Amodeo's interview with Smith's son Blaine, he simply wished to remain in the Toronto area, not be sent to another city. At the time of his retirement, only four active NHL players – Gordie Howe, Maurice Richard, and Ted Lindsay – had scored more career goals than Sid.
Sid left the NHL, but wasn't done with hockey. He became a player-coach with the Whitby Dunlops. The Dunlops (which included future Boston GM Harry Sinden), won a World Championship and then an Allan Cup (as senior hockey champions of Canada) with Smith. Sid said that it was a very different experience playing those international tournaments, and winning was great though nothing quite compared to winning the Stanley Cup. There was talk that Smith might have returned to the Leafs when Punch Imlach took over, but he was not reinstated by the league. Instead, Smith entered into the business world, first with Labatt Breweries, but eventually selling paper to print companies. He also began to organizing and playing in 'oldtimers games' in the early 1960s.
Sid Smith, Stanley Cup and World Hockey champion, died in 2004.
Awards (with Toronto)
Stanley Cup: 1947-48, 1948-49, 1950-51 (3)
Lady Byng Memorial Trophy: 1951-52, 1954-55 (2)
NHL First Team All-Star: 1954-55 (1)
NHL Second Team All-Star: 1950-51, 1951-52 (2)
Information for this article was found at Hockey Then and Now, Legendsofhockey.net, Hockey-reference.com, and Greatest Hockey Legends.
A graphic designer and production artist by trade, Mark is a long-time hockey fan. He was a Maple Leafs contributor to TheHockeyWriters.com for over 2 years, and has written for other websites. You can follow him on Twitter @MarkAscione