This week's quotes of the week are by and about the incomparable Mr. Hockey himself, Gordie Howe.
I'm really just a lucky old farm boy.
Gordie Howe [3]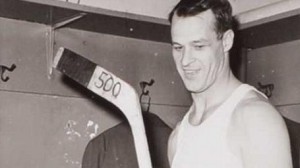 Most of the time when I hit the blue line, I have no idea what I'm gonna do to beat the goaltender.
Gordie Howe [4]
Howe has both the ability and the knack for making the difficult plays look routine. [Maurice] Richard—you can't miss his skill, it's so dramatic. Gordie—you have to know your hockey or you won't appreciate him.
Tommy Ivan [1]
If you find you can push someone around, then you push him around.
Gordie Howe [2]
When I came up I cut out all the newspaper pictures showing me in a Red Wing uniform just to prove to everyone that I played in the NHL.
Gordie Howe [3]
The weak teams are Boston and New York. The strong ones are Toronto, Chicago, Montreal, and Gordie Howe.
Dave Keon [4]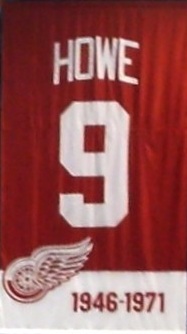 He was the one guy without a weakness: he was ambidextrous, he was big, he was tough, he was a wonderful skater, he had maximum anticipation.  In his whole career he never wasted a step.
Frank Orr [4]
He could do everything on the ice.  He was the all-around ultimate hockey player of his time.
Andy Bathgate [4]
If you play a little rough, you get respect. And with respect you get just a little bit more space on the ice.
Gordie Howe [4]
I'm on the bench and Jack Adams shouts, 'Syd, Syd, get in there.' Nobody moves and he's furious. Finally, he looks right at me and shouts it again.'I'm not Syd,' I told him. 'I don't give a damn, get in there anyway!'
Gordie Howe, on his first NHL game [3]
He was a lethal combination of grit, power, and single-mindedness. The John Wayne of hockey.
Karl Samuelson [4]
The Stanley Cup is not something you can keep forever, you have to earn it every year you play.
Gordie Howe [4]
SOURCES
1. Wind, Herbert Warren. "Gordon Howe & Company." Sports Illustrated, 24 Jan 1955.
2. Mulvoy, Mark. "It's Bobby Orr & The Animals." Sports Illustrated, 3 Feb 1969.
3. Waldmeir, Pete; Ronberg, Gary. "Stadiums Aren't For Sleeping." Sports Illustrated, 20 Oct 1969.
4. Bonander, Ross. Hockey Talk. Delabarre Publishing. 2011.
Last week: Legendary Coaches
Next week: Alexander Ovechkin
Ross Bonander is a freelance health writer and book editor. He is the editor of 13 quotation collections– six of them hockey-related, including his most recent, Modern Hockey Quotations. His homepage is RossBonander.com.