This week's quotes of the week are by and about the most idiosyncratic bunch in all of hockey, the coaches.
You're only as good as your coach wants you to be.
Bob Probert [1]
You give punishment and you take it.
Fred Shero [4]
To win in hockey, you need the glamour boys to get down and dirty.
Ken Hitchcock [4]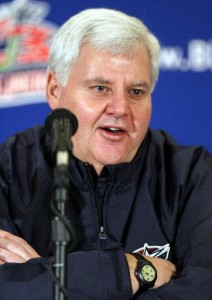 We're losing at home and we're losing on the road. My failure as a coach is that I can't think of anywhere else to play.
Harry Neale [4]
North Americans want to win games in the last period, but a well-conditioned team wins in the first ten minutes, maybe less. The opponent is destroyed not just on the scoreboard but their will is broken when an opponent comes out hard and fast.
Anatoli Tarasov [4]
I don't have bad relationships with my players. But I don't get into long conversations with them either.
Scotty Bowman [4]
The ignorant people, the self-centered people, the people who don't want to expand their thoughts, they're not going to be the real good athletes. They're not going to be able to keep that particular moment, that game, that season in the proper perspective.
Herb Brooks [2]
'Badger' Bob Johnson didn't just have a love for the game, he had a lust for the game.
Tim Hunter [5]
Herb Brooks pats you on the back but always lets you know he has the knife in the other hand.
Buzz Schneider [2]
It's easy to impress Scotty [Bowman]: just show up, work hard and keep your mouth shut.
Steve Yzerman [4]
SOURCES:
1. Probert, Bob; McLellan, Kristie. Tough Guy: My Life On the Edge. Triumph Books. 2010.
2. Swift, EM. "A Reminder Of What We Can Be." Sports Illustrated, 22 Dec 1980.
3. Coffey, Wayne. The Boys of Winter. Three Rivers Press. 2005.
4. Bonander, Ross. Hockey Talk. Delabarre Publishing. 2011.
5. Johnson, George. "No one championed hockey more in US than Badger Bob." ESPN.com, 19 Feb 2008.
Last week: Bobby Orr
Next week: Gordie Howe
Ross Bonander is a freelance health writer and book editor. He is the editor of 13 quotation collections– six of them hockey-related, including his most recent, Modern Hockey Quotations. His homepage is RossBonander.com.