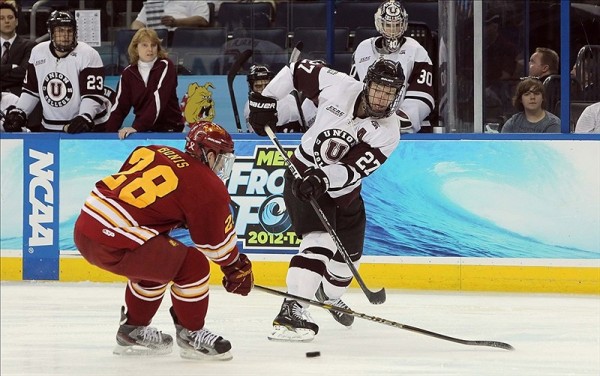 With the recent additions of Jordan Staal and Alex Semin, the Carolina Hurricanes have taken some major strides this summer toward solidifying their forward corps for the 2012-13 season. However, the position of third line center remains up for grabs heading into training camp.
One strong candidate for this important and often under-appreciated role is Jeremy Welsh. Signed in April out of Union College, Welsh ranked first on his team and fourth in the nation last year with 27 goals in 40 games, catching the attention of Canes' brass in the process.
"Jeremy is ready for the next step," Union head coach Rick Bennett said in an interview. "He's an honest hockey player who doesn't cheat the game. I see him as a three zone type of player, and that's what the staff encouraged here over his time with us. That would be his best attribute — being strong in all three zones."
Several hours prior to inking his entry-level contract with Carolina, Welsh's college career came to an end in the Frozen Four at the hands of Ferris State. Just two days later, he made his NHL debut against the Florida Panthers.
Even though the Canes haven't pursued many college free agents in recent years, the organization believed Welsh was too good of a prospect to pass up. And with numerous other teams expressing interest in the Bayfield, Ontario native, Jim Rutherford and Co. wasted no time getting the deal done.
"Of all of the college free agents available, we identified Jeremy as the one who most fit our organizational needs," Ron Francis said in an April 5 press release. "He provides another big body for us down the middle, and is a player who has shown character and leadership at the college level, in addition to scoring ability."
That one game with Hurricanes last spring is a small sample size, but Welsh faired well in his 16:32 of ice time. While he failed to get on the score sheet, he finished his checks, played responsible defense and didn't let his emotions get the best of him. He was also one of eight Canes to end that night with an even plus/minus rating; the rest were in the negatives, as Florida triumphed by the score of 4-1.
"I did watch the one game Jeremy played with Carolina," said Bennett. "I think he fit in well. Over the course of the season he needs to play the same way as that game. Offensively, he's got to learn to bury and to be productive. But that will come with experience."
Standing at 6'3" and over 200 pounds, Welsh certainly has the frame to take on a bottom-six role in the NHL. Both physically intimidating and a goal-scorer, the third line center position may just be a perfect fit for him.
But the adjustment won't be easy, and it won't all click right away. For Welsh to succeed at the NHL level, he's going to require the freedom to learn from his mistakes and adapt to the rigors of the professional game.
"Carolina is going to have to be patient enough for him to develop into the player they want," Bennett said. "If he's given a good 25 games to prove it, he'll be fine. If it's five games and down, then I don't think that will work out for anyone."
While Welsh certainly has the physical skills necessary to evolve into an NHL-caliber forward, his hockey IQ may be what sets him apart. When asked how he would characterize the kid's intelligence, Bennett gave Welsh a rating of 3.5 out 4.
"Jeremy's definitely smart enough for the NHL," Bennett said. "He's a mentally strong player and never panics. He was tremendous off the ice and was one of our captains for a reason: The bigger the stage, the better he was."
When asked if there was anything Kirk Muller and his staff should know about his former pupil, Bennett stated that it's important for Carolina to understand how Welsh best absorbs information.
"Jeremy's extremely coachable, he just needs to be taught the way that suits him" said Bennett. "It's important to work with Jeremy not only in practice, but away from the game through video. (The Hurricanes) should always have an assistant coach pulling him aside and showing him tape. He really responded to that, and continuing that kind of stuff will go a long ways toward helping him succeed."
The Hurricanes have a veteran video coach in Chris Huffine, who's worked with the organization since 1997. Odds are the two will get to know each other well.
"I wish I had done a bit more video with him throughout his three years," Bennett added. "We didn't start doing that until the last half of last season, but it was huge for Jeremy; he really responded to it."
Other than Welsh, the Canes will have several other competitors for the third line center position, including Tim Brent, Zac Dalpe and Riley Nash. Brent played in 79 games last year, and Dalpe may be on the verge of a breakout season. While Welsh might have the inside track at a roster spot, he certainly has his work cut out for him.
Given the difficult battle ahead and Welsh's lack of experience, there's a strong possibility that he'll begin the 2012-13 campaign in Charlotte. But that doesn't mean he can't be a difference maker in the NHL this year.
Remember: Justin Faulk was sent down to the AHL after three games with the Canes last fall. Following a short stint with the Checkers, he was called back up to the big club and had a pretty damn good season, playing 63 more games for Carolina and earning some Calder Trophy consideration.
A similar path could work well for Welsh. In that type of scenario, he could develop in a low-pressure environment in the early going and still have the chance to make a big impact in Carolina down the stretch.
"Jeremy just has to make sure not to get complacent," concluded Bennett. "He's a great kid and should do just fine; it's all there for him."
_________________________________________________________________________