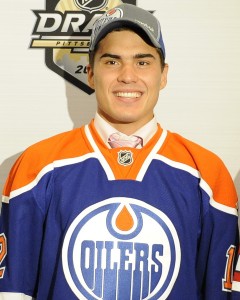 Follow @DavidOConnor95

When a star prospect is chosen first overall in the NHL Entry Draft, high expectations immediately follow; it comes with the territory. Nail Yakupov received the right to that pressure this past June, and he'll be holding on to it all season long.
From the early days of last season to the very end, Yakupov was viewed as the favourite to go number one. In the middle of the season, deep in the dog days of winter, Mikhail Grigorenko of the Quebec City Remparts began to slip out of the conversation. At the time, there wasn't much of a reason as to why he was starting to slip down rankings, but one point emerged from it: Yakupov was the sole premier prospect with good chances of going first.
As Edmonton Oilers general manager Steve Tambellini announced his name on June 22, it was clear that Yakupov couldn't have been more happy. In the weeks leading up to the draft, he had spoken many times of how excited he would be to become an Oiler. It was pretty obvious the team's fans felt the same way.
The Russian right-winger had sixty-nine points in forty-one games for the Ontario Hockey League's Sarnia Sting last season. In the season prior, Yakupov put up nearly fifty goals, and over one-hundred points. That season, Yakupov was playing alongside fellow top-three 2012 pick Alex Galchenyuk. When Galchenyuk went down with a knee injury in the very early going this past season, there were some concerns about whether Yakupov would still produce. Turns out, it wasn't much of a problem for him.
Logically, the next step for Yakupov is to make the jump to the National Hockey League. Though training camp hasn't even started yet, he's already pencilled into a top-six role.
Yakupov recently participated in the 2012 Canada-Russia Challenge, a four game series between the two countries' best young players. There were a slew of first-rounders in the series, but Yakupov was the only one who has been the first overall draft choice of an NHL club. As a result, eyes were often peeled to get a good look at him.
While he didn't explode offensively for his country, Yakupov did show many examples of his playmaking ability. In the second game of the series in Yaroslavl, Russia, he made a sweet, no-look pass to set up a teammate that made everyone watching give their head a shake. And in the opening game, just to show that he wasn't slacking, Yakupov scored a terrific one-timer that blazed by the Canadian goaltender, Malcolm Subban. For fans watching in Sarnia, it was a play they were all too familiar with.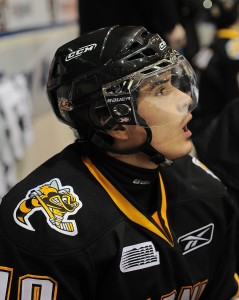 It would come as no surprise if Yakupov translated those skills over to Rexall Place this season. The question isn't necessarily if he's going to go top-shelf on NHL goalies this year, but how often will he find the opportunity?
The Oilers are well known for their core of elite young forwards. Jordan Eberle, Taylor Hall, and Ryan Nugent-Hopkins have all made more than their fair share of noise in recent seasons. General consensus says Edmonton is all set for the future. There's potential for a first-line of players who were all first-overall selections, with Hall on the left, Nugent-Hopkins at centre, and Yakupov on right-wing.
"I can't wait for the start of camp so I can play games with the Edmonton Oilers," Yakupov told the Edmonton Journal. "It's time to start work."
Now, it's not likely there will be too much of a problem when it comes to Yakupov's ice-time. As is the case with any rookie, it's not going to outstanding right off the bat, and he knows that. However, with the wealth of young talent the Oilers have both on their roster and in their system, there are concerns he might get stuck in the middle of the pack. With that in mind, Yakupov comes in with a slightly different situation than those before him.
If there's one advantage Yakupov has, it's that he's a right-winger. Elite righties are a valuable asset on most NHL teams. As a result, Yakupov may be given a slight edge over someone like Eberle. While both are considered wingers now, Eberle used to play centre for the Regina Pats (WHL) and has played the position with some regularity before. Due to that, Eberle may end up getting shifted to the second-line centre role, leaving Yakupov to earn the spot on the first-line. The one man who could be standing in the way is Ales Hemsky. Having said all that, odds are Yakupov will start the season on the second-line, though if he comes out and excels in the pre-season, depth charts could change pretty quickly.
Many are wondering what Yakupov's fantasy hockey potential is this season. The Hockey News' 2012 Poolbook has him putting up fifty-five points in his rookie season. By comparison, Hall recorded forty-two and Nugent-Hopkins tallied fifty-two in their respective rookie seasons. A fair amount of avid hockey followers believe he will score enough goals to beat both of those point totals.
"We'll see what the lines are going to be and what the coach says," Yakupov said in Edmonton, following the Canada-Russia Challenge. "I just want to play and play well and help the team win and have fun."
________________________________________________
Follow me on Twitter: @DavidOConnor95    "Like" my page on Facebook: David O'Connor