The Anaheim Ducks have had a roller-coaster season. As what seems to be the trend of the last few years, they start off extremely slow and pick things up around January when the playoff race begins. They are still in an uncertain position, though, with only a few games left to decide their fate. They have been plagued by injuries all year, losing Ryan Getzlaf, Ryan Kesler, Corey Perry, and Rickard Rakell for a handful of games, and have been without Patrick Eaves all season due to Guillain-Barré syndrome.
So what has them still in the running for the 2018 Stanley Cup playoffs? The scoring has been streaky at best, their players have been in and out of the lineup, but one constant has helped the Ducks maintain the position they currently have. John Gibson has had an incredible year behind a not so incredible team. For that reason alone, he deserves to be included in the Vezina Trophy conversation.
It's Gibby Time
John Gibson's relationship with the Anaheim Ducks has been rocky at best. He has never really filled the pads being THE starting goalie for the club since Frederik Andersen was traded and signed with the Toronto Maple Leafs. Gibson has always played through streaks, but this season, he has been almost unstoppable. Gibson has played a total of 55 games with a record of 29-17-6. His goals against average is 2.41 and his save percentage is .927.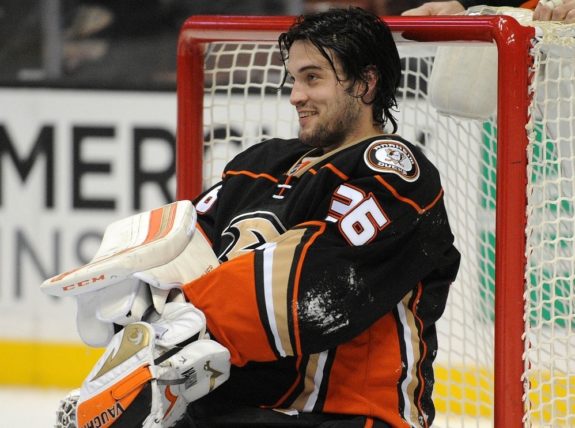 At a quick glance, his numbers look pretty good, but they really start to shine when you get down to the specifics. In his last five games, he is 4-1 with two shutouts, including a 29-save blank slate against the Calgary Flames on Wednesday evening. In his last 16 games, he carries a 1.79 GAA, a .943 SV%, and a record of 12-3-1. Since the beginning of the year, when the Ducks seem to always turn on the jets, he has a .930 SV% and a 2.14 GAA. Did I mention his record is 16-5-3? Those numbers all of the sudden start to shine for a team that was on the outside looking into the playoffs halfway through the season.
What the Anaheim Netminder Has Against Him
John Gibson has done an outstanding job getting the Ducks to the position they are in. So if he isn't in talks for the Vezina Trophy, who is and what are they doing better then him? The main frontrunner is Pekka Rinne. He has played in 53 games and holds a record of 40-9-4. His GAA is 2.21 and he has a .931 SV%. He has eight shutouts to his name this season and has been a perfect 5-0 in his last five games. Two of those last five were shut-outs. If anyone has a hot hand in the NHL, its Pekka Rinne.
Comparing the numbers, Gibson has had two more starts then Rinne, but the defense the Nashville netminder has in front of him is an all-star crew compared to that of Gibson. In front of Rinne are the likes of P.K. Subban, Roman Josi, Mattias Ekholm and Ryan Ellis, all who have a plus/minus of over 20 except for Subban who sits at plus-19.
Gibson only has one player in front of him who has a plus/minus over 20 and that's Josh Manson who has a plus-27. Some of the other players in front of Gibson are Hampus Lindholm (plus-10), Cam Fowler (plus-two), Brandon Montour (plus-17) and Kevin Bieksa (minus-13).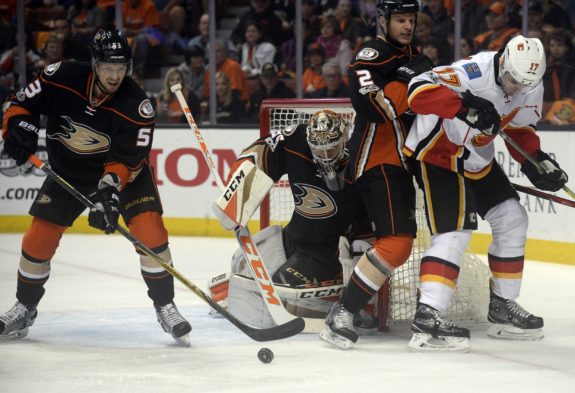 There is definitely a notable difference. To say that Rinne is playing with a better defense in front of him is a strong understatement. In no way do I mean for that to take away from what Rinne has accomplished, because he has been a complete beast this season. But I think it's also safe to say that if Gibson had what Rinne has in front of him his numbers might be a little different.
Some of the other talk for Vezina contenders include Andrei Vasilevskiy (42-14-3, 2.60 GAA, .920 SV%) and Connor Hellebuyck (37-11-9, 2.26 GAA, .925 SV%). Time will only tell who gets the nod and who doesn't, but at the end of the season John Gibson deserves at least an honorable mention.