Check out the statistical leaders in the NHL and you will notice that the Philadelphia Flyers have some players near the top. Claude Giroux's bounce-back season has put him in the top 10 in points and in Hart Trophy contention once again. Jake Voracek, no matter what linemates he has played with, has been near the leaders in assists and power play points all year. Defenseman, Robert Hagg, has been a hit machine since day one of his freshman campaign.
As Sean Couturier's Selke Trophy campaign continues to grow, so does his plus-minus rating. While these statistics are important, let's explore some more in-depth analytics which have a huge impact on a hockey team. As the Flyers season enters its final stretch, what other categories have their players excelled in and why should we pay attention?
Young Flyers Showing Their Worth
As the analytic age of hockey continues, we are now much better at quantifying the impact a player is making on their team. Clutch scoring is everything, and this season Couturier and Travis Konecny have been the go-to guys with both tied for six game-winning goals. Couturier has scored a team-high, 13 of his 30 goals, when the game was tied and has six multi-goal games.
Another player showing his worth when the game is close is the recent call-up, Oskar Lindblom. Although he only scored his first NHL goal on Sunday (out of 16 games played since his AHL recall), he leads the team with a 56.99 SAT Percentage Close and 63.10 High Danger Chances For Percentage.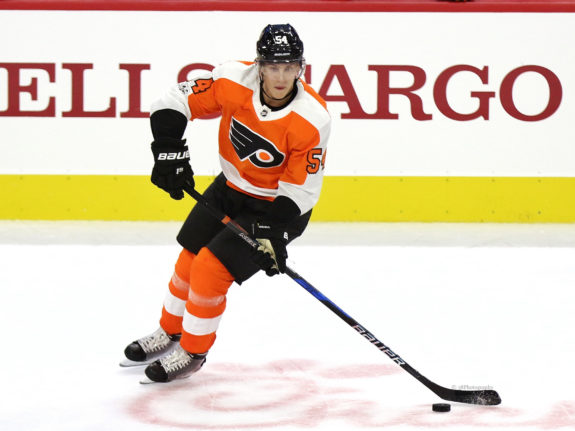 We touched on Voracek's savvy in finding the open man, so it is no surprise he also leads the team with 39 primary assists. More dishing statistics see Giroux with the most even strength assists (38) and secondary assists (32). So no surprise that Voracek has assisted on ten of Giroux's 26 goals while Giroux has assisted on nine of Voracek's 19 goals. "Scoracek" and "G" also co-lead the team with 25 multi-point games.
Giroux leads the team in Expected Goal Percentage in all situations (62.98), Points Per 60 minutes (3.52), Five on Five Shooting Percentage (10.8), Point Shares (9.8) and PDO (1029). All of these statistics prove that Giroux is carrying the Flyers offensively and are supporting an MVP campaign.
Flyers Defensemen Leading the Way
Now, some real-time statistics to go with Hagg's dominance in the hit category. Russian second-year defenseman, Ivan Provorov, leads the team in blocked shots (154) with 40 of those on the penalty kill but also in giveaways (86) and hits taken (120) so no surprise his 1816:04 Time On Ice is the most played. The Russian has assumed his role as the team's number one defenseman.
Ivan Provorov lays out Brad Marchand. pic.twitter.com/WGdn5e2gZG

— Sons of Penn (@SonsofPenn) March 9, 2018
Shots can come from all angles and all areas of the ice. Sean Couturier leads the team with 217 shots on goal. Breaking it down into types; Couturier leads in shots tipped (29), wrist shots (104) and snapshots (48) and Wayne Simmonds is the team leader in backhand shots (17). Shayne Gostisbehere leads in slapshots (93), power ply shots (80) and missed shots (92). Looking at these numbers helps to show why both "Coots" and "Ghost Bear" are both having breakout statistical seasons.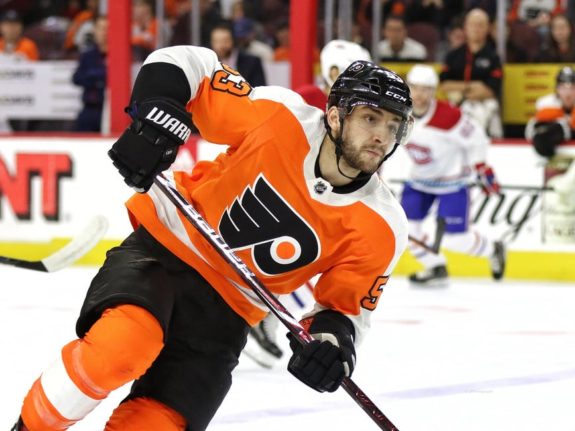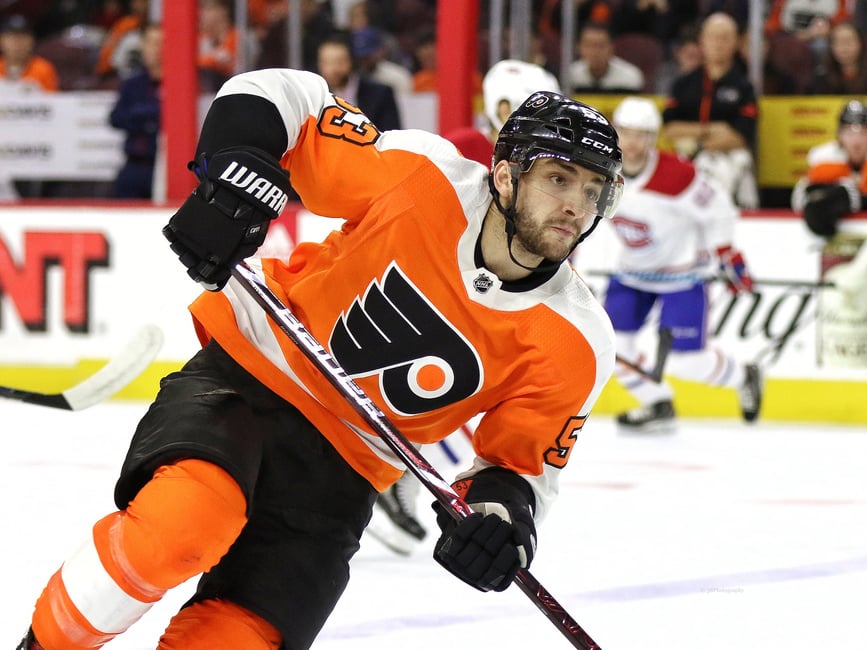 Special teams is another area that Gostisbehere and Simmonds have excelled in for the Flyers. Number 53 leads the team in the percentage of their available power-play time (67.0), power play rebounds created (15) and Individual Corsi For on the PP (169). Simmonds, the player that has made his living on the man advantage in his career, has continued to be money there this season. It is no surprise that The Wayne Train leads the team in power-play goals (11) but also Individual High Danger Chances For on the PP (64).
Some final looks at some surprise team leaders are Scott Laughton in Individual Points Percentage (87.0) and Valtteri Filppula who leads the struggling penalty kill in two shorthanded points (2) and the team with a 16.2 shooting percentage.
Many of the advanced stats used here come from Natural Stat Trick, Corsica, DobberHockey, and Hockey Reference.