The Windsor Spitfires start the 2018 OHL playoffs with a first-round match-up against the Sarnia Sting. This is a tale of two teams going in opposite directions.
With a 46-17-4-1- record, the Sting come into the playoffs looking to prove they're not a fluke. After a dynamic start to the season, head coach Derian Hatcher has his team firing from every angle. While they couldn't get past the Sault Ste. Marie Greyhounds (55 wins) in the standings, their 299 goals show they're ready for whoever gets in their way.
Down the St. Clair and Detroit Rivers, the Spitfires are in full rebuild mode. The defending Memorial Cup champions knew they had to look long-term. They sold off their assets and had to tread water most of the season, finishing with a 32-30-4-2 record. The result was a final-weekend battle with the Guelph Storm and Saginaw Spirit to determine the sixth through eighth seeds. The Spitfires beat the Spirit on the final day to clinch the sixth seed.
The Spitfires and Sting played six times this season. Here are their head-to-head scores:
Sun., Oct. 15 – Sarnia 3 Windsor 2 – at Windsor
Fri., Nov. 17 – Sarnia 6 Windsor 3 – at Sarnia
Thurs., Dec. 28 – Windsor 5 Sarnia 0 – at Sarnia
Thurs., Jan. 11 – Sarnia 5 Windsor 3 – at Windsor.
Fri., Jan. 12 – Sarnia 6 Windsor 1 – at Sarnia
Thurs., Feb. 1 – Sarnia 5 Windsor 3 – at Windsor
As well, here is their schedule for the first round:
#3 Sarnia Sting v. #6 Windsor Spitfires
Game 1 – Fri., Mar. 23 in Sarnia – 7:05 pm
Game 2 – Sat., Mar. 24 in Sarnia – 7:05 pm
Game 3 – Tues., Mar. 27 in Windsor – 7:05 pm
Game 4 – Thurs., Mar. 29 in Windsor – 7:05 pm
Game 5 – Fri., Mar. 30 in Sarnia – 7:05 pm (if necessary)
Game 6 – Sun., Apr. 1 in Windsor – 2:05 pm (if necessary)
Game 7 – Tues., Apr. 3 in Sarnia – 7:05 pm (if necessary)
Sting's Offensive Experience Versus Spitfires' Youth
Led by captain Jordan Kyrou's 39-goal, 109-point season, the Sting's deep roster lit the lamp 299 times during the regular season. Only the Greyhounds scored more (317).
The savvy captain dominated for the Sting, plus helped Canada win gold at the 2018 World Juniors in Buffalo. It's been a busy season for the 19-year-old but his experience will come in handy.
While Kyrou was the top dog for the Sting, he had plenty of help. The Sting had three 30-goal scorers – including Adam Ruzicka and Drake Rymsha – and nine players with at least 20 goals. In fact, every Sting regular (excluding goaltenders) had at least one point this season. It's tough for any team to stop an offence that can roll four lines with ease.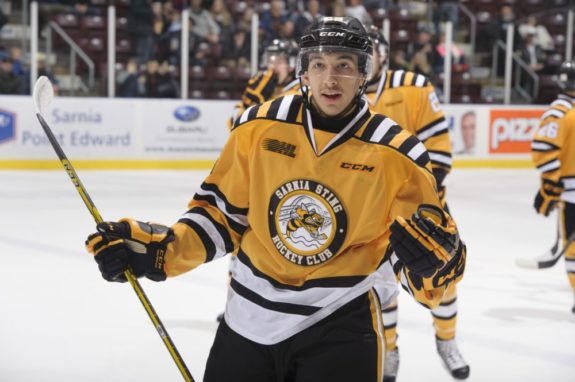 One player to watch for the Sting will be forward Anthony Salinitri. The 20-year-old is a Windsor-native and has eight goals and 10 points in just six games against the Spitfires this season.
Hatcher has his team pressing the issue at every opportunity and it makes life miserable for the opposing team. Their 299 goals are the highest total since the 1995-96 Sting team that scored 330 goals. That roster featured Aaron Brand, Jonathan Sim and, now-Spitfires head coach, Trevor Letowski.
On the other side, the Spitfires are a very young club offensively who score by committee. After dealing offensive veterans Aaron Luchuk and Logan Brown, the team now relies on all four lines to contribute on a nightly basis. Letowski's roster features 10 players who are 18-years-old or younger up front and seven more on defence.
Veteran Jake Smith, 20, had 20 goals and 48 points this season and has a contagious energy. He's joined by veterans Curtis Douglas (22 goals), Cole Purboo (21 goals) and Luke Boka (15 goals) as the leaders up front. Boka is known for his defensive presence as much as his offence, blocking shots on a regular basis. He was named Top Shot Blocker in the Western Conference in the OHL Coaches Poll.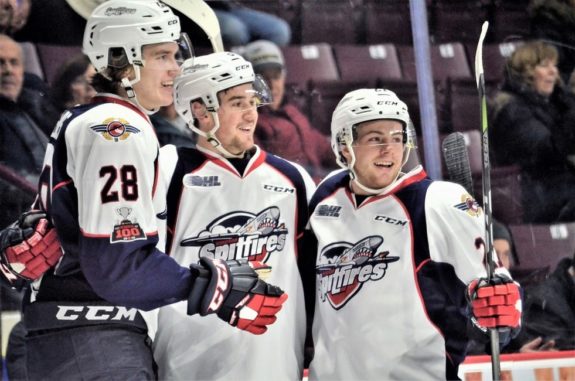 Like any good rebuilding team, though, the Spitfires have plenty of eager youth.
Rookie Mathew MacDougall, acquired from the Barrie Colts in the summer, had 17 goals and 32 points in 66 games. Also watch for 16-year-old Daniel D'Amico, who was a Spitfires' sixth-round pick in 2017. At five-foot-10 and 170 pounds, D'Amico (12 goals, 19 points) uses his speed on the forecheck and creates chances for his linemates.
The Spitfires aren't the most experienced club but will outwork clubs every night and grind out wins. Just ask the Sault Ste. Marie Greyhounds; the Spits beat them in Windsor on Mar. 8, one of just seven regulation losses for the Hounds all season.
Seasoned Defence Against Eager Learners
Like any contender, the Sting features a veteran defence that's hungry for a run.
With six players 18-years-old or older, this is a group that knows how to get the job done. They allowed an OHL's fifth-best 213 goals-against and have plenty of experience to keep that going. Veteran Connor Schlichting is in his fifth season with the Sting and had 39 points this season, smashing his previous high of 9 points (2016-17). He's joined by veterans Cam Dineen (trade with North Bay Battalion), Nick Grima and Theo Calvas.
Here's a clip of Dineen, an Arizona Coyotes prospect, talking to the Coyotes in 2016 after the NHL Draft:
The group also has four of the top six plus-minus totals on the team. They're built to both put up points and prevent them.
The Spitfires aren't far off with their guys. While they only have one returning player from their Memorial Cup team (17-year-old Connor Corcoran), their defence-first mentality helped them allow just 224 goals-against this season. This young group features five rookies, plus Corcoran and 20-year-old Zach Shakar. They've made mistakes from inexperience but have also made huge strides.
Nobody would have predicted that a team with just one returning defenceman from the 2017 Memorial Cup championship would be near the top of the defensive rankings in the league. That's just how the Spits roll, though.
Two defencemen to focus on in this series will be the six-foot-seven, 200 pound Lev Starikov, who came over in the 2017 CHL Import Draft, plus five-foot-nine, 165 pound Nathan Staios, the Spitfires' first-round pick in the 2017 OHL Draft.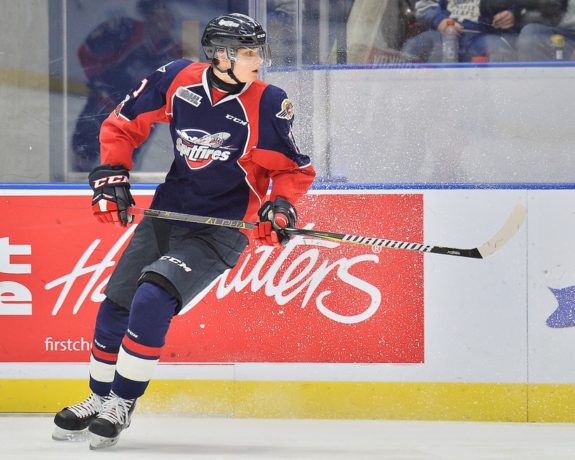 Starikov started off slowly, adjusting to the game, but has exploded in the second half. With 5 goals and 13 points, a team-leading plus-14 rating and a willingness to mix it up, he can do it all on the ice. Staios, the son of former NHL defenceman Steve Staios, isn't the biggest guy out there but he doesn't seem to care. He racked up 12 points and will hit anything he can. Fans are already loving his potential.
The Spitfires may be young and up against a seasoned Sting group but they're not about to give in. This will be a fun battle to watch unfold.
Goaltending Leaders Ready for Showdown
This might be the focus of the series.
In the Sting's corner, we have a fifth-year goaltender who's ready to prove that the regular season wasn't a fluke. In the Spitfires' corner, we have a third-year goaltender with plenty of big-game experience.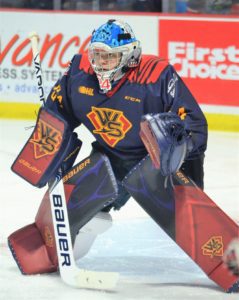 Sting goaltender Justin Fazio is ready for prime time. With a goals-against average of 2.85 and save percentage of .918, he grabbed 37 wins for his team this season. This was the season he needed; showing the critics that he could get the job done between the pipes. This is his last go-around in Sarnia and what better way to finish his career than with an OHL title?
He's matched toe-to-toe with Spitfire's goaltender Michael DiPietro, who has a bit of experience on his resume. He saw action in 56 games this season, sporting a 29-21-3-1 record with seven shutouts, a 2.79 GAA and .910%. There's little question that as DiPietro went, so did the Spitfires this season. He was their rock. This comes as no surprise after his golden 2017 Memorial Cup performance – 4-0, 2.00 GAA and .932%.
When the Spitfires have needed DiPietro, he's been there. Can he handle an entire series, though?
Sting Too Much for Spitfires?
On paper, this series shouldn't last long. While the Spitfires have DiPietro in net, they're a young team in tough against a veteran Sting team who is looking to get a strong buzz going throughout the City of Sarnia. That's why you play the games, though. Nothing is guaranteed. This Spitfires team is hungry to prove that youth doesn't mean anything.
Neither team has had much playoff success over the last decade, either. The Spitfires haven't made it out of the first round since they defeated the Erie Otters in 2011, while the Sting have made it out just once (2007-08) since 1996-97.
On the ice, the Sting have dominated the Spitfires in most areas. When you win five of six meetings, you're doing something right. The playoffs are a different beast, though. In reality, this should be the Stings' chance to make history by reaching the second round. Can they get past the young, eager Spitfires and their Memorial Cup champion goaltender?
The last time these teams faced off in the OHL playoffs was 2007-08 when the Sting eliminated the Spitfires in five games. Will this year be different?
Letowski played for the Sting from 1994-97 and was on their coaching staff from 2010-15. A head coach with a young team facing off against his former club that boasts an experienced roster? This is must-see hockey!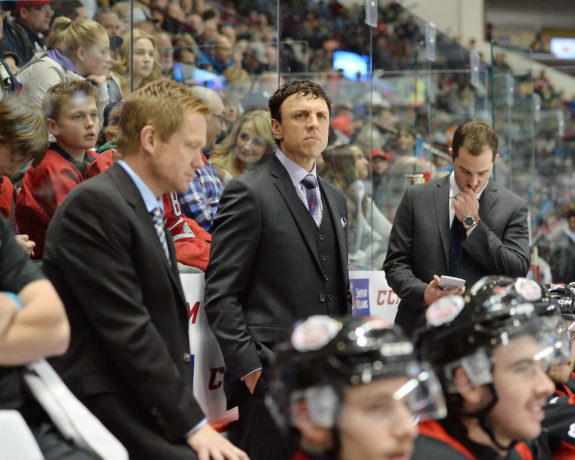 Tickets for the games in Sarnia can be purchased here, while tickets for the games in Windsor can be purchased here.