When you're one of the stars of a team and you miss the first 39 games, it can severely damage any shot at the postseason and give a feeling of hopelessness. Even after returning, there is still major concern if the injury is healed properly or not. The lost practice time while other NHL players are in midseason form may force a slump that is difficult to overcome.
This was the case for the Minnesota Wild's Zach Parise, who started the season off with a single assist in his first seven games following his return on Jan. 2, 2018. It took Parise roughly six weeks to start putting up points with more consistency. Now that the Wild's alternate captain looks to be back to form, a playoff run becomes more realistic.
Parise in Last 14 Games
During the recent stretch, Parise has scored six goals and three assists with a plus/minus of plus-one. One of his goals was on the power play and two were game-winning goals. In total, he has 46 shots during the stretch of games, compared to his 57 shots and three goals in his first 20 games of the year, which shows a dramatic improvement. Parise's ice time has had almost no consistency, ranging from 13 to 20 minutes per game. This can be attributed to head coach Bruce Boudreau constantly shuffling lines and possessing a strong roster with many talented players.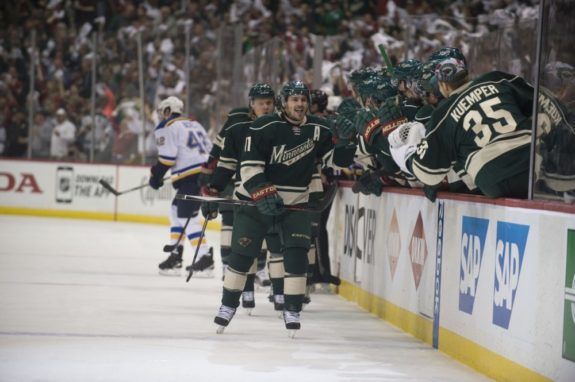 However, perhaps the most important stat during the last 14 games is the Wild's overall team play. Minnesota in their last 14 games now owns a record of 9-4-1, which isn't bad when your team is making a strong push for the playoffs. With only nine games left in the regular season, it's important for the Wild to keep up with that pace.
Impact of a Healthy Parise
When Parise is in the lineup for Minnesota, it allows Boudreau to rotate at least three better than good lines. The pool of forwards include Parise, Mikko Koivu, Eric Staal, Jason Zucker, Nino Niederreiter, Charlie Coyle, and Mikael Granlund. Guys like Matt Cullen and Marcus Foligno each have a role as well, making an impact on the fourth line. With a roster so loaded with impact players, ice time is no guarantee.
Related – Bigger Impact Signing: Zach Parise or Ryan Suter
With all of the forwards healthy, it benefits every player. Paying special attention to Parise, for instance, will allow Niederreiter or Staal to break free. The Wild currently have two 20-goal scorers in Zucker and Staal, as well as five additional forwards with 10 goals or more in Coyle, Granlund, Cullen, Niederreiter, and Koivu. Parise is only one goal away from becoming the eighth forward on the roster with ten or more goals.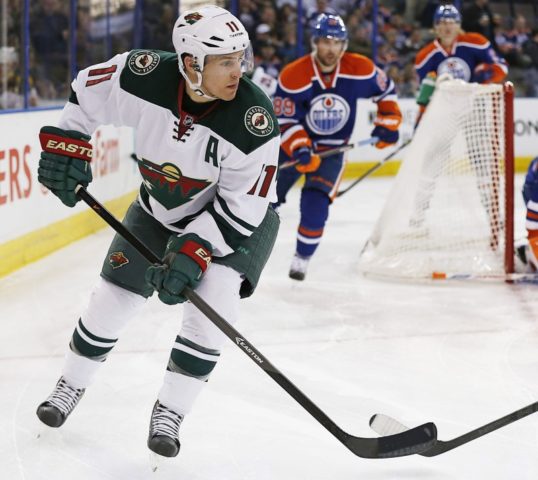 With Parise back in the lineup, the Wild have both of their permanent alternate captains on the roster. This gives the team significant leadership and another voice who has gone all the way to the Stanley Cup Final in the past. That type of experience is invaluable to the young players on the roster.
Possible Missing Piece for Stanley Cup?
The Wild have made five straight playoff appearances. The team's deepest runs came in 2013-14 and 2014-15, the second and third years Parise was with the Wild. During the 2013-14 playoff run, Parise played in all 13 games, finishing with four goals, ten assists, and a minus-three rating. With the 2014-15 playoff run, Parise played in all 10 contests, notching four goals, six assists, and an even plus/minus. In each of those postseason runs, he was one of the few players with a significant impact.
The 2015-16 playoff run was one that Minnesota played without its star forward. The team lost in six games to the Dallas Stars without Parise in the lineup. The 2016-17 playoff season featured Parise back in the lineup where he scored two goals, one assist, and a plus/minus of minus-seven in five games. Although much of the blame for the 2016-17 collapse lies with general manager Chuck Fletcher, who destroyed the team's chemistry with the midseason trade for Martin Hanzal and Ryan White.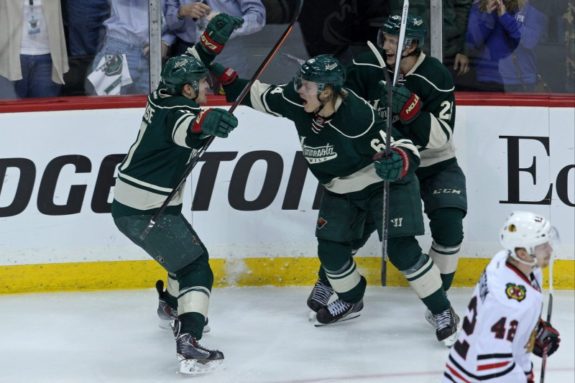 Hot Parise will Benefit Wild
While Parise might not be the missing piece to finally delivering a Stanley Cup to the State of Hockey, he still is a huge building block for Minnesota. Parise is one of the most hardworking players in hockey, who always gives every play his all. The Wild have missed him with all of his injuries and though the Wild have had many disastrous playoff runs, it tends to be worse when Parise isn't in the lineup. Even with the injury to Jared Spurgeon, if Parise can continue to score like he has been as of late the Wild will have a real shot at earning a postseason berth.