Tuesday, March 20, 2018, is a date that will forever stand out in Sean Couturier's mind. Not only did the Philadelphia Flyers forward score his 30th goal of the season in a 5-4 shootout loss to the Detroit Red Wings, marking the first time in his career that he recorded a 30-goal campaign, he also recorded his 100th career goal. He became the seventh player of the 2011 draft class to join the 100-goal club.
Since entering the NHL as an 18-year-old, Couturier's offensive play has been a mystery. He tore up the Quebec Major Junior Hockey League (QMJHL) in his three-year stint with the Drummondville Voltigeurs and was expected to do the same in the NHL but things didn't go as planned for the former eighth overall pick.
Sean Couturier Is Defensively-Offensive
Couturier or Coots as his teammates call him, made the Flyers immediately and filled a significant role on the team. However, it wasn't exactly the role that was expected. Rather than transitioning his offensive skills to the NHL, he transitioned his defensive skills. He fit in immediately as the third-line shutdown centreman playing key minutes against the oppositions best lines every night.
At 18, he was drawing the assignment going against top players like Evgeni Malkin, Steven Stamkos, and John Tavares, among others; not an easy task when you're learning the ropes but one that he embraced.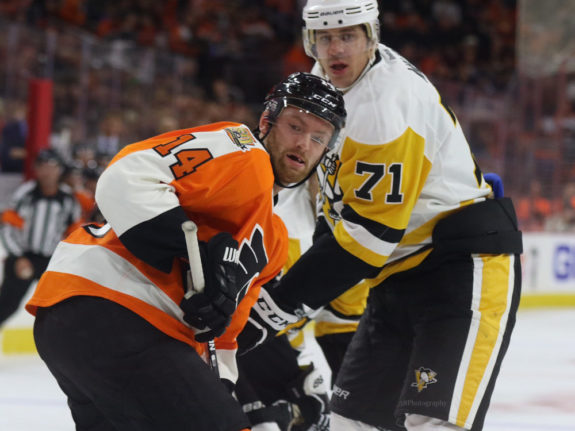 Throughout his career, Couturier has received a fair amount of criticism from fans. Many have called him a draft bust because he hasn't been a consistent contributor on the scoreboard. What many have failed to see is that he has been utilised in a situation that doesn't offer much opportunity for offense. Due to his defensive responsibility and his underrated faceoff ability, often times he is put on the ice for defensive zone draws.
This season has been very different. Head coach, Dave Hakstol promoted him to the first line, shifting Claude Giroux to the wing. This move has given him more playing time as well as more favourable starts in the offensive zone. He is still tasked with shutting opponents down but having Giroux on his wing has freed him up to play more offensively.
Couturier Joins the 2011 Draft Class – 100 Goal Club
With his 100th career goal Couturier joins fellow 2011 draftees Ryan Nugent-Hopkins, Gabriel Landeskog, Mika Zibanejad, Mark Scheifele, Brandon Saad, and Nikita Kucherov in the 100-goal club. He is among some elite company.
All of these names are relied on to score on a nightly basis and are set up in favourable positions to produce offensively. For the first six seasons of his career, Couturier was encouraged to exclusively defend and only take chances when they occurred. His power play time was limited to the second unit that didn't get much time due to the strong first unit.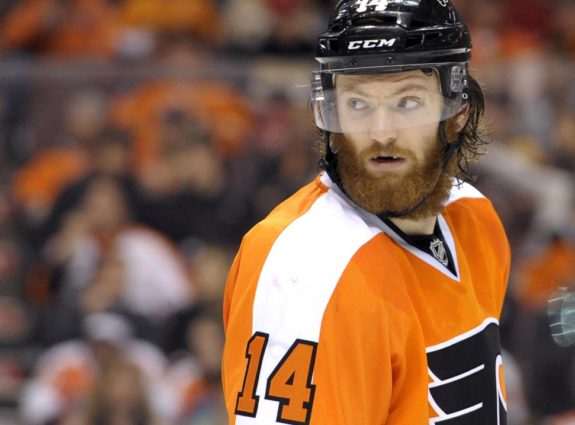 Now that Couturier has been set loose to be the complete player that he can be, he is taking the opportunity and running with it. He is now on the first power-play unit, set up in the position that Brayden Schenn used to occupy. And due to his great play over the years, Hakstol is rewarding him with more offensively-minded linemates. All factors considered, being the seventh player from that draft class to reach the 100-goal plateau is impressive.
The Roo and Coots Show
There is a list of reasons why Couturier is playing more a complete game this year. However, none is more significant than Giroux's presence, who has taken the team on his back and mentored Couturier.
Giroux showed his leadership when he accepted the shift to the wing to carve a spot for Couturier on the top line and the chemistry between the two is incredible. They know where the other is and cover up for each other in both zones.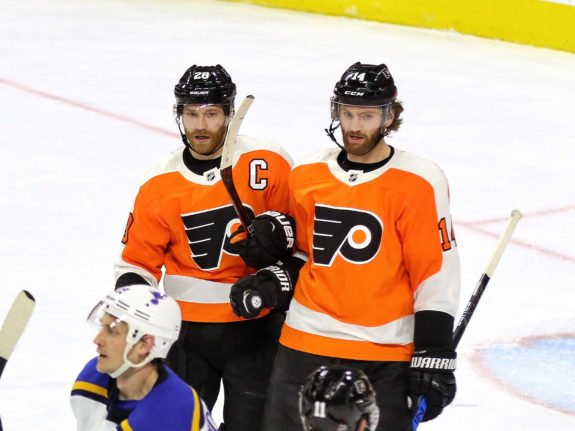 His confidence is through the roof when playing beside Giroux. He isn't afraid to make plays and is freed up to take more shots. Without Giroux on his wing, Couturier would not have set career highs in goals, assists and points this season. Look for the duo to make some noise into the playoffs.
Making the Case for the Selke
Couturier has always been a solid two-way forward who could have received a Selke nod but due to his low point totals has never been included in the conversation. This season that could change. Through 74 games, he has posted 30 goals and 40 assists for a total of 70 points. His plus-minus rating is even more impressive at a career-high, plus-27 which is tied for sixth in the league.
What makes this even more impressive is that the Flyers goal differential is only plus-two. The other players represented in the top-five in plus-minus rating are all playing in much more favourable situations, playing for the Vegas Golden Knights, Boston Bruins, Tampa Bay Lightning, and Colorado Avalanche. All four teams have at least a plus-26 differential. The Flyers are giving up more goals yet Couturier is finding a way to be on the ice at the right time to keep goals off the board.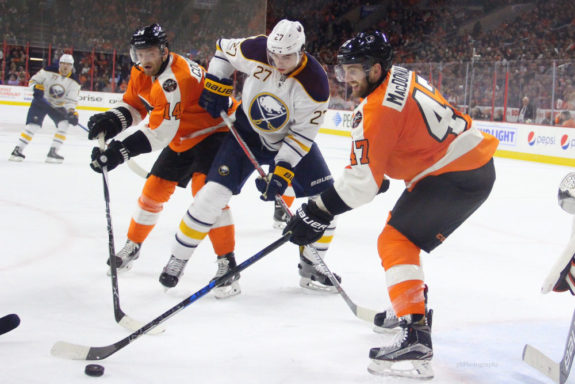 He will be among some tough competition but he deserves, at least, to be a Selke finalist. Look for Couturier to finish this season off strong and be a difference-maker in the playoffs. March 20, 2018, will always be a night to remember. Congratulations Sean, you deserve it!
A writer covering the Philadelphia Flyers and NHL Prospects. Kurtis is also a Guelph Storm season ticket holder. Feel free to contact Kurtis at @kurtiswells92, or by email at kurtiswells@rogers.com.