What does it take to be an NHL captain and when exactly is a player ready to take on the responsibility? Are they in the long-term plans of the franchise, and are they old enough to handle the pressures that come along with the job? How do you know if it is going to work out? These are all questions that go through management's heads when they are deciding who they should assign as the captain of their franchise and who should be the player to lead them to success.
In the modern era, players are being named captain at a much younger age as compared to the older days when the veterans would lead their teams. The Edmonton Oilers made Connor McDavid the youngest permanent captain ever named at the age of 19 years, 266 days. Similarly, the Colorado Avalanche named Gabriel Landeskog captain at 19 years, 286 days, and the Pittsburgh Penguins gave the 'C' to Sidney Crosby at 19 years, 297 days. All three took the reins relatively well and have turned into good captains.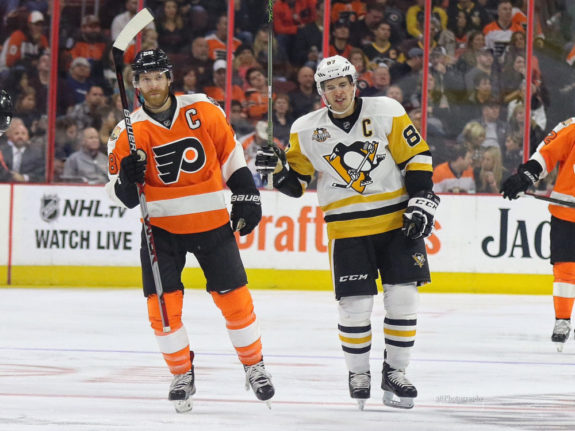 On January 15, 2013, Claude Giroux was named the 19th captain in Philadelphia Flyers team history. It's been a roller coaster with all the ups and downs of his numbers but he has finally reclaimed his position among the league's top players.
Captain Claude
Giroux was drafted 22nd overall by the Philadelphia Flyers in the 2006 NHL Entry Draft. He played three seasons with the Gatineau Olympiques of the Quebec Major Junior Hockey League (QMJHL) posting over 100 points in each season. He closed out his career in the QMJHL with 321 points through 187 games.
It wasn't always easy for him though. Giroux was passed over in the Ontario Hockey League (OHL) draft twice (2004 and 2005), and was eventually given his chance when the Olympiques invited him to come for a tryout with the team. The rest is history as he went on to be named the QMJHL Rookie of the Year.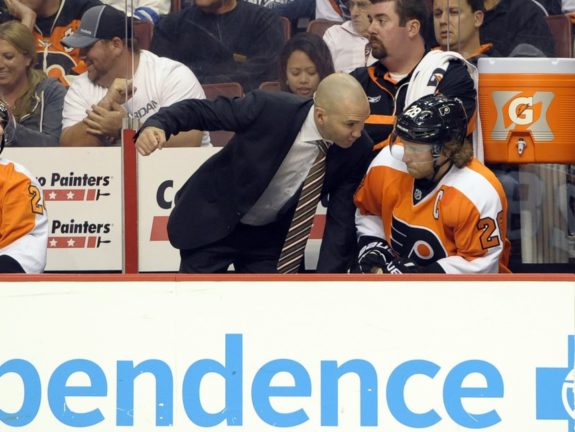 The same happened when he made the jump to the NHL. He didn't take off like the team had projected him to and was quickly sent to the American Hockey League (AHL) for some seasoning. After a great start with the Philadelphia Phantoms where he posted 34 points through 33 games, he was called up to finish the season with the Flyers. He closed the season out strong with 27 points through 42 games despite suffering a concussion.
In his first four seasons in the NHL his point production rapidly increased, peaking at 93 points in the 2011-12 season. However, it appeared that the lockout shortened season served as a pivoting point for him as his point production consistently continued to decrease from 93 to less and less each year for the next five seasons. Last season was his worst point per game season (0.71) since he posted a low of 47 points in his sophomore year in 2009-10. Now this season it appears like he has found his stride again and is back among the league leaders where he belongs.
Scoresheets Only Tell Half the Story
Looking beyond the scoresheet, Giroux appears to be a better all-around player this year. Moving Giroux to the wing was a great move by Dave Hakstol as it has given him less responsibility in the defensive end which opens him up for more chances upfront. On the same coin he and Sean Couturier have such great chemistry that they seamlessly cover each other's positions if one of them gets stuck in the offensive zone.
His defensive play has picked up with him being a plus-12 player this year which is a result of him picking up his check and playing much smarter than he has in the past. When he was younger, Giroux would try to force plays which lead to pucks being turned over often and many times he would try to be too fancy with his plays along the blue line. Plays like this lead to him putting his team in many troubled situations as they had to rush back to try to cover for him.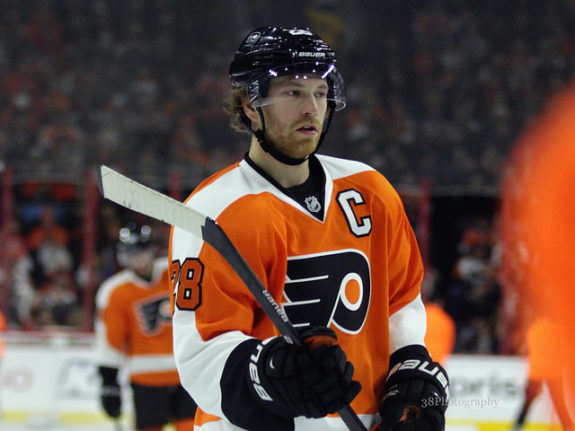 Giroux has also been impressive this season in the faceoff circle with a winning percentage of 58.5%. He has always been a reliable faceoff man but this year has been helpful because he is splitting faceoff duties with Couturier. They each take their strong side faceoffs which is a significant advantage, especially in the defensive zone. It also allows both Giroux and Couturier to be more aggressive to try to "cheat" the draws because if they're kicked out, the other can come in and take the faceoff. This season, he has accepted the challenge and is showing that he is a complete player – both on and off the scoresheet.
The Start of Something Special – G & Couts
Hakstol took a chance by asking Giroux to move to the wing to make room for Couturier in the first line centre role. Giroux could have taken it as a shot against him or he could have taken it as a chance to flourish with a player that has shown flashes of greatness. Fortunately, it was the latter. Since the experiment began, they have been unstoppable. So good, they have even rotated wingers because whoever plays on their line catches fire. Luckily for Flyers fans and for Hakstol, this combination has worked out very well.
Giroux and Couturier look like the Sedin brothers in their prime. The no look passes, shot passes, and overall trust in one another to know where they're going to be has been fun to watch. Their vision aligns so well that they appear to be two steps ahead of the opposing team defenders. They create havoc and put the other team's players out of position which either opens one of them up or opens the lane for a pass to a teammate resulting in a scoring chance.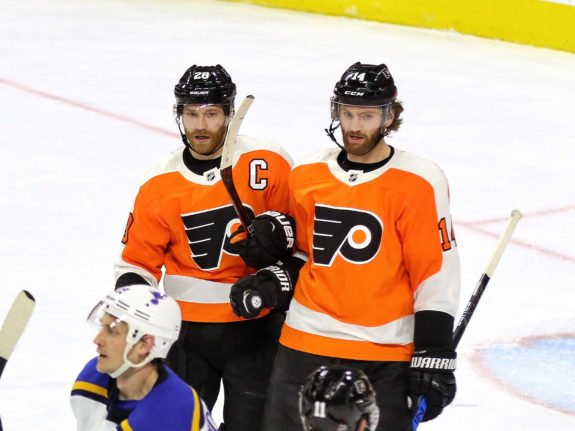 Whether it is Giroux or Couturier that is entering the offensive zone, teams are quickly realizing that you look for the other because if you don't find them quick enough – the puck will be in the net. Both players are tearing up the scoresheets. Giroux has already surpassed his totals in goals, assists and points from last year. Couturier has done the exact same as well as setting career highs. Giroux currently is at a 1.14 point per game rate. The last time he saw production close to this was the season that he had future Hall of Famer Jaromir Jagr on his wing. These two players have developed a special kind of chemistry that isn't often found in today's NHL. With the exception of the Steven Stamkos-Nikita Kucherov tandem and the Alexander Ovechkin-Nicklas Bäckström tandem, they are rare.
Claude Giroux Was Down but Not Out
Giroux's career appears to be back on track. He has posted 19 goals and 47 assists for a total of 66 points through 58 games played which puts him on pace to post his sixth 20+ goal season. He is also currently sitting tied for fourth in the NHL in points with 66. When it comes to awards, his season cannot be looked over if the Flyers make the playoffs. He is the heart and soul to the orange and black, and is proving to be an excellent leader for his squad. If the NHL were to have attended the Olympics, one would have to believe Giroux would be on the Canadian roster. He is making his teammates better by leading by example and pushing the team to work hard to clinch their playoff spot.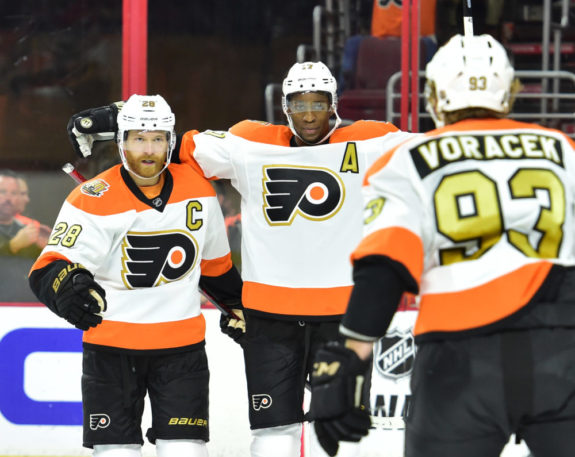 Management has always had the confidence in Giroux because work ethic can't be taught and his work ethic is second to none. Even when he wasn't performing up to expectations he was still given the opportunities to succeed. General Manager, Ron Hextall could have easily dealt him and brought back a fair return of prospects and draft picks. However, he held onto him and now the Flyers are benefiting from the success he has shown this season.
"I'll be shocked next year if you guys don't ask me in January how has [Giroux] turned this around." Ron Hextall (April 2017)– nhl.com
Many fans talk about how Giroux is not an effective player or that he is overrated. If you look at his career totals though, they tell a different story. Giroux has a career total of 199 goals, 442 assists for a total of 641 points through 713 games played. He has been the go-to guy for the Flyers since the unforgettable trades of Mike Richards and Jeff Carter. This franchise relies on him and he is going to have to be at his best if the Flyers want to bring the Stanley Cup home in the near future.
A writer covering the Philadelphia Flyers and NHL Prospects. Kurtis is also a Guelph Storm season ticket holder. Feel free to contact Kurtis at @kurtiswells92, or by email at kurtiswells@rogers.com.