If there's one thing people in Philadelphia are notorious for, it's directing blame at a single player when the team is failing to meet expectations. It happens across all four major sports teams in the city.
Right now, Claude Giroux isn't necessarily feeling the brotherly love from the city that has seen him as captain of their hockey team for the past five seasons.
Time to trade Giroux. +/- 17 for season is pathetic. #Flyers

— Norm (@jnkiii) February 16, 2017
1. Give the C to Simmons. 2. Trade Giroux. 3. Go after a top quality, scoring center.

— Mitch Broadbent (@mitchbroadbent) February 18, 2017
Trade giroux, make Simmonds captain, get bishop in goal, bring up Morin and sanhiem. Flyers

— mike (@mdtflyers88) February 17, 2017
Now, despite all of that criticism, it really can't be directed at just the captain. In fact, the only player really bringing the heat night in and night out for the Philadelphia Flyers is Wayne Simmonds.
Despite the team struggling as a whole, and quite frankly not having all that great of a lineup, there are still people who think Giroux would be best off in the uniform of a different team.
Is that notion too extreme? Or is it something the Flyers should seriously look into?
A Statistical Argument
At this point in time, if you wanted to argue in terms of goals, assists, and points, then Claude Giroux's game has really taken a turn for the worse.
You may remember 2011-12, when the Flyers had a new-look team. It was the first year after the massive trades of Mike Richards and Jeff Carter, and Giroux was touted as a budding superstar in the NHL. That rang true throughout the entire 2011-12 season.
Giroux put up a monster 93 points and found superb chemistry alongside Jaromir Jagr and Scott Hartnell. That whole line was virtually unstoppable, and despite the Flyers' second-round playoff exit that season, Giroux finished that postseason tied for the lead in goals and fourth in points.
Things were looking up and Giroux was named the captain.
Things kept going well for him.
In the lockout-shortened 2012-13 season, Giroux led the Flyers in points again with 48, averaging a point per game.
Once again in the 2013-14 season, nothing really changed. Giroux remained the Flyers' best player and finished third in scoring in the entire NHL. In fact, he arguably led the Flyers to a playoff spot that year.
That was just one of the many huge plays he made down the stretch run for the Flyers. From January 2014 until the conclusion of that regular season, Giroux led the NHL in points with 48 in his final 41 games. That was the same season in which Giroux didn't even find the back of the net until mid-November.
But since that season, Giroux just hasn't looked the same.
Maybe it was losing line mate Scott Hartnell, maybe it was the shift in coaching, or maybe it's the sheer lack of scoring depth on the Flyers. But something hasn't been the same.
Giroux's point totals have gone from 86 in 2013-14 to 73 to 67 to just 42 right now, which has him on pace for just 59 by the end of the season.
But that really doesn't tell the whole story.
A Struggling Team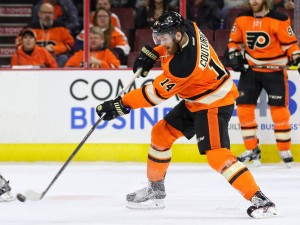 More than any other sport, hockey is a team game. If the team isn't producing, one player isn't going to be able to do it himself, and that's the situation the Flyers are in right now.
Despite his struggles this season, Giroux is still second on the team in points with 42. That is no doubt a direct result of the Flyers' inability to put the puck in the net as of late. From the beginning of the season up until the end of the Flyers' 10-game winning streak in mid-December, Giroux was ninth in the league in points with 30 in 32 games, and his line mate Jake Voracek was tied for third in the league with 33 in 32 games.
In the 26 games since then, Giroux has 12 points and Voracek just 16. That means they're both averaging about one point every two games.
That may seem awful, but no Flyer is exempt, with the problem extending way beyond the Flyers two-star players.
Wayne Simmonds has only 13 points over that time period, Sean Couturier and Shayne Gostisbehere have 9, and Michael Raffl has just three points. The leader over that timeframe is Brayden Schenn, who has 16 points.
That isn't anything that can be blamed on one single player, let alone the captain. Those stats are more in line with a broken offensive system that isn't conducive to the style of hockey the Flyers should be playing. This is the exact same team that was scoring almost 3.50 goals per game in the first half of the season.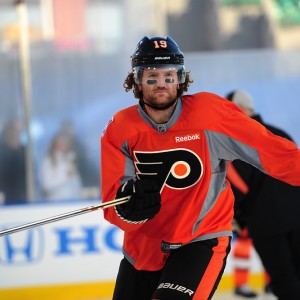 When the Flyers' offense is clicking on all cylinders, Giroux is at the forefront of that.
So what can be said about Giroux in all of this? Well, his lack of production is more the result of a team that can't create any offense rather than a player who has lost his mojo.
Even if Claude Giroux isn't scoring, he still brings an all-around game that most other Flyers don't have.
In fact, Giroux has never really been labeled as a goal scorer. He's always been a playmaker who has excelled at his two-way game. That includes being one of the best faceoff men in the league, and that's hard to come by.
There isn't really any statistical argument for trading Giroux. His production shifts as the Flyers' offense as a whole struggles or excels, but regardless, he is always one of the top producers for the team, even evident during their recent offensive struggles.
The Age Argument
We've gone through Giroux's stats already, and despite fluctuations in the amount of his production, he's consistently been either the top scorer for the Flyers or right behind in second. That should be enough to tell anyone in Philadelphia that Giroux isn't worth even exploring a trade for.
What might constitute shopping Giroux is his age.
It might seem weird to talk about a player's age when he is only 29 years old, but in the case of the Flyers, that may end up being something that is very important.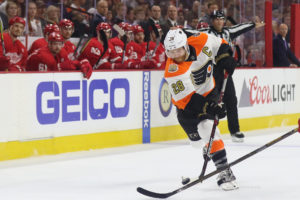 As I mentioned above, Giroux recently turned 29 years old. His dip in production recently isn't really much cause for concern, at least to someone like me who observes his on-ice play night in and night out.
He doesn't appear to be sluggish or any weaker on the puck, but that's not the aspect of age I'm talking about here.
The Flyers have an abundance of youth in their system. These aren't guys that will be marginal players, they are guys (like Ivan Provorov) who will make an immediate and strong impact on the dynamic of the team. The problem for the Flyers is that these guys likely won't be coming into their prime for another three to four years.
Where will a guy like Giroux be by that time?
He could be almost 35 years old by the time the guys waiting in the wings come into their prime. By then, he will likely still be an effective player, but nowhere near the player he is right now. That leads to the burning question: are the Flyers missing Claude Giroux's prime?
That's a very interesting question.
A Missing Supporting Cast?
As I mentioned in the section above, Giroux had a career-high 93 points in 2011-12 and then (in the next full 82-game season) he had 86 points. Since that time, the Flyers have lost a significant amount of offensive weapons, ranging from Danny Briere to Scott Hartnell. Aside from that, they have severely lacked depth the past few seasons, meaning opposing teams only have to worry about shutting down Giroux, Voracek, and Simmonds.
Despite the recent dip in numbers, that would still lead me to believe that Giroux has the potential to put up hefty numbers, but he's on a Flyers team that is missing a lot of the pieces they need to step up to the next level.
That fact alone may essentially be rendering Giroux useless to the Flyers during a part of his career when he should be thriving.
It's eerily reminiscent of what happened to Phil Kessel when he was in Toronto. That was a guy who the Leafs decided to throw money at and call their savior. When the Leafs failed to turn things around, Kessel was an easy target to put the failures on, when in reality he just didn't have the pieces around him to succeed.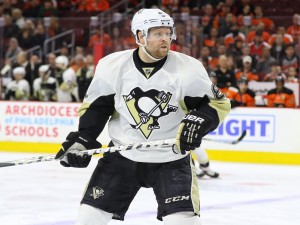 Fast-forward to after he went to Pittsburgh and everything changed for the better. Kessel had a great season in 2015-16 and was without a doubt the unsung hero that brought Pittsburgh their fourth Stanley Cup.
Is that what's happening to Giroux in Philadelphia?
Well, it's hard not to think so.
Both guys have an abundance of skill and have been unfairly blamed for struggles that span an entire team. Kessel was traded away and it ended up benefiting both teams, but would the same be true for Giroux?
Well, that can be left up for endless hours of debate, but there are a couple of factors you have to weigh here. The first and most important of those being that the Flyers don't have the supporting cast right now, and their prospects probably won't be in full swing for another three to five years.
Would it benefit the Flyers to look to trade Giroux for young prospects?
Once again, that's up for a myriad of debates, but it makes you think. If the Flyers aren't truly ready to make a run for a few more seasons, will it make sense to carry Giroux's $8 million cap hit even though he'll probably hitting the downside of his career?
The other aspect to this is the prospects the Flyers have right now.
Nearly all of the highly touted prospects the Flyers have are defensemen. That's good in some sense, but they are also a little bit shallow when it comes to offense. The Flyers could surely net some highly touted offensive prospects if they were to trade Giroux away, and those guys would likely come into their prime at the same time as the defensive guys.
To Shop or Not to Shop?
If one thing has been certain throughout Claude Giroux's career in Philadelphia, it's that he has consistently been the go-to guy for offense. If the Flyers are struggling to score, Giroux is still going to be near the top of the team in points. If the Flyers are scoring at a high clip, Giroux is going to be top-three in points among his team. It's also important to understand that if a team is struggling offensively, that one player isn't going to change that and one player can't be the scapegoat.
One bad stretch of play doesn't warrant trading Giroux and neither do any of his stats since he's become a Philadelphia Flyer. If Giroux were an anomaly, then I'd say something is wrong with the player, but he's not. He isn't the only minus-20 on the team, he's still second on the team in points, and he's still the Flyers' best two-way player. That all hasn't changed.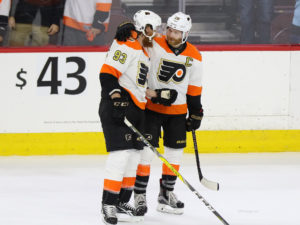 The only real argument for trading Giroux is that the Flyers aren't really the best fit for him, akin to what happened with Kessel in Toronto.
If the Flyers still have a significant amount of time until they are going to seriously contend for a Stanley Cup, then it might make sense to trade Giroux away for an abundance of youth; however, I don't see that happening.
The Flyers have shown that they can play at an elite level, most recently in the first half of this season, and Giroux was at the forefront of that production. They are likely just a few small pieces away from being a very good, consistent team, and Giroux will be an integral part of that.
If the Flyers were to absolutely tank the rest of this season and be out of contention for a majority of next season, then I could see the team trying to shop Giroux for younger players, mainly because there would be little point in keeping him around if they were far away from being a good team.
I have a hard time seeing that happening. What the Flyers are going through now probably has a lot to do with an offensive system that needs to be changed. Whether that involves the coach and bringing in someone else to do the job is a story for a different day. But when the Flyers do start scoring again (and they will), you better bet that Claude Giroux will be front and center of the offense.
Matt is a contributor for the Philadelphia Flyers at The Hockey Writers. He has previously covered the Flyers for GrandstandU. He enjoys playing hockey and making music in his spare time.