James van Riemsdyk wouldn't be the first player to crumble under the pressure of a contract year, especially the first one of a career. But, JVR, who has been with the Leafs since being acquired in the Luke Schenn trade back in 2012, has done everything but succumb to the uncertainty the final year of a contract – and the often-inherent trade speculation that comes with being in that position – brings.
He is on pace to eclipse his career high in goals (30, 2013-14), and has been on a red-hot tear of late, tallying goals in three of his last four games, and four of his last seven. That comes after a stretched where he notched just a single point in his previous seven games The one number that is down this season for van Riemsdyk is his assists (and therefore his points). He has only mustered 12 assists on the season, and would have to put up more than a point a game for the remainder of the season to match his point total from last season (62), which is the highest of his career.
So, with the trade deadline just around the corner, we thought we'd take a look at the most-talked-about Leaf heading into deadline day. Should he remain in Toronto to help with the stretch run (and possibly beyond)? Or should the Leafs deal him for a couple younger assets that can help them in the longterm?
The Leafs have already answered that question – at least partially. As was reported last Saturday by Sportsnet's Chris Johnston the club is not listening to trade offers on van Riemsdyk, meaning he will be a Maple Leaf until at least the end of the season. Is this the right decision from Leafs management? Or have they completely shut the door on an opportunity to make the team better?
JVR Playing His Best Hockey of the Season
As we mentioned, the Leafs' longtime winger has been on a torrid tear over the last little while. That said, he has been very streaky this season, which explains the fairly-steep decline in overall production. While amassing points in five of six, and goals in three consecutive contets, he has gone four games on two separate occasions without even making the box score. That's not terrible when you consider the droughts of Mitch Marner (who at one point went seven games without a point in late November-early December), and Nazem Kadri, (who went 17 of 18 games with zeros across the board from early-December to mid-January).
However, we saw much more consistency from van Riemsdyk last year, which allowed him to put up the assist numbers he did. He has had a solid season this year, but even more consistency from someone who's shown an ability to produce when healthy in recent years, may have Toronto in an even better position.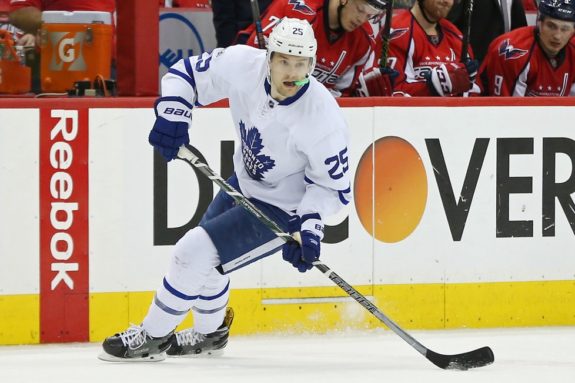 One terrific attribute about van Riemsdyk's game that has shown itself in droves during this current run is his net-front presence. All his goals over the last number of games (save for the one he hammered home from the face-off dot vs. Nashville), and most this season have come from inside just beyond the blue paint, on deflections and rebounds.
His ability to screen goalies and keep them from seeing shots puts him right at the top of the league in that area of the game. His 6'3, 217-pound frame makes him a perfect fit as the Leafs' 'post pest,' if you will, and it's a role he's embraced. He always finds his way to the front of the goal whenever he's on the ice, and more often than not, of late, it's worked out in the Leafs' favour. His spot on the second power-play unit also serves the Leafs' extremely well. He has scored eight of his 23 goals with the extra man this season, including his most recent – a pass from Kadri that deflected in off him as he stood right on the doorstep, where he has made a living this season.
Are The Leafs Doing the Right Thing?
How valuable JVR has been to the Leafs over his time with the club – and more specifically this season – begs that question: is keeping JVR in the fold the best move for the Leafs to make? It's not an easy question to answer, and will take some pondering. Especially when you consider they have guys like Josh Leivo waiting in the wings for an opportunity to play (or be dealt to somewhere he will play).
I argue the Leafs are making the right decision to keep him around. While you can make a strong case (and one with which I would concur) that they should be listening to trade offers for the 28-year-old, the premise itself of keeping him a Leaf beyond February 26 makes sense. Here's why:
He's having a fantastic season; he's likely – at the rate he's going – to set a new career-high in goals, and is an extremely valuable piece. Why would you want to part with a piece like him, with all that he does, right in the middle of a playoff run? THW's Will Billinghurst made a similar argument last year. It would be detrimental to the team to trade him now and have his hole in the lineup filled by someone in Leivo (presumably) who hasn't played in nearly two months? There will undoubtedly be rust, and no matter how high people are in Leivo – and I am one of them – it is likely to be a major downgrade at this point in the season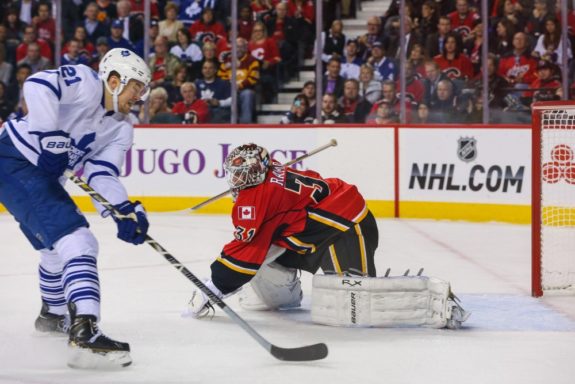 Further, he's been there. The Leafs are looking to make a playoff run this year. They aren't going to when the Cup barring some unforeseen miracle, but they want to make a run. Van Riemsdyk went to the Cup final in his rookie season with Philadelphia, and got to the second round of the post-season with the Flyers the next two years. Why wouldn't you want someone in your lineup who has 'been there, done that' like van Riemsdyk? Especially on a team full of guys who have not 'been there, done that?' He holds too much value to the team right now to send him packing.
And finally, what are realistically getting for him? Some have said he may merit a first-round pick and a second-tier prospect. I'm not so sure about the first-rounder. Van Riemsdyk is a good hockey player, but I think his trade stock in terms of dealing picks is more in the early-second round. Maybe, depending on the pick, he could get you a late first-round selection. As for the 'B level' prospect, how is this an upgrade? You're likely getting a similar-to or worse player than van Riemsdyk there, so trading him for that type of guy, again, hurts the dynamics of the offence.
I do think he should walk in July; he has said he will not give the Leafs a 'hometown discount,' according to Nick Kypreos. That is something he likely would have to do if he was to stay in Toronto following this season. With Leivo – and others like Kasperi Kapanen and Andreas Johnsson – ready to go, I'm fine with letting van Riemsdyk go and allowing one of those three assume his role at the very beginning of a season. He will be paid a lot more than he is raking in now in my opinion, and with the entry-level deals of the Leafs' big three set to expire in the next few years, they won't be able to afford to keep him; so letting him test the free-agent waters in the summer is the best bet for the Leafs.
But while you have him, it would be foolish not to get the most out of him. It's difficult to without van Riemsdyk on it this season, and the general consensus in sports is that you should only trade a player if it actually helps your team in some respect. Trading van Riemsdyk likely won't do that, so while it may make sense in some respects to part ways with him to see what you can get for the future – gambling that someone you may acquire for him pans out – it makes sense in many more respects to keep him for the balance of this season knowing you have at least one player (Leivo) who can step in and replace him in the fall.
Currently in school looking to become mildly proficient at journalism (preferably in sports). Lifelong Leafs fan; excited to cover my boyhood team at a high level.
Hopefully you like my stuff – if not, that's your loss