James van Riemsdyk is a great player and yet everyone wants to trade him. This mainly has to do with the mindset of the Toronto Maple Leafs fan base not catching up to the team.
The Leafs are no longer tearing down their team. I would argue that the Leafs aren't rebuilding anymore either. With the Leafs best players being Auston Matthews, Mitch Marner and William Nylander it puts the team on the clock. They aren't looking to be good and contend for a playoff spot in a few years time, like we thought during the summer.
This team is good now. They are in a playoff spot.
Sure the Leafs aren't a top pick for winning the Stanley Cup right now, but just getting into the playoffs gives them a chance. This means that the Leafs should be adding to their lineup instead of subtracting as they usually do. Van Riemsdyk is a key reason for why the Leafs are doing so well at the moment, especially because of how well he plays on the power play.
So this is the case against trading James van Riemsdyk.
The Contract
Van Riemsdyk's contract seems to be the main reasoning behind trading him. With a cap hit of $4.25 million until the end of the 2017-18 NHL season, it makes van Riemsdyk a great asset on his contract alone. This also makes him a trade target for other teams. It also helps that along with a great contract he scores at a first line pace.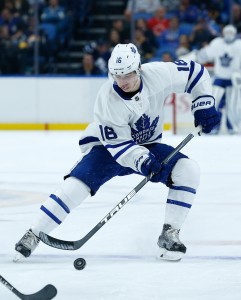 The reasoning behind wanting to trade him, despite all the benefits he has, is that he will be getting a huge raise once his contract is up. That will also be ahead of Matthews' and Marner's last year on their entry level contracts. Meaning the year after van Riemsdyk gets a raise it will be time for Matthews' and Marner's first contract, which we can assume will be pricey.
So by trading van Riemsdyk now it means not having to worry about the salary cap once it's time to re-sign the big three. Technically that would be correct, but at a price. The Leafs will have lost their top left winger, which will be a huge blow to the team. So if the Leafs re-signed him then how much would be cost?
Well based on comparison to other wingers it would probably be between $5 million to $6 million. So at most that would only be a $2 million increase in his contract, which shouldn't restrict signing Matthews or Marner. At the moment the Leafs have $8.3 million buried in the minors in Brooks Laich, Milan Michalek and Colin Greening. All of that is coming off the books this summer.
The only issue with a future contract could be the term. We should expect it to be a five-year contract, which would be manageable and it would be a similar contract as what Nazem Kadri, Morgan Rielly and Frederik Andersen have received.
Trading for a Defenseman
The consensus with trading van Riemsdyk is to trade him for a defenseman. This makes sense for the Leafs as their weakest part is the defense. The Leafs have a great offense with players like Matthews and Marner in the lineup, so trading van Riemsdyk shouldn't affect their scoring.
The problem is that it would hurt their offense.
The point streak is now 10 games long for @JVReemer21 (3-11—14). pic.twitter.com/uU3kmbnq2H

— NHL (@NHL) January 22, 2017
van Riemsdyk is tied for second in team scoring with Matthews with 38 points in 45 games and tied for second in power play points with Kadri for 14 points. To take out such a great contributor would affect all aspects of their offense, just as it would hurt the Leafs to lose Matthews or Marner.
In terms of trading for a defenseman, it would need to be a one-for-one trade like the Taylor Hall for Adam Larsson trade. Anything like a package of picks and prospects doesn't help the Leafs right now and would be a wasted trade when van Riemsdyk could net a top defenseman in return.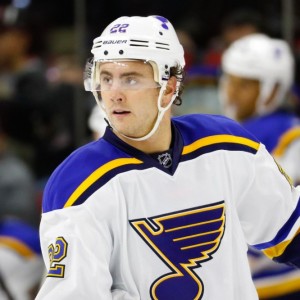 Many have picked Kevin Shattenkirk as the best defenseman to trade van Riemsdyk for, but if the Leafs do trade him at the deadline like many want then this is the last defenseman to pick. This isn't due to his ability as a player, far from it, but his contract is finished at the end of this season. Which means he can walk to free agency where he will be looking for a huge raise from his current contract of $4.25 million.
Unless the Leafs have a prearranged agreement to extend his contract once they acquire him, it's too risky to trade for Shattenkirk. The Leafs are better off trying to sign him during free agency.
Replacing van Riemsdyk
This is my main hesitation with trading van Riemsdyk. The Leafs don't have anyone that can fill his spot.
Coach Mike Babcock has run three lines that can all score, but the line of van Riemsdyk, Tyler Bozak and Marner has been the top line overall in terms of scoring. So by removing van Riemsdyk from the lineup leaves just Leo Komarov, Zach Hyman and Matt Martin as the remaining left wingers.
Sure the Leafs could move someone to the left-wing, but we can't assume that and it would then leave a hole somewhere else in the lineup.
The best three left wingers on the Toronto Marlies are Brendan Leipsic, Kerby Rychel and Andreas Johnsson. It's likely that they will all see time in the NHL, but they haven't shown that they can play at a top line level.
The play style of van Riemsdyk will be difficult to replace as well. He has amazing presence around the net and is one of the best in regards to handling the puck and making plays close to the goalie.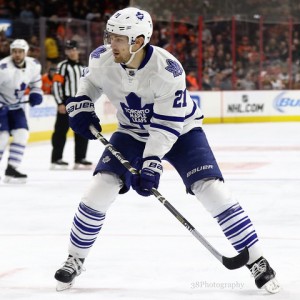 Trading van Riemsdyk for a top defenseman makes sense since defense is the weakest aspect of the Leafs. The problem is replacing not only the offense he brings to the team, but also his style of play. Right now the Leafs are in a playoff spot so making a major change to the team, like trading van Riemsdyk, could be harmful to their season.
The best option is to wait until the offseason. The expansion draft will be happening, which should shake up the NHL and could offer better opportunities than at the trade deadline. It would also give the Leafs plenty of time to find a replacement for van Riemsdyk through trade or free agency.
Keeping van Riemsdyk is the better option to me, but if management does decide to trade van Riemsdyk then it's going to be in the offseason.
So what do you think should be done with James van Riemsdyk?