Josh Leivo is a talented young player; I don't think anyone can deny that. The one problem is, he hasn't been given enough of an opportunity to showcase his talent. He has only played in 25 games since the beginning of last season, and just 53 in his entire NHL career.
Despite his inability to crack the Leafs' lineup on a regular basis, a near-constant when he does play is his ability to produce. He has ten goals over his 53 games, which puts him on pace for about 15 over a full season. But something tells me, with more consistent playing time, that number is likely to be much higher.
The Background
Leivo, who grew up in Innisfil, Ontario – about an hour north of Toronto – was drafted by his boyhood team in 2011, but has struggled to stay in the lineup. He scored his first NHL goal on Oct. 17, 2013, as he beat Cam Ward with a bullet of a shot over the glove. It's the one we've all come to know, but one we just haven't had the chance to see on a regular basis because he's been in the minors or glued to the press box his entire career.
That was the only goal he scored that season in seven games. The next year, he appeared in nine games, scoring another goal. Leivo's 'breakout' year was 2015-16, where he scored five times in just 12 contests. He would follow that up with the best point output of his career, ten in 13 games – including a pair of goals. This year, in 12 games, he's scored once and notched two assists for three points.
It really would be something to see him get in the lineup for a full season, with a prominent role, to see what he can do – truly – at the NHL level.
He was put on the Leafs' protected list, which likely gave him at least somewhat of a bode of confidence that he was going to be part of the Leafs' long-term plan.
Leivo Agrees to an Extension
He then signed a one-year, $925,000 contract on Nov. 17. In the wake of the signing, Leivo said it was important for him – and the team – to have the stability of a contract and not have to treat every game as an 'audition' for the future.
We were just talking, and they just wanted me to have the security so I could play a game and not have to worry about the next year. It feels great. I get to focus now on just playing.
Babcock says they like Leivo, and the contract extension would support that premise. Part of the reason he signed the deal was to at least give himself some guaranteed money, and because he wants to be a part of the Leafs' organization. Because, in your contract year, 'guaranteed money' doesn't mean much when you have shown (although in a limited sample) to be a more-than-useful player, and have a chance to land a much larger contract somewhere else.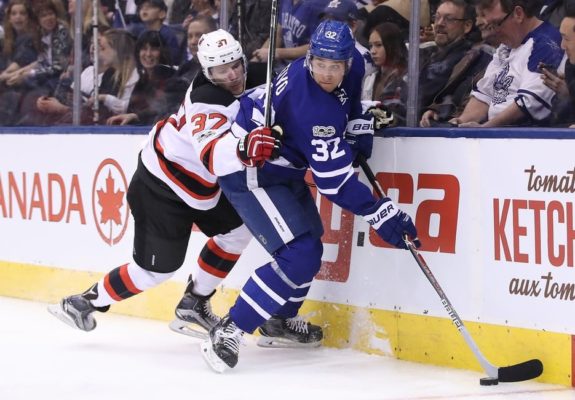 His teammates love him, too. James Van Riemsdyk has said he's been impressed with how Leivo has handled his predicament, and Mitch Marner said he's someone who gets along well with everybody in the room – a major asset for any player.
"I'm sure for him there's those frustrations from being in and out of the lineup and wanting to be playing more, but he's handled that very well." – James Van Riemsdyk
There's clearly a mutual admiration between the player, the organization and his teammates, But, since the extension, the 24-year-old winger has only appeared in seven games. That's just not good enough for somebody as talented, physical and offensively gifted as Leivo.
Asking For a Trade
As reported by Nick Kypreos on Hockey Night in Canada last Saturday, Leivo has asked for a trade out of Toronto. On Monday, in speaking with the media, he said the request isn't an indictment on the organization or its people, but that he simply wants to see the ice.
I just want to play hockey. I do want to play for the Maple Leafs, that's why I signed for another year, but at the same time I just want to play.
Who can blame him for wanting to play games? Getting paid to watch games sounds rosy, but when you're used to playing 80-plus games in a season – as Leivo was in junior – it can be tough. It's tough for any player, no matter their age or standing in the league. And, frankly, hearing Joe Bowen go bananas from three booths over every time the Leafs score – while greatly entertaining – is just not as fun as hearing him do it from several hundred feet away while celebrating a goal you scored.
Leivo's trade request begs even more questions than we thought we had answered when he signed the extension. Is he part of the Leafs' long-term plan? Does he think he is? Why was he protected if he wasn't? Why did he sign a contract extension? Did Leafs' management give him false hope that once the extension was signed he would play more frequently?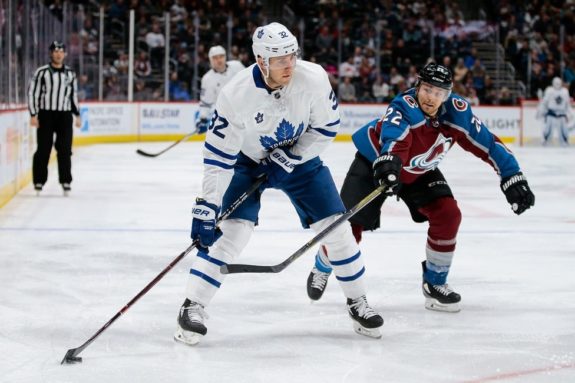 The answer to all those questions is: who the hell knows? We don't know the answer to any of them, and we may never. It would give a lot of clarity to the situation if we did know, but right now we have no idea what the Leivo camp and the Leafs' camp are thinking. We know they like him, and we know he likes being a Maple Leaf, but short of that, this is a saga that doesn't appear to be ending anytime soon.
What's Next For Leivo?
This is another question we don't have a clear answer to – what's next? The Leafs have said they are in no hurry to honour Leivo's request to be shipped out of Toronto. General manager Lou Lamoriello was hesitant to comment on anything to do with the Leivo situation, other than to say every deal he makes "has to be in the best interests of the team."
When asked by the media if he would care to report to the Marlies on a conditioning stint, his answer was, essentially, no he would not. And again, who could blame him? He's a 24-year-old – supposedly in the prime of his career – who has shown he can play in the NHL. He's got nothing left to prove in the American League. He (and most everyone else) would rather play in the NHL somewhere else than play in the AHL just to say he got to participate in an ice hockey game for the first time in six weeks.
Leivo asked if he'd do an AHL conditioning stint, unsurprisingly said no considering he's done that before to no avail at the next level: "I've played enough in the AHL; I want to play in the NHL now."

— Kristen Shilton (@kristen_shilton) February 5, 2018
I've always been of the mind he should be in the Leafs' lineup. Frankly, I was somewhat surprised Kasperi Kapanen was recalled from the Marlies when the lineup shake-up happened in Chicago, considering they already had Leivo. Yes, Kapanen is younger, faster, and probably a better player, but it was surprising to see Leivo – a kid who, by all accounts, has worked his tail off to stay prepared and in shape should an opportunity arrive – see a potential chance to crack the lineup arise and have it taken away just as quickly.
We don't know what's next, but he does need to play, and soon. My hope is he isn't dealt and cracks the lineup when any of Van Riemsdyk, Bozak and/or Komarov departs in free agency. This kid deserves a chance to play, and has handled himself as a consummate professional when clearly it hasn't been easy. He's shown he can produce and play at a high level, and, if he's around beyond the NHL's Feb. 26 trade deadline, there is zero excuse to not have him in the lineup full-time next season. That would take saying goodbye to some productive and valuable pieces, but Leivo's earned it, and it's clear his teammates – and even management – agree.
Currently in school looking to become mildly proficient at journalism (preferably in sports). Lifelong Leafs fan; excited to cover my boyhood team at a high level.
Hopefully you like my stuff – if not, that's your loss