You can't help but feel for Josh Leivo. After growing up just outside of Toronto he was drafted by his hometown Maple Leafs in a feel-good story that few players get to experience. Since then, however, his hockey career has been rocky, to say the least.
He's too good to play in the AHL and too old to keep developing there. This season, he hasn't received much ice time and after the news broke that he had requested a trade, it seems the Leivo press box saga will finally reach a conclusion, one way or another. This puts management in a position to reevaluate how Leivo fits into the Leafs' long-term plans and honestly if his ultimatum is to play or be traded, let him play.
Where Does He Fit?
The Maple Leafs do like Leivo and want him around. Why else would they sign him to an extension rather than  bring up younger prospects?
#Leafs winger Josh Leivo has played 25 games over the last two seasons. He's tired of watching. pic.twitter.com/Sn586cRRWI

— Sportsnet (@Sportsnet) February 5, 2018
But liking him doesn't mean they want him in the lineup right now. With left-wingers James van Riemsdyk, Patrick Marleau, Zach Hyman and Leo Komarov on the roster and right-wingers Mitch Marner, William Nylander, Connor Brown and Kasperi Kapanen, there's no room for Leivo to sneak into the lineup, barring an injury. Assuming van Riemsdyk and Komarov stay put at the deadline, there's no room on the left but there is a solution, even if it is one that most fans won't like. Kasperi Kapanen should be sent down one final time.
Yes, he's younger than Leivo and he's faster than Leivo. He has more potential. There's no doubt Kapanen has a bright future with the team but Leivo could too, and this is the only way to keep them both around. Even if van Riemsdyk and Komarov are in Toronto for the season, they probably won't stick around long enough to receive new contracts. This opens up two spots on the wing for next year, even factoring in Matt Martin.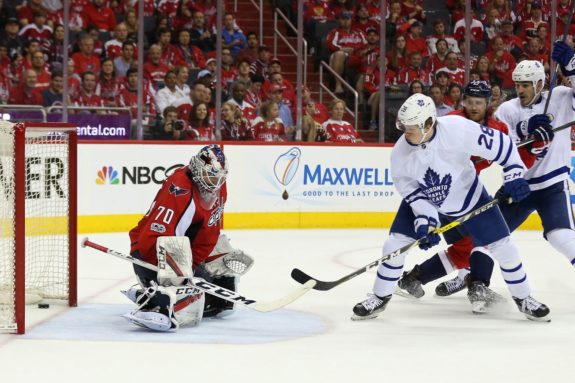 Notice the Leafs' top two lines right now are made up of Hyman-Matthews-Nylander and Marleau-Kadri-Marner, players that will be with the team next season. Van Riemsdyk is playing with fellow pending unrestricted free agent Tyler Bozak and Komarov is on the fourth line. Here is what the lines could look like next season with Leivo around:
Hyman-Matthews-Nylander
Marleau-Kadri-Marner
Kapanen-(UFA signing?)-Brown
Martin-(Gauthier?)-Leivo
Regardless of the unknown centres (a debate for another time), if we assume Martin earns a spot in the lineup next season, this is a decent prediction for the forward lineup. The only way achieve it, however, is if Kapanen moves back down.
Of course, it's not ideal. Kapanen was NHL-ready last season but the Leafs aren't winning the Cup this year and whether or not he plays on the fourth line for the rest of the season, that's not going to change. It may not be the worst idea to let Kapanen play out the rest of the season as one of the top players in the AHL, rather than spend the rest of the season on the Leafs' fourth line.
Why Keep Leivo?
Leivo is someone who, in limited ice time, has shown he can move around the lineup quite well. He has a wicked shot, he can hit, he can play on the power play and he could either play a top-nine role or add some skill to the fourth line next season. Over parts of the past three seasons, he has eight goals and 18 points in 37 games, keeping in mind much of this time was spent on the fourth line. Sure, he's turning 25 years old in May but that still gives him plenty of time to be part of the Leafs' future.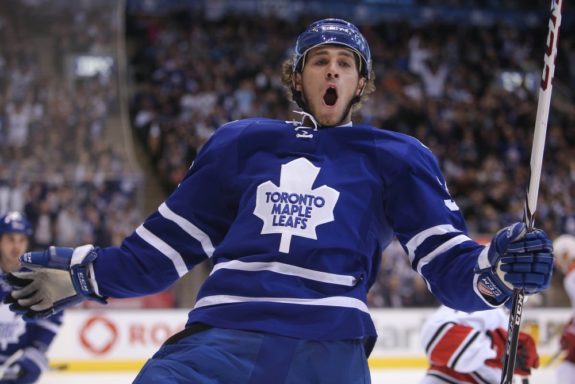 Trading him shouldn't be an option; not because of some vague hope that he's going to surpass Nylander or Marner as one of the team's top wingers but because he is more valuable than what Toronto would get in exchange for him. Leivo is worth a half-decent prospect or even a second-round pick but there's no chance that the Leafs receive that for him. If it's Leivo or a conditional fifth-round pick (probably a more realistic return), Leivo needs to stay. He IS an NHL player. He just needs the opportunity.
It's time that Leivo gives up his reserved seat in the press box waiting for an injury and gets some time on the ice. Let Kapanen tear up the AHL for a few more months and give Leivo a legitimate, extended chance to play with the Leafs so we can finally see what he can do with it.
Ben is a journalism student at Ryerson University and covers the Toronto Maple Leafs.