Being born in Sweden, it is every future player's dream to be the next Peter Forsberg, Mats Sundin, Henrik Lundqvist or Nicklas Lidstrom. But living up to those names is difficult. We're talking about three Hall of Famers and a prospective Hall of Famer. Therefore, when we see a player come along that exhibits the greatness or even shows flashes of these players, your mind can begin to wonder.
This is the case with Swedish-born Oskar Lindblom. Lindblom is a six-foot-one left winger that weighs in at 191 pounds and plays for the Philadelphia Flyers. He was drafted in the fifth round, 138th overall in the 2014 NHL Entry Draft. He is an intriguing player that has shined since moving to North America to play hockey.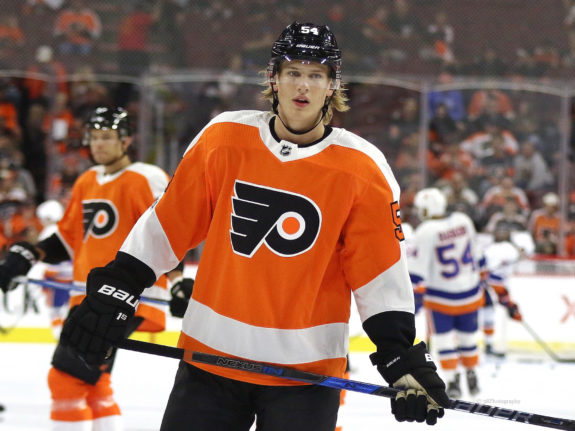 He has taken advantage of opportunities throughout his career and has embraced them. He is not the biggest player or the most dominant player (yet), but he still makes things happen when he is on the ice. If he keeps up this play, the Flyers will be forced to keep him up for the playoff push.
Starting out with Brynäs IF Gavle
The Flyers nabbed up Lindblom late in the draft as a player with potential upside but no guarantee to develop. He had been on some scouts' radars but his numbers were just average. He wasn't lighting up the board nor was he a tower of strength that stood out – he was just quietly good with a solid work ethic.
Lindblom played for Brynäs IF J20 in the J20 SuperElit league as well as Brynäs IF Gavel of the Swedish Hockey League throughout his career in Sweden. In his time with Brynäs IF J20, he accumulated 14 goals and 20 assists for a total of 34 points through 46 games played. Playing for Brynäs IF Gavel, he produced 38 goals and 49 assists for a total of 87 points through 141 games played. Overall, his numbers started on the lower end but consistently increased.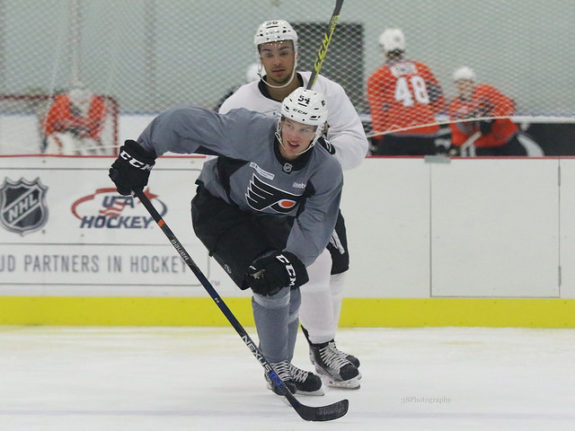 By the 2016-17 season, he was regularly collecting points. He posted a career-high 47 points through 52 games played. That season really showed the Flyers what they had in Lindblom. The toughest part of his development was going to be adjusting his to the North American game.
National Play
The Flyers knew they drafted a solid player when they saw him play for Team Sweden at two World Junior Championships. He was very noticeable all over the ice and, at times, dominated play. Through the two tournaments, his statistical outputs were 15 points through 14 games combined.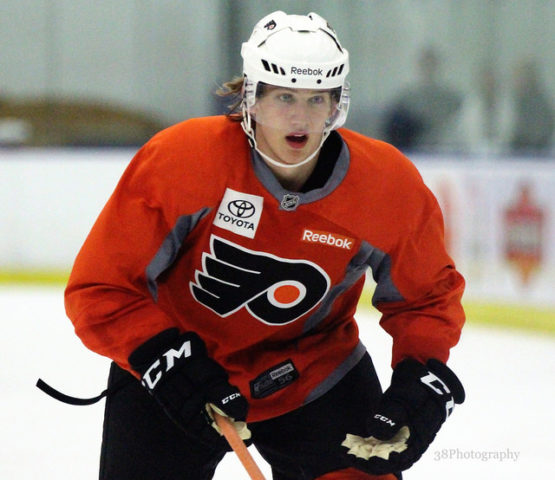 It wasn't only his numbers that impressed though, it was his poise with the puck. When he had the puck on his stick you knew something good was going to happen. Whether he was making a rush into the zone or setting up a teammate, positive things were happening when he was on the ice.
The World Juniors served as his shout out to the hockey world that he was going to be a player that was one day going to make some noise in the NHL. Fast forward to today and he is fitting in very nicely on the Flyers second line.
When Opportunity Knocks
As fate would have it, Flyers forward Wayne Simmonds went down with an injury. The easy thing for general manager Ron Hextall to do would have been to go out and acquire a top-six forward to fill in for him. Instead, Hextall made the call to the farm to bring up Lindblom and give him his first taste of NHL hockey.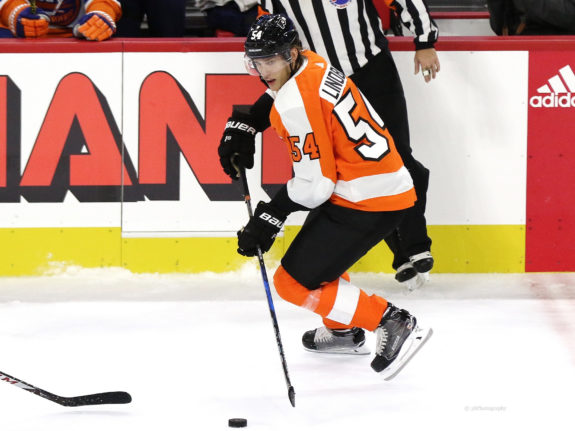 Lindblom was playing in his first full season for the Lehigh Valley Phantoms of the American Hockey League earlier in the year. He played in eight games last season and posted seven points which impressed the Flyers brass. This season he has accumulated 34 points through 54 games and looked strong.
With the Flyers already giving a few players their NHL debuts earlier in the season, they went on a hunch and called up a player that was having an impressive season which turned out to be Lindblom. Not only was he called up, but he was also assigned to the second line to fill in for Simmonds. Since the call-up, he has been playing alongside fellow rookie Nolan Patrick and NHL assist leader Jakub Voracek. He hasn't looked out of place thus far and has been a nice compliment to the line.
The Next Forsberg
When you watch Lindblom on the ice and how he plays, you can't help but get flashbacks of Forsberg. He isn't the best skater, but is very smart with the puck and can protect the puck with the best of them. He has a very similar body frame to Forsberg and uses the old Forsberg move of back bumping into oncoming players in the corner. Already in his first couple games, he's caught a couple of bigger guys off guard and flattened them when they tried to apply pressure in the corner.
Protecting the puck is a very underrated skill in the NHL. It's not a tangible statistic that can be measured, but it's very important, especially when you have offensive pressure and when you are protecting a lead. As a 21-year-old rookie he is already holding bigger and stronger players off, he's going to be a fun player to watch when he fully matures.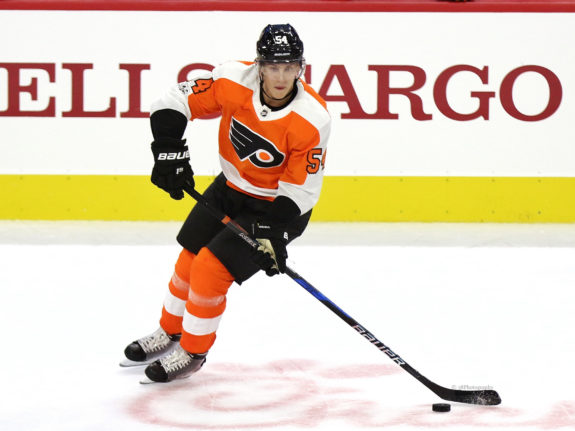 He also has vision that is comparable to Forsberg. When you watch him play it's like he knows where the puck is going to be and he can see his teammates before they're even in position. His passing and knack for getting loose pucks is also Forsberg-esque. He hasn't translated his hard work and strong games into any points as of yet, but he has looked very good. Similar to Forsberg, he is a coach's player that follows instruction well and provides a lot of the intangibles.
When Simmonds returns to the lineup, head coach Dave Hakstol will have some tough decisions to make because Lindblom has played well enough to remain with the Flyers and help them get to the playoffs. While it is very early, he looks set for a long and successful NHL career. Forsberg's shoes are big ones to fill but this kid has the potential to be a very special player that could do big things in the NHL if he continues to grow at the rate that he has.
A writer covering the Philadelphia Flyers and NHL Prospects. Kurtis is also a Guelph Storm season ticket holder. Feel free to contact Kurtis at @kurtiswells92, or by email at kurtiswells@rogers.com.