Taking a look at the San Jose Sharks statistics page, one thing stands out. Most Sharks players have a minus rating for the season. Only six players are plus players and only three are plus-four or better. Do the Sharks, a good defensive team, have a shortage of even-strength goal scoring? Why yes they do. Could a scoring winger help this team? Why yes it could. Welcome to San Jose, Evander Kane.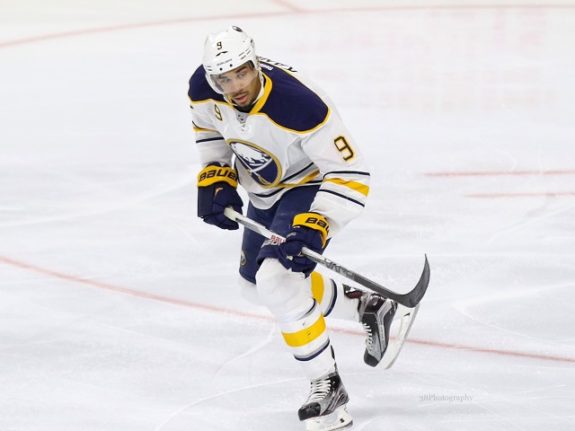 Kane has played on mostly mediocre teams throughout his career. He spent two years with the Atlanta Thrashers before the team moved to Winnipeg and became the Jets. In total, Kane spent six seasons with the Thrashers/Jets franchise before being traded to the Buffalo Sabres in February 2015. Kane, injured at the time of the trade, began his Sabres career in the 2015-16 season. Three years and a few days after his trade to Buffalo, he was traded to San Jose.
The 26-year-old Kane is in his ninth NHL season. There are plenty of yet to's in Kane's history. He has yet to play in the playoffs or play all 82 games in a season. Injuries are a frequent story with Kane. He's yet to score ten power play points in a season. And he's yet to have a season with anything less than double-digit goal scoring, even in the 2014-15 campaign where he played just 37 games.
He has been a plus player before (twice in his first three seasons), but it's not been the norm, likely a reflection of the talent around him.
The Evander Kane Deal
The trade has a few conditional parts to it. The Sharks give up a fourth-round pick, a second-round pick and forward Danny O'Regan for Kane. Under specific conditions, the fourth rounder can become a third-rounder and second-rounder can become a first-rounder. It's basically this – if Kane delivers upside to the Sharks, the Sharks return some upside to Buffalo.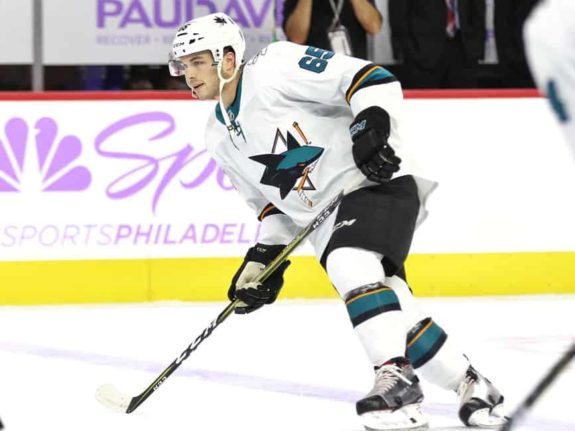 In Buffalo, O'Regan will reunite with his college teammate, Jack Eichel. O'Regan is 24 and his upside is a third line forward. As of now, he's a borderline NHL player.
This is not an expensive move for a rental player of Kane's talent.
Kane is an elite talent. He was a fourth-overall pick in the draft nearly nine years ago. Based on talent, it's easy to justify his selection there. But it's not only about talent.
Kane's Productivity
Kane is a scoring winger, with 177 goals in 557 career games. This equates to a very solid 26 goals per 82 games. Only 25 of his career goals come from the power play. At even strength, he averages 22 goals per 82 games, the same as recent NHL scoring champion Patrick Kane.
Perhaps the best season to measure Kane is his time with the 2014-15 Winnipeg Jets, the lone good team he's played on. Kane played only 37 games that season; he was injured and traded to Buffalo in February, before the playoffs. In those 37 games, the Jets were 21-10-6. Without Kane, they were not as good, 22-16-7, then swept in the playoffs by the Anaheim Ducks.
The Kane Questions
It has never been about talent with Evander Kane, it's been about fit, both on the ice and off.
Trade deadline moves are about fit at least as much as they are about talent. Integration is a major challenge and this isn't likely to be easy with Kane. Sharks fans have seen plenty of trade deadline acquisitions fall short of expectations (last season's acquisition of Jannik Hansen among them).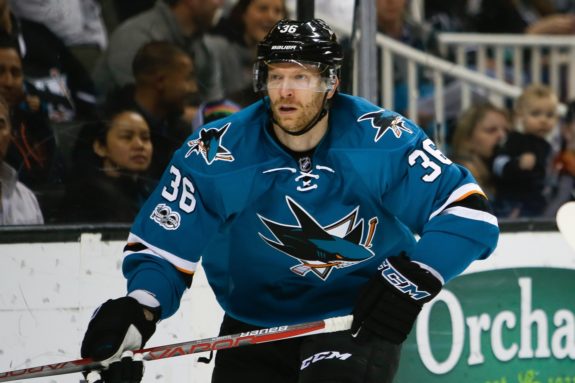 It is common for trade deadline acquisitions to fall short of expectations. Hockey requires both good chemistry and a good understanding of the system of play. The Sharks are a sweat the details type of team — Kane has never been this sort of player. Understanding what a player is expected to do is a big deal in hockey. One false stride can squash an opportunity for your team or gift the opposition a goal.
The on-ice fit has to be almost immediate. There is no practice time and precious little study time. It is learning on the job.
With Kane, the off-ice fit is an open question. Within the context of hockey, he's had issues with his hockey organization and issues with teammates. It's not all in the distant past, either. Many in Winnipeg saw Kane's departure as addition by subtraction. Many in Buffalo will see it the same way.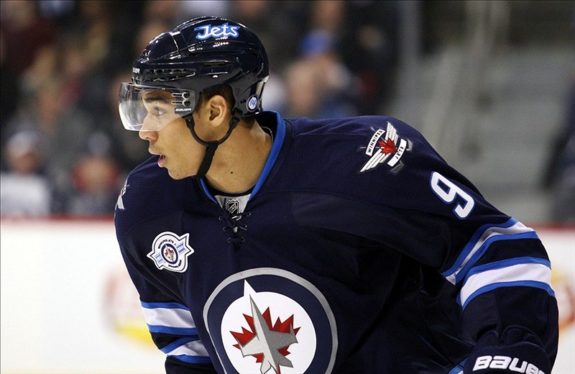 Further from the ice, he's known for his outspoken personality. His own actions, including on social media, raise legitimate questions about his maturity. But it is his run-ins with the law which raises the eyebrows. Among the criminal allegations he's faced are assault and sexual assault. While these criminal allegations were dismissed, some will assume where there's smoke, there's fire.
Don't assume this will go unnoticed by the Sharks fan base. There was fan resistance to the rather banal idea of adding ice girls. Adding an accused sexual predator in the era of the "me too" movement, where accusations can carry considerable weight, may prove problematic.
Sharks general manager Doug Wilson has taken chances on questionable characters before and the results were not stellar. Neither Dany Heatley nor Raffi Torres lived up to their contracts, albeit for different reasons. Torres lived down to his reputation. With San Jose, he was suspended for more games than he played. Heatley's huge contract made him expendable.
Kane brings plenty of talent, but the question marks are very large and more than a bit unsettling.
The Sharks New Identity
By adding Kane, the Sharks are the league's premier power forward team. Kane, Tomas Hertl and Timo Meier are powerful wingers (all left-handed). Add Barclay Goodrow to the mix on the Sharks fourth line (should he keep his spot), and each line has a strong physical presence.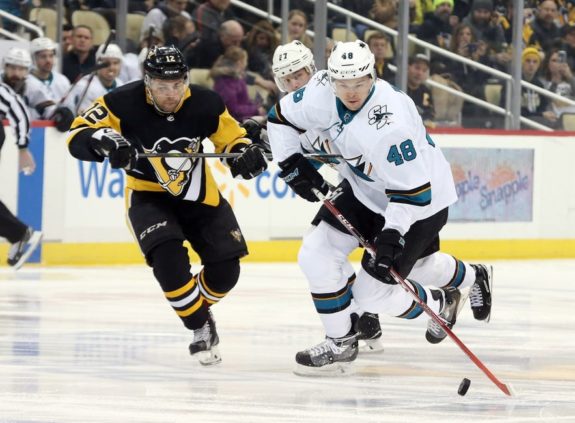 This is an era where speed matters (even Doug Wilson agrees), but the Sharks are going with power. Eric Fehr, the Sharks addition from last week, is another bigger, stronger player added to the line-up.
If Sharks head coach Peter DeBoer wants to see heavy battles in the corners, well, it's happening. The speed thing, well, maybe next season.
The way this plays out, at least in the optimistic vision, is this. The Sharks power forwards control play, draw penalties and the Sharks rediscover their lethal power play (still among the league leaders). It's got a very real chance of working.
Clichés Take Over
Will Kane see the light in San Jose? Turn the page? Face a new dawn? It all comes down to whether Kane can make the changes he must make, personally and professionally.
There are plenty of firsts for him with San Jose. He now has a large cast of dedicated and talented teammates. And potential mentors.
For the first time in his NHL career, his games in March and April aren't about his team's position in the upcoming lottery. Playoff chases are among the most exciting things an athlete gets to do in his career and Kane, for the first time, is in the middle of one. Surrounded by players who expect nothing less.
Kane will find a very different culture in San Jose and perhaps it will mark a turning point in what has been a troubled career. If so, this will be a very big deal. For both the player and the team.
Zeke's Notes
• The Kane acquisition is the third trade the Sharks completed in a week. We already covered the Eric Fehr trade. The Sharks traded two AHL players, Troy Grosenick and Brandon Bollig, for a sixth-round draft pick. Grosenick was the top AHL goalie last season but lost his job to Antoine Bibeau. Grosenick played two games for the Sharks, including a memorable 45 save shutout in his NHL debut, one of the few highlights of the Sharks 2014-15 season.
• In Fiddler On The Roof, a matchmaker sets up couples for marriage. A man who wasn't much to look at and a woman with poor vision equaled a good match. This metaphor might apply to the Mandarin-language hockey broadcasts of the Olympics in China.
The games featured a single announcer (most other events featured multiple announcers) whose ability to explain the game was limited. Of course, he was describing the game to an audience with limited familiarity. For those wondering how some terms translate into Mandarin, let's just say they aren't precise. For example, power play translates to 'more against less'. One of the odder translations is for the word puck. It translates into 'ice ball' which is not descriptive of the hard rubber disk.
With the 2022 Olympics in China, the NHL sees an opportunity to grow the game there along with its business. To the extent the broadcasts reflect the current state of hockey in China, there is much work to be done.
ZEKE is a native of the DC area where he witnessed the birth of the Capitals franchise. After graduating from Cornell University, which had seen hockey glory before he arrived, he moved west to San Jose. There he witnessed the birth of the Sharks franchise. His wait to witness a Championship from any of these teams finally ended in 2018.