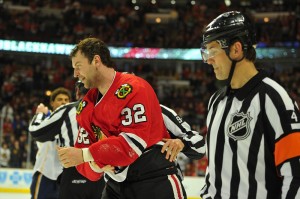 The NHL free agency is upon us! Hockey fans likely spent the majority of their Sunday afternoon feverishly refreshing their Twitter feeds, or were glued to their television set waiting for TSN to break the news of the latest signing.  All, likely watching and waiting to see where big names like Zach Parise and Ryan Sutter would end up.
Unfortunately, for Buffalo Sabres fans, at this point in time neither of those names seem to be heading to Buffalo, and beyond that, Buffalo was involved in very little during the first day of the "Free Agent Frenzy" as TSN termed it.
In fact, the first real news the Sabres pumped out, beside Brad Boyes leaving, we all knew that was going to happen, came nearly 11 hours into the free agency's first day when the Sabres announced that they had signed John Scott, to a one year deal worth $600,000.
When the Sabres announced the signing on their website, Sabres General Manger, Darcy Regier, commented on the deal.
"John's size and toughness make him a difficult player to battle against," Regier said. "His physical play will be a valuable addition to our team."
There was likely a whimper across the rest of the Northeast Division when this news came in because, Scott is one scary man.
Standing at 6'8" and weighing 270 pounds, Scott is without a doubt one of the league's heavyweights and brings a physical toughness to Buffalo that may not have been there for some time, at least not at this level.  Scott has just five points, one goal and four assists, in 146 games played, but carries 236 PIMS along with him.
But if you want to see some impressive stats, wander on over to his hockeyfights.com page and try not to feel sorry for his victims.
Scott will likely not be a nightly name in the Sabres' line-up and may even make an appearance or two in Rochester, but all of the Sabres opponents will know that Scott is watching over the Sabres.
Let's take a trip down memory lane, and look at when Ryan Miller was ran over by Milan Lucic of the Boston Bruins early last season. Most would assume Lucic would pay for his actions, which resulted in Miller missing a significant amount of time due to a concussion. However, besides a little fight and maybe a few slashes, Lucic got away clean as a whistle.
Now if Scott was on the team last year, a different turn of events may have unfolded. Maybe something along the lines of what happened to Kevin Westgarth of the Los Angeles Kings in the video below.
One more time. Scott is a scary man.
The Sabres did not make the biggest splash in the free agency, they probably did not even make a ripple when they signed Scott. But, the Sabres did make the right choice in bringing in someone who can properly police a team that has been on the wrong side of a few too many physical challenges in recent history.