John Tortorella hangs his team out to dry.
This past Sunday, the New York Rangers put forward one of their most complete sixty minute efforts of the season in a 4-1 victory over the Capitals in Washington. They were strong on the puck, won the majority of battles down low and in the corners, and silenced Alex Ovechkin and company with excellent defensive zone coverage and strong goaltending from Marty Biron. It marked New York's fifth victory in six games and, with the season officially at the mid-way point, looked like it would be a springboard to second half success and a surge in the Eastern Conference standings.
However, something happened on the way to  postseason glory. The Rangers showed up in Buffalo looking flat and disinterested, losing 3-1 to a Sabres team that seemingly had packed its 2013 bags some time ago. After the game, a fuming John Tortorella hung his team out to dry in front of the media, ripping their lackluster effort at a time when they could ill afford to throw points away. A spirited practice on Wednesday was followed by another 3-1 loss Thursday evening, this one to the Jets in Winnipeg. Though the Ranger's effort and battle level was slightly better, it simply wasn't quite good enough.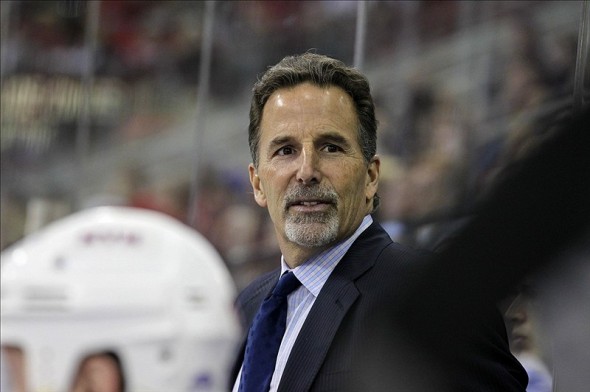 All of a sudden, the aura of good feeling is gone. The Rangers now sit in ninth place, looking up at the playoff picture with a difficult Saturday afternoon contest in Pittsburgh looming. How did everything go so wrong so quickly, and who's to blame? The easiest targets are once again the underachieving veterans, a perceived soft blue line that offers no deterrent to opposing forwards, and an overall on-ice malaise that seems to rear its head way too often.  While it is easy (and certainly warranted) to point fingers at Marian Gaborik, Brad Richards and Brian Boyle, to name a trio of underperforming forwards, is it now time to turn the hot lights on Tortorella, and has the doomsday clock over the coach's office begun ticking?
Let's face it, there is a legion of Tortorella bashers out there who have nothing but disdain for a man who treats certain players like pariahs and the media like poor commoners unworthy to share the same air as he. Yet, he has a Stanley Cup ring on his finger and a 51 victory season just a year ago in his pocket, so Tortorella has collateral. But how long will it be before that credit runs out?
Not Tortorella's Finest Hour
This season has been far from Tortorella's finest hour. He has been blamed for rookie Chris Kreider's regression and subsequent banishment to Connecticut. He has been unable to motivate Gaborik, his benchings and post game airing outs doing little to spark one of New York's most important players. Richards, the coach's perceived golden boy going back to the Cup winning days in Tampa, has played well only in a handful of games and may be headed towards a summer buyout. A roster with the likes of Rick Nash, Gaborik, Richards and Ryan Callahan currently ranks near the bottom of the league in goals scored. His post game act is wearing thin. Then, of course, there is the perception (reality?) that the coach refuses to accept the fact that this years squad is far different from the Ranger team a season ago. Well documented off season deals and free agent losses turned this team from a gritty, defense first, physical hockey team (the coach's preference)to one that is top heavy on offensive talent and open ice creativity. Trying to pound square pegs into round holes isn't working, never does, and a coach's inability to adapt to his personnel will lead to the inevitable.
The strongest argument against Tortorella may just be hyperbole. The addition of Nash led most hockey observers to annoint the Rangers as Stanley Cup favorites, despite obvious flaws elsewhere on the roster. Bottom line? Unfulfilled expectations, be they realistic or not, are a direct path to the hockey coach's unemployment line.
There is still time for the Rangers to regroup and make a run to the playoffs. The question is, will John Tortorella be holding the reins much longer if they do not?