In honor of St. Patrick's Day, we've put together the best all-Patrick starting lineup in NHL history. Please welcome to the ice your starting Patricks:
(Apologies to those Patricks who chose not to embrace the second syllable of their first names. While plenty of Pats like LaFontaine, Verbeek, Flatley, Falloon, and Hickey all had respectable NHL careers, we knew them all as Pat, making them ineligible for our list. The same goes for the many Patriks and Patrices out there…)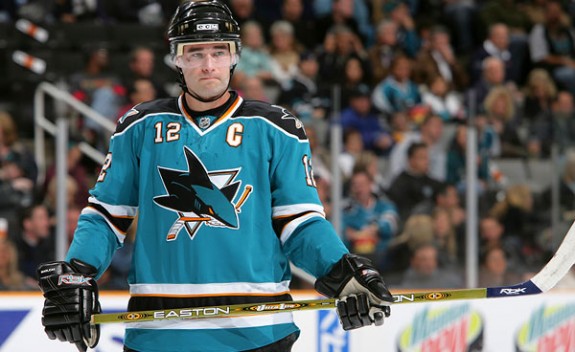 Center: Patrick Marleau
Career: 1142 games played. 400 goals, 450 assists, 850 points
Pot o' Gold: $48.0 millon
The all-time leading scorer for the San Jose Sharks centers the top line for the All-Time All-Patrick Team. Since entering the league, he's averaged over 26 goals per season. Marleau is the Sharks' all-time leader in games played, goals, points, power play goals and game winning goals. Only Joe Thornton has more assists all-time for San Jose. Among active players, the Sharks' forward sits eighth in goals scored and 13th in regular season points. Marleau's just three seasons removed from career bests of 44 goals and 83 points. It looked like he was going to challenge that pace at the beginning of 2013, when he started the season with four straight two-goal games. The last guy to do that? Cy Denneny of the 1917-18 Ottawa Senators, who was descended from the Dennenys of County Monaghan in Ireland. Coincidence?
On a related note: Marleau hails from the Saskatchewan village of Aneroid, which is technically classified as a hamlet. Shakespeare's 'Hamlet' was allegedly based on an old Irish tale, further cementing Marleau as the right choice for the top line pivot on our All-Patrick squad.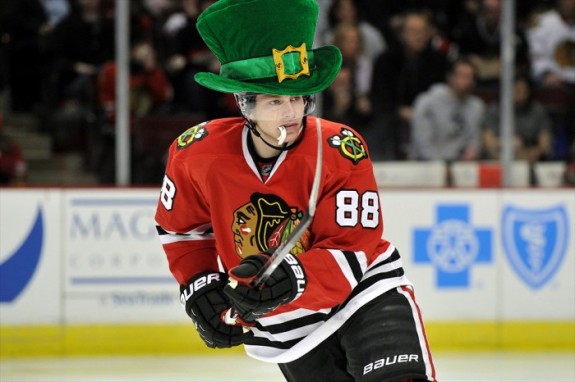 Right Wing: Patrick Kane
Career: 425 games played, 140 goals, 259 assists, 399 points
Pot o' Gold: $15.1 million
The first Patrick picked first overall in the NHL Entry Draft, Patrick Kane is the also the first Blackhawk on our list.  Kane came into the league on fire in 2007-08, leading the Blackhawks in scoring with 21 goals and 51 assists on his way to becoming the first Patrick to win Calder Trophy as the league's rookie of the year. He's posted five straight 20-goal seasons, becoming only the third Blackhawk to do so.  His 14 this season have him on pace to comfortably extend that streak. (He's got a ways to go to catch Gordie Howe's record of 22 straight 20-goal seasons.)
Plus, he does sort of remind us of a leprechaun — a small, feisty goal-scoring leprechaun who will do anything to protect his pot of gold, even if it is just 20 cents from a Buffalo cab driver.
Left Wing: Patrick Sharp
Career: 591 games played, 198 goals, 205 assists, 403 points
Pot o' Gold: $17.6 million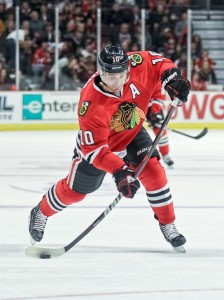 Going back-to-back Blackhawks here, from Kane to Sharp. Patrick Sharp has been wearing green since back in his college days at the University of Vermont.
He reached the NHL in 2002, spending three seasons with the Flyers before being dealt to Chicago in 2005-06.  With 11 goals and 11 assists in 22 playoff games, Sharp helped the Blackhawks to their 2010 Stanley Cup Championship. The Winnipeg native has put together a very solid-if-unspectacular career in Chicago.
Sharp is skilled with the shillelagh, having scored 20+ goals in six straight seasons, with back-to-back 30 goal seasons in 2010-11 and 2011-12. Unfortunately, he's not going to be able to keep that streak going.  He's on pace for a 10 goal season in 2013.  That works out to 17 goals over an 82-game season – his lowest goals-per-game ratio since his first year in the Windy City.  Hopefully he'll regain his scoring touch as the Hawks try again to reach the pot of gold – or cup of silver – at the end of the rainbow.
Defense: James Patrick
Career: 1,280 games played, 149 goals, 490 assists, 639 points
Pot o' Gold: $10.1 million
Patrick was a longtime fixture on the blue line in the state of New York, spending 17 of his 21 seasons with either the Rangers or the Sabres.  A solid, steady defenseman who also happened to be an exceptional skater, Patrick had the ability to transition to offense and contribute on the scoreboard. His best season came in the Rangers' Presidents'-Trophy-winning season of 1991-92, Mark Messier's first in New York. He finished the year with career highs in assists (57) and points (71) and fell just three shy of his best goal output of 17, which came back in 1987-88.  Patrick retired from the league in 2004.
Patrick's college hockey years were spent in the green jerseys of University of North Dakota. The only NHL green he wore was short-lived; he spent 47 games with the Hartford Whalers in the midst of the 1993-94 season.
Defense: Patrick Wiercioch
Career: 31 games played, 3 goals, 8 assists, 11 points
Pot o' Gold:  $875,000
A breakout player on the Ottawa blueline became a surprise addition to the All-Time All-Patrick lineup. The rookie blueliner – yes, he played in eight games last year, but he's still Calder-eligible as a rookie – has scored three goals and tacked on eight assists in 31 career NHL games.  He's got solid passing skills and is able to get his shots through traffic. While he still has to mature, partnering him with the responsible veteran in James Patrick will make this a solid pairing – though potentially challenging for the play-by-play guy.
Goaltender:  Patrick Roy
Career: 1,029 games played, 551 wins, .910 save percentage, 2.54 GAA
Pot o' Gold: $56.7 million
Hands down, the best Patrick in NHL history.  If you're going into Game 7 of the Stanley Cup Finals, is there any other goalie in history you'd want in the net?  (Brodeur? Hmm. Maybe. Ask us again on November 11th.)
Roy's 551 regular season wins are second only to Brodeur's 664.  Roy has a firm grasp on the postseason record of 151 playoff wins, 38 ahead of Marty.  For Brodeur to hit that mark, he'll have to win back-to-back Stanley Cups in the next 2 seasons and tack on at least two playoff wins the following year, when he'll be the ripe old age of 43.  No, we're going with the only man who was a three-time winner of both the Conn Smythe and Vezina Trophies, Patrick Roy.
Besides, we already know how fast Roy can be.  On December 2, 1995, after giving up nine goals, he apparently reached over and grabbed a leprechaun seated in the stands of the Forum. That leprechaun granted him three wishes: a trade, a Cup, and the firing of Habs coach Mario Tremblay – all of which eventually came true.
Coach:  Pat Burns
1019 games coached, 501 wins, Stanley Cup
I know what we said about guys named 'Pat', but we're giving him the nod anyway. Nobody would want to tell him otherwise.
Honorable Mention – Player: Patrick Lebeau
While Lebeau's career totals didn't earn him a spot on the roster, his birthday did.  The former Canadien, Flame, Panther, and Penguin played only 15 games in the NHL, scoring just three goals and two assists.  He did, however, have the good fortune of being born on St. Patrick's Day in 1970.
Honorable Mention – Team: The Toronto St. Pats
Obviously.
---
Follow Josh on Twitter – @joshsmith29
---