Stan Bowman decided to extend Oduya to a three-year contract extension on May 29th, just under a month before free agency, making Johnny Oduya the topic of conversation leading up to the "frenzy" that started July 1st. It was shocking to some as many believed that the Blackhawks would pursue a crop of bigger and tougher defenseman, but this move ensured that no big changes would be made on the back-end barring a trade. Needless to say, this caused a small stir considering many fans wanted the Blackhawks to pursue Ryan Suter.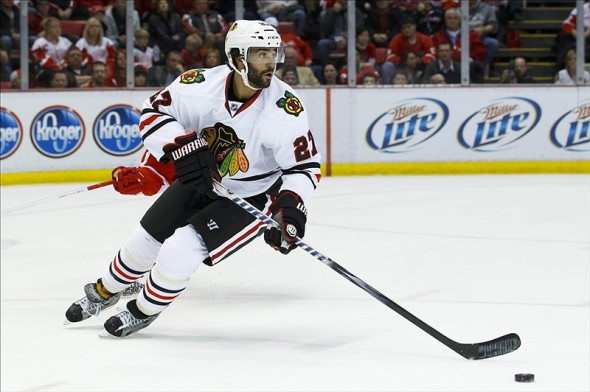 Now that we are two weeks into free agency, Blackhawks fans should no longer feel disgruntled over this move after seeing players such as Marc-Edouard Vlasic, Bryan Allen, Nicklas Grossmann, and Willie Mitchell surpass Oduya's $3.383M per year cap hit. Even Matt Carle making an average of $5.5M per year for the next 6 years is a steep price, along with Ryan Suter's lucrative $7.5M deal for 13 years with the Minnesota Wild. Of course, Oduya's talents cannot be compared to the last two, but neither is he $2M-$4M worse either.
For the most part, he should be playing top-four minutes along with time on the PK after witnessing his cup of coffee with Chicago. If he exceeds over 20 minutes a night it would nearly be a bargain for the price. Who knows what he would have gotten on the open market but I would venture to guess he left at least $1M per year on the table by signing with the Blackhawks, in fact he actually took a pay cut from his annual $3.5M to begin with.
In Winnipeg and Atlanta he was under-utilized, playing on the bottom pairing for the Jets/Thrashers and really didn't see much success and neither did the team. But in New Jersey he was a top-2 defenseman in 2008-09 when they had 106 points and won their division (he had a career-best 29 points). In 2009-10, he was top-4 and yet again they won their division with 103 points. I don't think anyone is expecting him to provide much offense and he won't be a big bruising defenseman that the Blackhawks sorely lacked outside of Brent Seabrook last year, but he will be solid and fit into the Blackhawks defensive scheme which seems to be revolving around quick puck movement and shot blocking defenseman.
Bowman won't make his splash in the free agency pool this year, but was it really worth the price? Time will tell, but as of now I'd say he's played a safe card.