The Calgary Flames have certainly addressed one area of concern this offseason, as the additions of Jiri Hudler, Roman Cervenka, and Dennis Wideman have certainly elevated the skill level of the team. The Flames have relied on gritty Sutter-esque hockey for the good part of a decade and are finally beginning to employ players whose skillset is better suited for aggressive puck possession hockey, something that arguably hasn't been done in Southern Alberta since Joe Nieuwendyk, Gary Roberts, Theoren Fleury, and Lanny McDonald scored at will for the Flames in the 1980s.
While it certainly is exciting to see a different brand of hockey this upcoming season, one unchanged issue similar to the gritty style of hockey that has been problematic over the last 10 years is finding a capable backup for star goalie Miikka Kiprusoff. The list of stop-gap solutions since Kiprusoff took the reigns as Calgary's starter in 2003-2004 reads like a "who's who" of "who's that", as it is peppered with names such as Roman Turek, Jamie McLennan, Phillippe Sauve, Brian Boucher, Curtis McElhinney, Vesa Toskala, and most recently a duo of Henrik Karlsson and Leland Irving. There was even a stint in 2008 when an aged Curtis Joseph had his turn at operating the back gate of the Saddledome bench. Most of these options have been abysmally unproductive, as all of these goaltenders have garnered a collective total of just 22 wins for the Flames after the lockout. Essentially, in 7 post-lockout seasons (and this includes all 7 seasons in which Kipprusoff has begun the campaign as the incumbent starter), Flames backups have been accountable for an average of a little more than 3 wins per season. To even give a bleaker outlook on the backup situation, the highest number of wins collected by any of these goalies in a season is 4, when Henrik Karlsson managed a 4-5-6 record in his first year with the team.
This is an issue that has persisted through two general managers as well as four head coaches and with Miikka Kiprusoff turning 36 this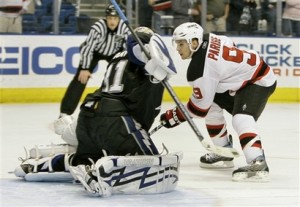 October it becomes more important than ever for the Flames to find a suitable backup that is capable of playing 20 games. The Flames don't appear to be any closer to finding that solution as of mid-July as their only goalie capable of filling the spot under contract is Henrik Karlsson, as he is set to play the final year of his contract while attempting to bounce back from an injury riddled year that saw him lose the backup position to Leland Irving. Irving is still property of the club, but is currently without a contract and is the only restricted free agent on the Flames to be tendered a qualifying offer this past June to still be without a contract. Karri Ramo, the Finnish netminder acquired by the Flames along with Michael Cammalleri in the Rene Bourque trade this past winter, is highly touted but is expected to play out the final year of his contract with Avangard Omsk of the Kontinental Hockey League in Russia. Optimistically, Ramo is a dynamo in the KHL as he has posted a 73-40-17 record over the past 3 seasons after a shaky NHL debut with the Tampa Bay Lightning 5 years ago.
If the Flames do indeed opt with either Karlsson or Irving to back up Kiprusoff at the beginning of the season, they are banking that one of them will be capable of giving Kiprusoff some much needed rest while at the same time producing wins. This is easily the team's boldest endeavour and reasonable doubt that this will work is not only within the realm of possibility, but to think otherwise would be insanity. While Karlsson remains an enigma due to limited playing time and an injury-shortened sophomore season, the Flames brass should have the book on Leland Irving memorized chapter and verse by now. A first round pick six years ago (26th overall in 2006), Irving has played 4 minor-pro seasons and alarmingly was demoted to the ECHL for an 8-game stint 2 years ago. While he did have his best win total of his professional career for the AHL's Abbotsford Heat this past season (22 wins in 39 games), his personal stats ranged from mediocre to below average among starting goaltenders (2.67 GAA, .902 SV%). While this may have been passable to backup an NHL goaltender like Kiprusoff who is expected to play 70 games, it is unlikely that Irving would be able to perform consistently enough to play 20 games at the NHL level. Irving did impress in his lone NHL victory over the Vancouver Canucks, but to expect what the Flames are idyllically wanting out of a backup to come from Irving is just too much of a gamble for a team that wants to make the playoffs, especially if the reason it is taking Irving so long to sign a contract is his desire for a one-way deal.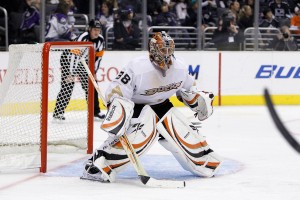 As such, it would behoove the Flames to consider dipping into the Free Agent pool one more time this summer and signing an experienced backup who is unquestionably of NHL calibre. There are numerous options currently available, and most of them are also affordable. Recognizable goaltenders with seasons of NHL experience still available include Antero Niittymaki, Alex Auld, Dan Ellis, and even Marty Turco. While none of these players are starting goaltenders, they all have at one point been starters in their career and all have also started playoff games.
If the Flames are truly serious about making the playoffs and succeeding in them, a backup netminder is a must and while those may not be the sexiest names to hold the fort in an NHL crease, each is capable of 10 wins and 25 games. On the flip side of the coin, Irving and Karlsson combine for 33 games of NHL experience and 6 NHL wins. It would seem that to once again go with this less than dynamic duo in a backup capacity while actively improving the skill of the team over this summer would just simply be akin to rearranging the deck chairs of the Titanic, particularly if the worst case scenario occurs and Kiprusoff is injured for a prolonged period. For a franchise that has publicly proclaimed to place an emphasis on winning, sticking with unproven backups is an unnecessary risk that stands in cold defiance of what needs to be done.
Having just received a Bachelor of Arts in History (with a concentration in Canadian History) from the University of Calgary, Thomas Strangward is pursuing his passion of sports journalism and has recently accepted a seat in the renowned Radio, Television, and Broadcast News Program at SAIT in Calgary, Alberta.