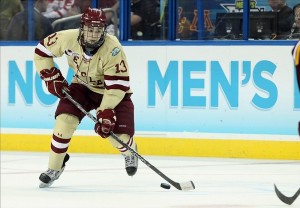 Amidst the hustle and bustle of the 100th anniversary edition of the Calgary Stampede, a very different kind of stampede was underway on the western fringes of the city – a hockey stampede.
Canada Olympic Park played host this past week to the 2012 edition of the Calgary Flames' development camp. The camp brings together nearly 40 prospects (including a dozen on try-outs) to assess and develop the skills of the organization's youngest players. The roster for the week-long camp included three first round selections (Mark Jankowski, Sven Baertschi and Greg Nemisz) and a laundry list of team captains, assistant captains, Memorial Cup contenders and IIHF Under-18 and World Junior medalists. All-in-all, Calgary Flames draft picks from the last five draft classes were represented.
Not too bad for a team criticized in recent years for not having any prospects.
What follows is a quick assessment of how players looked during five days of drills and scrimmages. This is not meant to be an exhaustive evaluation of these players. Some players simply don't look good in certain situations as their skills don't really translate into anything showy (example: two-way forwards). Expectations also play into this process; in a camp with ages ranging from 17 (Mark Jankowski) to 24 (Brady Lamb & Dan Bakala), you would expect older guys to appear more polished, poised and effective. If younger guys stand out more or older guys fade into the background, that's notable.
WHO STOOD OUT
Fresh on everyone's minds was 2012 first round selection Mark Jankowski. The lanky 17-year-old (he turns 18 in September) didn't disappoint, dazzling on-lookers with his stick-handling and skating. He wasn't dominant by any stretch, as he was often shoved off the puck by the defensemen, but he showed a lot of raw talent and promise. If he can put on some muscle and fill out a bit, he should progress nicely.
Somebody who's already progressed nicely is 2011 first rounder Sven Baertschi. The Swiss product looked swift and poised throughout the week, including in all three scrimmages. He's expected to challenge for a roster spot in Calgary next season and did nothing to dampen the club's lofty expectations.
Also doing nothing to dampen expectations was 2011 fourth round choice Johnny Gaudreau. After a year in the NCAA that saw him light it up in the playoffs, the diminutive winger skated circles around his teammates all week. He's still small (5-9ish and 160 pounds) but he displayed arguably the most pure skill and athleticism of anyone on the ice.
Also impressing were 2012 pick Patrick Sieloff, 2010 pick Max Reinhart and Dustin Sylvester, recently signed to an American Hockey League contract and in camp on an invite.
WHO DIDN'T
The oldest goalie in camp, Dan Bakala, did not look appreciably better than the other three goaltenders, despite being an NCAA graduate that has faced shots from grown men for the past four years. That said, all four netminders were solid if unspectacular against a rather skilled Flames forward group.
Three other players who spent their years playing against men probably hoped for a more spectacular showing. Markus Granlund, Greg Nemisz and Roman Horak all spent time in professional leagues last season, with Nemisz and Horak spending time in the NHL even, but none of them seemed completely dialed-in and flashy during the week. That said, Horak is more of a two-way player and Nemisz is transitioning to a shut-down role in Abbotsford, but Granlund looked lost (at times) without his brother Mikael by his side.
OTHER NOTES
Joni Ortio and Chris Breen weren't on the ice for the better part of the week and probably hoped to get a chance to show their wares to Flames brass. 2012 pick Patrick Sieloff looked good in Tuesday's scrimmage but didn't skate for the rest of the week. Bill Arnold (injury) and Mitch Wahl (management decision) weren't invited to the camp.
Four Flames prospects are headed to additional hockey festivities this summer. Goalie Laurent Brossoit will represent Canada at the annual Canada-Russia Challenge in August, while goalie Jon Gillies, defenseman Patrick Sieloff and forward Johnny Gaudreau will appear at USA Hockey's summer evaluation camp later that month.