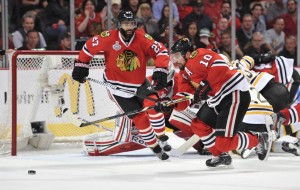 Its mid-August and the off season is (finally) in its last leg before camps open in September and the regular season kicks off less than two months from now. For the Chicago Blackhawks picking up where they left off would be ideal, after their amazing regular season and Stanley Cup playoffs. Blackhawks fans are hoping for more of the same from defenseman Johnny Oduya, who grew into a premier top 4 NHL defenseman over the course of the 2013 calendar year.
Johnny Oduya was picked up the Blackhawks at the 2012 trade deadline, largely as a depth move to help during the Blackhawks failed 2012 playoff run that abruptly ended in the first round against the Coyotes. The Blackhawks gave up a 2nd and 3rd round pick for Oduya and he immediately shouldered a heavy workload upon his arrival averaging 24:25 of ice per game during his 18 games in Chicago.
Oduya was re-signed by the Blackhawks to a 3-year $10.15 M contract during the offseason. After being the best hockey player in Thailand, he returned to Chicago following the end of the lockout ready to chase his first championship.
Oduya played less minutes than before during the 48 game regular season he averaged 20:31, but showed excellent chemistry with fellow Swede Niklas Hjalmarsson and proved to be one of the best second pairing units in the NHL last season.  Oduya and Hjalmarsson played so well together it is believed that if they both make the Swedish Olympics team they will be paired together much like Seabrook and Keith are expected to for Canada once again.
Oduya will never blow anyone away with his offensive production (his career high is 29 points) but he has grown to be a solid player and most of his production comes 5 on 5, as he doesn't see much powerplay time playing just 24:35 all of last season on the powerplay. It is reasonable to expect around 25 points per 82 games with Oduya since his shooting percentage rebounded to above 5 for the first time since 2008-09.
Oduya saw his role on the penalty kill increase this season as he played 111:28 on the PK and made under coach Q has developed into a much better-rounded defenseman, able to play in almost any game situation with favourable results.
With his successful regular season behind him Oduya saw an expanded role in the 2013 playoffs averaging 22:24 per game. When Seabrook was struggling early in the playoffs it was Oduya who shouldered the extra responsibility and ended second in defenseman scoring with 3 goals 8 points in 23 games, behind only Duncan Keith.
While the Blackhawks saw players leave, it was mostly forwards and the defense is expected to remain similar to the pairings that led the Blackhawks to their 2nd Stanley Cup in 4 years. The only defenseman who may see action with the big club are Ryan Stanton and Dylan Olsen from Rockford. Expect the Blackhawks to once again lean on Johnny Oduya, and that's something he seems more than comfortable with.
The NHL regular season schedule was released on Friday. Check out our partners at TiqIQ for the best deals on Chicago Blackhawks tickets for all 2013-14 games.