Watching Jonathan Drouin during Game 3 of the Tampa Bay Lightning's matchup with the New York Islanders, it was clear that his maturation as a player took on a whole new level. Throughout the Eastern Conference Quarterfinal against the Detroit Red Wings and carrying over into the Semifinals against the Islanders, Drouin has noticeably been one of the best players on the ice most nights for the team. However, his performance in Game 3 was nothing short of spectacular regardless of how one feels about what occurred earlier this season. After being drilled (is there a better word to describe that hit?) by Islanders defenseman Thomas Hickey early in the second period of Game 3 and leaving the game, Drouin returned in the third period and set up Nikita Kucherov to score the game-tying goal with under a minute left in regulation. The Lightning, of course, would go on to win the game in overtime on a goal by Brian Boyle. As I watched Drouin get right back up after the Hickey hit, leave the game and return in the third period to set up the tying goal, I couldn't help but think how the entire sequence seemed to sum up this season for Drouin.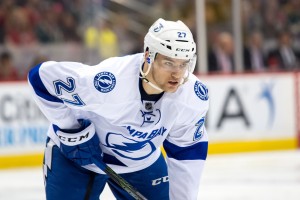 Drouin's Maturity as a Player in a Matter of Months
Since Drouin's return to the team just before the end of the regular season, his play has taken on a whole new level. In fact, his play has become increasingly better and his confidence seems to be growing with each game. Each night he continues to demonstrate why he was the third overall pick in his 2013 draft class, and quite possibly, why Steve Yzerman decided to hold onto him when the majority of the hockey world told him to throw in the towel. While one can argue that Drouin's call up was necessitated by the Stamkos injury and a string of others, relying solely upon that is looking at the situation with a narrow mind. Drouin has been called up in large part because he deserves to be here.
As the NHL trade deadline neared in February, Yzerman had a lot to think about. There was the uncertainty of Steven Stamkos' future with the team (which, despite an announcement that Stamkos would not be moved before the deadline, is still unknown to date), the numerous restricted and unrestricted free agents that will be coming due for large paydays in the not too distant future (beginning this summer, and it's a large list), and the pressure by those in the hockey world to move what many perceived as the hottest young player available before the deadline. When the deadline came and went and Drouin had not been moved, some said Yzerman made a mistake. However, Yzerman stayed the course.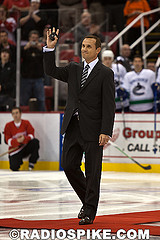 Once Upon a Time Yzerman Had Some Growing Pains Too
One has to wonder whether or not Yzerman may have somewhat predicted the future. There is no doubt Yzerman entertained trade calls from teams ahead of the deadline, but clearly none of those were worth Yzerman's perceived value of Drouin. It would be hard, if not impossible, to predict then that Drouin would be back in a Lightning uniform now, but I am not so certain Yzerman did not foresee a situation in the future where Drouin would "come around." Clearly, Drouin's increased role with the team has been somewhat due to the Stamkos injury. However, no one can discredit that Drouin has come back on a vengeance and is a whole new player. He is getting increased ice time and an increased role, and he's shining.
A long time ago, in a much different National Hockey League, Yzerman went through some growing pains of his own. After being named the youngest team captain in Red Wing's history back in October 1986 at the age of 21, Yzerman was an offensive powerhouse but the Red Wings initially had minimal team success. When Scotty Bowman arrived in Detroit and took over coaching duties in 1993, he took issue with Yzerman's game, most notably that he thought Yzerman was not responsible enough defensively. While Yzerman had been a truly prolific scorer in the late 80s and early 90s (have a look at his career stats), it was when Yzerman began to adjust his game to play better on both ends of the ice that the Red Wings really took off. By the mid-1990s and into the 2000s, the Red Wings cemented themselves as a dynasty and it was with Yzerman at the helm of the ship. Yzerman, of course, would ultimately go down as one of the best players in league history and a member of the Hockey Hall of Fame.
One cannot help but think that Yzerman may have seen a younger version of himself in Drouin. Sure Yzerman never demand a trade and refused to play for the Red Wing's minor league affiliate as Drouin did with the Lightning earlier this season, but Yzerman definitely had his own growing pains as a young player. In fact, there has been a long list of star players throughout the history of the league that have. Those growing pains ultimately turned Yzerman into a better player and person, and while it is still early in the process, Drouin appears to be going down somewhat of the very same path. Whether it is an interview with his teammates, his coaches, or Drouin himself, Drouin's maturity level has grown by leaps and bounds in a matter of months. For Lightning fans, Yzerman's patience and Drouin's growth through the course of this season are proving to be quite the combination.