Jonathan Huberdeau has been on fire since returning from a concussion on March 7 in a game against the Boston Bruins. Huberdeau has 2 goals 8 point in the 5 game stretch heading into Thursday's tilt against the Toronto Maple Leafs. He is on pace to smash his career highs of 15 goals and 54 points despite missing 6 games with injury this season. If he continues to score at his current .75 PPG pace, or more, he could surpass the 60 point mark for the first time in his career.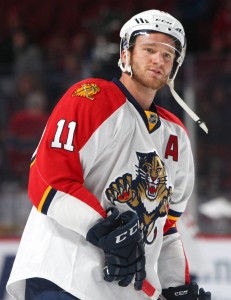 The 5 Year Rule
Most knowledgeable hockey minds will caution you to wait 5 years on a draft pick to know what you really have and, now, in his 5th season after being drafted 3rd overall in 2011, Huberdeau's true value is now coming into focus.
Huberdeau was taken 3rd overall in 2011 and that was the spot the TSN draft guru Bob MacKenzie had him ranked.
Early on, it appeared Huberdeau lagged behind the two players selected ahead of him since the Florida Panthers opted to send him back to junior rather than burn a year of his entry level contract while he continued to mature but, since then, has been making up ground on Ryan Nugent – Hopkins (1st overall) and Gabriel Landeskog) 2nd overall who weren't going be patient with their new young guns.
Jonathan Huberdeau Wins the Calder Trophy
The Panther's patience with Huberdeau would soon pay dividends.
"Following the conclusion of the 2012–13 NHL lockout, Huberdeau made the Panthers starting roster for the 2012–13 season. He scored his first NHL goal on January 19, 2013, against Cam Ward of the Carolina Hurricanes on the second shift and first shot of his NHL career. Huberdeau would add two assists in the 5–1 victory to earn the first star of the game in his NHL debut. NHL regulations allowed the Panthers to keep Huberdeau in their lineup for a maximum of five games before they could either return him to his junior team or keep him in Florida. On January 28, 2013, after registering a goal and two assists in five games, the Panthers announced that the rookie would remain with the Panthers for the duration of the NHL season.[11]

As a result of his outstanding rookie season, Huberdeau won the 2013 Calder Memorial Trophy."
A Chance Encounter
A couple of weeks before the 2011 NHL draft I happened to be golfing in Osoyoos in British Columbia's Okanagan valley and, after a long, hot (42 degrees!) day on the links, I stopped in at the hotel lobby bar for a cold adult beverage. As I bellied up to the bar, I was greeted by a friendly looking stranger who, after a few minutes of conversation, revealed he was a Hockey Canada executive (and former Ontario Hockey League General Manager) who was in town on a scouting mission. As time went by, we discussed the upcoming draft and I asked him who he thought would be the best player out of that draft. Without hesitation, he said it would ultimately be Huberdeau although he cautioned that the young man would take longer to develop than RNH or Landeskog.
Well, here we are near the end of the 5 year rule and, despite, Huberdeau indeed taking more time, it appears Huberdeau could be considered in the conversation. Nugent-Hopkins is a fine young player but he's now playing in the shadow of Connor McDavid in Edmonton which may impact his opportunities. Landeskog was much more physically mature at an early age and too is a fine NHL player but Huberdeau has surpassed him in points per game this season.
The Bottom Line
Huberdeau has certainly worked his way into justifying his top 3 draft selection but what may not be apparent is that Dale Tallon not only handled his development properly but has also done so while getting extreme value from his contract status. Huberdeau still has another season to run on a bridge deal (cap hit $3.25 million) he signed after his entry level contract while Nugent-Hopkins ($6 million) and Landeskog ($5.57 million) hit pay dirt right away. While Jonathan Huberdeau will need a contract extension in that range for the 2017/18 season, he represents extreme value for the Panthers as they claw their way up the NHL standings. That folks is great asset management.
My life long passion is hockey…my life long profession is news and sports journalism.