Jonathan Quick will be the starting goaltender for Team USA at the World Cup, head coach John Tortorella announced.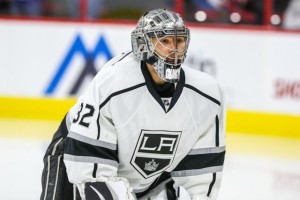 Quick edged out Ben Bishop and Cory Schneider to win the starting role for the United States — a team that enters the World Cup with one of the tournament's best crops of goaltenders. Tortorella also announced that Bishop will serve as backup.
Quick, 30, saw five periods of action in two pre-tournament games, which included a 30-save effort in Team USA's 3-2 win over Team Finland on Tuesday.
For Tortorella, the decision on who to name as Team USA's starting goaltender was not an easy one.
"A lot of things can happen in the tournament, but I believe in the body of work from all three goalies," Tortorella said, according to ESPN's Joe McDonald. "It's a really hard decision. I think Jonathan has just done a little bit better than the other guys, so he'll be our No. 1 guy to start the tournament."
Team USA will open tournament play against Team Europe on Saturday.
Quick was the starting goaltender for Team USA at the 2014 Winter Olympics in Sochi, Russia. Although the United States did not medal in the tournament, Quick started five of six games and posted a 3-2 record with a 2.17 goals-against average and a .923 save percentage. Quick was also a member of Team USA's silver medal-winning team at the 2010 Winter Olympics in Vancouver.
In the NHL, the Connecticut-native backstopped the Los Angeles Kings to the Stanley Cup victories in 2012 and 2014 and won the Conn Smythe Trophy in 2012.