It took 59 games, but the Los Angeles Kings were finally able to say Jonathan Quick would start for them in net on Saturday afternoon. Quick went down with a groin injury just 20 minutes into the 2016-17 season and had been sidelined since. However, all that changed when the Kings hosted the Anaheim Ducks over the weekend.
Whether or not Quick would start for Los Angeles was up in the air until he ultimately led his team onto the ice for warm-ups. Quick's return was ahead of the mid-March timetable most had mentioned when talking about his return to game action.
In his first game back, Quick put together a 32-save performance to help anchor the Kings to a 4-1 win over their Pacific Division rival. But, to many, seeing the two-time Cup winner in net meant a lot more than just having one of the league's top goalies back and healthy.
Los Angeles has struggled to find consistency this season and after the win over Anaheim still sits on the outside looking in on the playoff picture, trailing St. Louis by three points for the Western Conference's final wild-card spot. However, now that Quick is back, all of the inconsistencies and shaky play will vanish and the Kings will be back in playoff form. At least that is what some were saying as Quick's return got closer and closer.
Yes, the Kings will undoubtedly be a better team with Quick patrolling the crease but here is why he won't be the savior most are painting him out to be.
Peter Budaj Kept the Kings Alive
First and foremost, anyone that suggests the Kings aren't in a playoff spot because of the play of Peter Budaj hasn't been watching this season play out.
Below are two sets of stats. One of them belonging to Budaj and what he has done during the 2016-17 season and the other represents what Quick did in the same number of games during the 2015-16 season.
| | | | | | | | | | |
| --- | --- | --- | --- | --- | --- | --- | --- | --- | --- |
| GP | GS | W | L | OTL | SA | GA | GAA | SV% | SO |
| 53 | 51 | 27 | 20 | 3 | 1,286 | 107 | 2.12 | .917 | 7 |
| 53 | 53 | 33 | 17 | 3 | 1,416 | 114 | 2.17 | .919 | 3 |
Without telling you which set of numbers belongs to whom, you probably wouldn't be able to say this set of stats belongs to a two-time Stanley Cup Champion and the other belongs to a guy who had played one game in the NHL since the 2013-14 season before this season.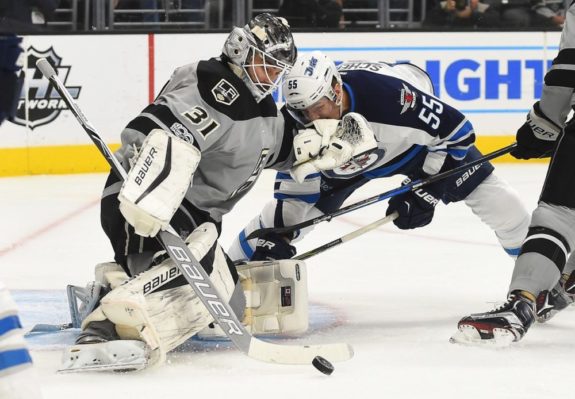 I know, the suspense is killing you. The top set of numbers belongs to Budaj and the bottom row of numbers belong to Quick. The numbers don't lie. Budaj has performed on par with where Quick was at this time of last season.
Obviously, there are disparities and to the person reading the table and jumping right to the "Quick had more wins" argument, yes he did. A goalie of Quick's caliber should.
Then there's those that will say, "Budaj has had streaks of unreliability, like allowing 19 goals over four games earlier this month." Well, Budaj had back-to-back shutouts before that stretch and the Kings were held scoreless in two of those four games, a stretch of hockey where the Kings were just as unreliable in front him.
[irp]
The point is that Budaj was thrust into the starting role and kept the Kings from becoming cellar dwellers while they waited for Quick to get healthy. Darryl Sutter said this about Budaj's play this season, via LA Kings Insider.
Peter Budaj's given us a lot of quality starts this year, and if you look at it, we were fortunate to still be in a playoff race. If it wasn't for him with 27 wins in 58 or [59] starts, whatever he's got, that hasn't been a problem for us.
Budaj handled more than most backup goalies would be able to shoulder. Going from being removed from the NHL for almost an entire season to winning 27 games is a commendable effort and should be appreciated. Budaj was traded to the Tampa Bay Lightning on Sunday in exchange for Ben Bishop, but what Budaj did for the Kings this season, especially if the team makes the playoffs, can not be forgotten.
No, if something were to happen that will save their season it will have to be the following.
No Offense but, Where's the Offense?
Looking back on Los Angeles' season, Quick's injury will obviously stick out as a season-changing moment but the problem in Los Angeles hasn't been in net. The problem is the Kings can't find the net at the other end of the rink.
As a team, the Kings have been less than lethal when it comes to their offensive production. They have scored 149 goals this season, more than only six other teams in the NHL, are averaging 2.44 goals per game, better than an even worse five other teams, and have been shutout eight different times this season.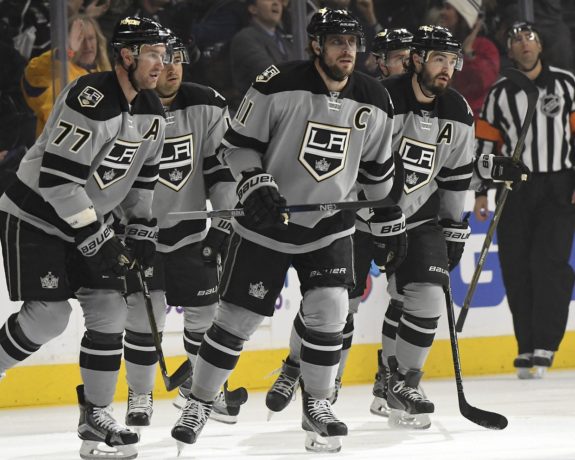 It's not that the Kings haven't been getting their chances. They are averaging 31 shots on goal a game, good enough to rank in the league's top ten. A top ten average in shots per game and a bottom-feeder goals per game average can only be caused by one thing — the stars aren't shining in Los Angeles.
Jeff Carter, who leads the Kings in goals (30) and points (55), has been the lone player producing at a consistent pace this season.  After Carter's 30 goals there is a steep drop-off in production. Tanner Pearson, Tyler Toffoli and Dustin Brown have the next three highest goal totals with 19, 12 and 10 respectively.
Outside of the top four, players like Anze Kopitar and Marian Gaborik, who both have six goals to their name this season and are relied on to produce, have seemed snake bitten.
In the Kings' win over Anaheim, the stars were sprinkled across the box score with Toffoli, Brown, Carter, Kopitar and Pearson accounting for four goals and ten points. Sutter knows they will need more of that if they want to make the playoffs, via LA Kings Insider.
It's the only way we're going to make the playoffs. Those guys held scoreless or shut down or outplayed by the other team's top guys, we won't make the playoffs. They have to. That's real.
The saying goes, "Defense wins championships," but you can't win games if you don't score goals. If a team locks down their opponent and only allows one goal against it all goes down the drain if they lose 1-0.
Many see the lack of offense as the missing piece in Los Angeles, which brings us to our final point.
[irp]
Put The Puzzle Together
The pieces are there in Los Angeles it's just a matter of if and when they all come together.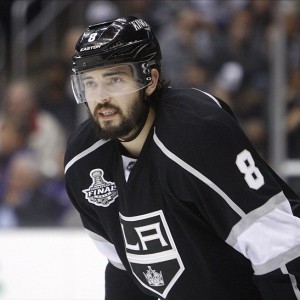 On the defensive side of things, the Kings have set the pace for the NHL allowing the fewest shots against per game with a 25.8 average and have the sixth best penalty kill in the league with an 84.5 success rate. With a workhorse like Drew Doughty patrolling the blue line nearly 30 minutes a night and a competent supporting staff playing a tight-checking defense-first style of hockey, Los Angeles looks like the defensive force we're all used to.
In net, the team's goals against average is the fifth best in the NHL at 2.43 per game. Budaj is no longer there, but the Kings have their starter back in Quick and now have Bishop who has a 2.32 goals against average and a .919 save percentage in his career. The two should be a formidable one-two punch as their team makes a push for the playoffs.
Yes, the Kings are just missing the final piece of the puzzle, the offense. If they can get their offensive production going they will be clicking on all cylinders and could be a very dangerous team moving through the final stretch of the season.
So ultimately, Quick's return is great and could prove to be a catalyst for a struggling Kings team. But the savior will not be Quick this season, the savior will be a skater who finds his groove and gets his team's offense moving down this final stretch of hockey.